Journalist's Detention a Test Case for Uzbek Regime on Human Rights
Bobomurod Abdullaev, a journalist, was detained in September 2017 by Uzbekistan's secret police.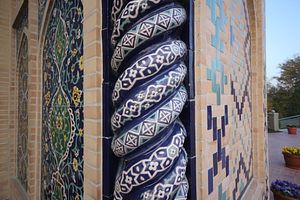 A dozen human rights groups have called for the immediate release of Bobomurod Abdullaev, a journalist detained in late September 2017 by Uzbekistan's secret police, and investigation of allegations that he has been tortured in custody. While activists have been pressing for his release since he was arrested for "conspiracy to overthrow the constitutional regime," their calls have been renewed in light of possibly positive developments.
Last week, as Eurasianet reported, the head of the Tashkent-based Initiative Group of Independent Human Rights Defenders, Surat Ikramov, announced in a Facebook post that case against Abdullayev had been suspended and the National Security Service's senior investigators had been dismissed and were themselves under investigation by the General Prosecutors office for illegal arrest, torture, and falsifying a criminal case — presumably, Abdullaev's.
Ikramov ended the post with the statement that the case against Abdullaev was falling apart and he was "expecting good results…"
"If confirmed, these developments would mark yet another shock decline in the fortunes of the security services, or SNB, which have come under sustained assault from President Shavkat Mirziyoyev in recent weeks," Eurasianet wrote.
Ikramov's post came a week after Mirziyoyev moved the SNB's long-time chief, Rustam Inoyatov, out of his post and into a relatively benign (but still cushy and insulated from prosecution) senate seat and adviser position. Inoyatov's ousting, for many, signaled the final steps of Mirziyoyev's consolidation of power but the ousting was nonetheless welcomed by human rights advocates as a necessary step.
Steve Swerdlow, in an email to The Diplomat after Inoyatov's dismissal, welcomed the move but noted that real reform of the security services "would entail drawing up guidelines on the agency's mandate, ensuring that human rights standards are implemented, and revisiting numerous politically-motivated cases."
Mirziyoyev's reforms to date are largely focused on making Uzbekistan a more attractive investment destination and a better neighbor; regional observers have noted the lack of serious political reform, including in the realm of free speech. While so-called political prisoners have been released in a steady trickle since Mirziyoyev came to power in late 2016, newer arrests — like Abdullaev's — dampen enthusiasm for genuine human rights developments. While Tashkent has allowed the BBC back and reportedly some previously banned websites have been unblocked, other journalists continue to find it difficult to get a visa.
Human Rights Watch has referred to the power transition in Tashkent as a "window of opportunity" for the new regime to address serious human rights concerns, especially torture.
The Abdullaev case is another window of opportunity. If, as Ikramov's post suggests, the SNB investigators in charge of Abdullaev's arrest are themselves investigated for torture, not to mention making up the criminal case, it would be a powerful signal that Mirziyoyev's words are being transferred into action.
Mirziyoyev has denounced torture. In November 2017, he signed a decree banning the use of evidence obtained through torture in court. That decree is supposed to come into effect in March. The Norwegian Helsinki Committee, a human rights NGO, says, "If enforced, the decree could help prevent torture and other ill-treatment in detention in Uzbekistan."
Could is the key word: a law on the books does nothing if not enforced, the same goes with a presidential decree.
Abdullaev remains in detention, as do others arrested under Mirziyoyev's tenure as president. If Mirziyoyev is serious about cleaning up the security services, and not just neutering them for the benefit of his own hold on power, he's going to need journalists like Abdullaev to hold government — from the top to the bottom — to account.
Back in 2005, Abdullaev was one of the authors of an investigative report for the Institute for War and Peace Reporting (IWPR) about Uzbek police "framing" suspects.
"Today, it seems, most people fear rather than respect the police," the article concluded.