Will the US Navy's High-Tech Destroyer Be Armed With Nuke Cruise Missiles?
U.S. Strategic Command is considering putting nuclear cruise missiles aboard the service's new class of stealth destroyers.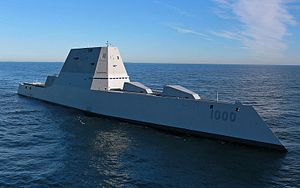 U.S. Strategic Command may seek to deploy low-yield nuclear weapons aboard Zumwalt-class warships, the U.S. Navy's largest and technologically most advanced class of guided-missile destroyers, according to the commander of U.S. Strategic Command, General John Hyten.
As outlined in the recently released Nuclear Posture Review (NPR), the Trump administration seeks to expand the role and size of the U.S. low-yield nuclear weapons arsenal by adding two new missiles: a low-yield sea-launched ballistic missile (SLBM) and a new sea-launched cruise missile (SLCM), which could be based on surface warships or submarines.
"It's important to know that the NPR, when it talks about the Sea-Launched Cruise Missile, does not say 'Submarine-Launched Cruise Missile,'" Hyten said in a February 16 keynote address in Washington, D.C., at the National Defense University's Center for the Study of Weapons of Mass Destruction, according to Military.com.
"We want to look at a number of options — everything from surface DDG 1000s [Zumwalt-class destroyers] into submarines, different types of submarines" for the SLCM the general added in response to a question. "That's what the president's budget has requested of us — to go look at those platforms, and we're going to walk down that path."
Over the last 30 years, the U.S. Navy has gradually retired all non-strategic (low-yield) naval nuclear weapons including the nuclear Tomahawk land-attack cruise missile (TLAM/N) in 2013. One of the cited reasons by the NPR authors for the reintroduction of low-yield nukes aboard Navy ships is that they may prompt Russia to retire its banned ground-launched cruise missiles–most likely a ground-based version of the Kalibr cruise missile dubbed the SSC-8.  (The U.S. is also working on a new Long Range Stand Off (LRSO) nuclear-capable cruise missile.)
A number of nuclear strategists have expressed their deep concerns that the introduction of non-strategic nuclear weapons will lower the threshold for nuclear conflict rather than close a perceived "deterrence gap" vis-à-vis Russia. For example, should the new SLCM include a dial-a-yield feature, which allows the warhead's explosive power to be set anywhere from a few to over a hundred kilotons, nuclear war planners may be tempted to use the weapon for "surgical" nuclear strikes in a conflict. (There is also the so-called "discrimination problem").
The U.S. Navy may also not be happy to add yet another mission set for its new Zumwalt-class stealth destroyers. As I reported earlier this month, the mission requirements of the Zumwalt-class from a land-attack platform to surface warfare were last expanded in November 2017. This expansion will entail the integration of Raytheon's SM-6 long-range supersonic missile and the subsonic long-range Maritime Strike Tomahawk, an anti-ship missile variant of the Tomahawk land-attack cruise missile, on the Zumwalt-class.
Deploying nuclear weapons aboard the Zumwalt-class would require a major reevaluation of its current mission sets. In any case, low-yield nuclear weapons on the Zumwalt-class are likely many years away. As an initial first step, the Trump administration only intends to conduct a study of a possible introduction of a new SLCM and it is not certain that the project will move beyond this study phase. Given budgetary realities and the current size of the already overstretched U.S. Navy, there will also likely be a major pushback by the service to reintroduce a nuclear mission on the surface fleet.
Meanwhile, the Zumwalt-class is facing its own set of challenges including still lacking a projectile for its two main guns. The lead ship of the class, the USS Zumwalt (DDG 1000), was commissioned in October 2016. "The future USS Michael Monsoor (DDG 1001), the second ship of the Zumwalt-class, successfully completed acceptance trials on February 1," I wrote this month. "A third ship of the class, the future USS Lyndon B. Johnson (DDG 1002), is currently under construction at the Bath Iron Works (BIW) in Maine."