What Will Pakistan-Saudi Arabia Ties Look Like Under Imran Khan?
Khan's first trip overseas will be to Saudi Arabia, to shore up a longtime partnership.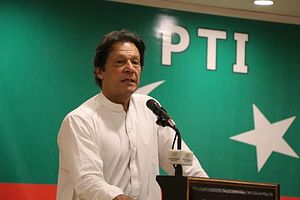 On August 13, Pakistan's new Prime Minister Imran Khan announced his first foreign trip: a visit to Saudi Arabia in early September. In a statement released by Khan's Pakistan Tehreek-e-Insaf (PTI) party, Khan praised Saudi Arabia for being one of Pakistan's most trusted partners in world affairs and vowed to make preserving Saudi Arabia's security a major priority of Pakistan's foreign policy. Saudi Arabia's Crown Prince Mohammed bin Salman responded positively to Khan's conciliatory rhetoric toward Riyadh, by praising Pakistan's economic potential and pledging to increase Saudi Arabia's investments in Pakistan.
As the strength of the Pakistan-Saudi Arabia alliance has been called into question by Pakistan's expanded economic ties with Saudi Arabia's chief adversaries, Qatar and Iran, and Islamabad's refusal to deploy troops in support of the Saudi-led military intervention in Yemen, the announcement of Khan's visit to Saudi Arabia was met with great anticipation in Pakistan. During his visit to Riyadh, Khan will attempt to counter the growing strength of the India-Saudi Arabia partnership, and to reinvigorate the Pakistan-Saudi Arabia alliance by emphasizing Islamabad's loyalty to the Saudi monarchy.
Pakistan's Efforts to Counter the India-Saudi Arabia Partnership
Although India's support for the Soviet Union's 1979 invasion of Afghanistan and Saudi Arabia's frequent expressions of solidarity with Pakistan engendered hostilities between India and Saudi Arabia during the Cold War, Riyadh's relationship with New Delhi has improved dramatically since the late 1990s. Indian Prime Minister Narendra Modi has made two state visits to Saudi Arabia since he took office in 2014. Modi's trips have resulted in the expansion of Saudi Arabia's oil exports to India, and an increase in the number of Indian guest workers finding employment in Saudi Arabia.
As India's closest partner in the Middle East, Iran, is struggling to cope with the re-imposition of U.S. sanctions, Modi views Saudi Arabia as an increasingly important economic partner. In July, India's oil imports from Saudi Arabia surpassed those from Iraq for the first time in over a year. As India's Oil Ministry recently instructed major Indian refineries to prepare for a major cut in Indian oil imports from Iran, Saudi Arabia's importance to the Indian economy is expected to grow significantly in the months to come.
While India's energy partnership with Saudi Arabia remains largely transactional in nature, Pakistani policymakers have expressed concern that India is seeking to undermine the strength of the Pakistan-Saudi Arabia relationship. These fears grew dramatically after Saudi Arabia did not veto Pakistan's inclusion on the Financial Action Task Force (FATF) grey list in February. To demonstrate Saudi Arabia's continued commitment to an alliance with Pakistan, the Jeddah-based Islamic Development Bank (IDB) authorized a $4 billion loan to Islamabad. This loan has temporarily assuaged Pakistan's worsening balance of payments crisis, and eased concerns that India has pried Saudi Arabia away from its historic alliance with Pakistan.
In order to counter the growing perception in Saudi Arabia that Riyadh's partnership with India is economically beneficial and its alliance with Pakistan is an economic liability, Khan will use his visit to Saudi Arabia to demonstrate Pakistan's value as an economic partner for Riyadh. Pakistan has expressed enthusiastic support for Mohammed bin Salman's Saudi Arabia 2030 strategy, which seeks to wean the kingdom off its long-standing dependency on oil exports, and has highlighted the positive role of the 2.7 million Pakistanis living in Saudi Arabia in promoting trade relations between the two countries. By emphasizing Pakistan's support for Saudi Arabia's economic modernization efforts, Khan will encourage Riyadh to balance between India and Pakistan, rather than pivoting more decisively toward New Delhi.
Pakistan's Display of Loyalty Toward Saudi Arabia
In addition to restricting the scope of the India-Saudi Arabia partnership, Imran Khan views his upcoming visit to Riyadh as an excellent opportunity to demonstrate Pakistan's continued loyalty to Saudi Arabia. Over the past week, Pakistani officials have laid the groundwork for Khan's visit by endorsing two of Mohammed bin Salman's most controversial decisions.
On August 9, Pakistan expressed support for Riyadh's decision to suspend trade deals with Canada and expel Canadian Ambassador to Saudi Arabia Dennis Horak. The Pakistani government defended Saudi Arabia's actions, stating that Canada had violated the principle of noninterference by criticizing Riyadh for its decision to arrest human rights activist Samar Badawi. Six days later, Pakistan praised Mohammed bin Salman's anti-corruption campaign, which has been widely criticized by human rights observers as a cynical ploy to subvert political challengers. These actions have strengthened trust between Saudi Arabia and Pakistan, which was strained by Pakistan's opposition to the Saudi-led blockade against Qatar.
During his visit to Saudi Arabia, Khan will likely reiterate these pro-Riyadh positions, as expressing support for Saudi Arabia will be viewed positively by his allies within the Pakistani military establishment. The Pakistani military has maintained robust intelligence cooperation with Saudi Arabia since 1967. Saudi Arabia's former intelligence chief Prince Turki bin Sultan Al Saud famously described Saudi Arabia-Pakistan military cooperation as "probably one of the closest relationships in the world between any two countries."
While senior Pakistani military officials have refrained from criticizing Islamabad's alignment with Qatar, former military dictator Pervez Musharaff's condemnations of Pakistan's decision to turn its back on Saudi Arabia and the United Arab Emirates (UAE) resonated with many members of Pakistan's Armed Forces. As the Pakistani military played a critical role in Khan's election victory, resetting Pakistan's relationship with Saudi Arabia will help preserve the loyalty of Pakistan's notoriously interventionist armed forces to Khan's government.
Although Khan has vowed to maintain Pakistan's close ties with Iran and Qatar, the new prime minister will use his upcoming visit to Saudi Arabia to demonstrate his commitment to preserving Islamabad's traditional special relationship with Riyadh. If Pakistan can prevent Saudi Arabia from pivoting more firmly toward India and demonstrate its reliability as a Saudi ally, Imran Khan will gain vital support from the Pakistani military and Pakistan's economy could gain access to much-needed investment capital from Saudi Arabia in the months to come.
Samuel Ramani is a DPhil candidate in International Relations at St. Antony's College, University of Oxford. He is also a contributor to The Washington Post and The National Interest. He can be followed on Twitter at samramani2 and on Facebook at Samuel Ramani.