How to Bail Out Pakistan and Augment American Leverage
A bailout for Pakistan should be contingent on reforms and transparency.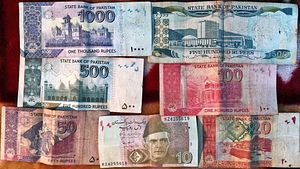 Chinese investment is eroding American influence in Pakistan — a nuclear-armed nation of 200 million people. With Pakistan likely heading to the International Monetary Fund (IMF) at the end of September for a bailout — for the 15th time in 38 years — the United States has an opportunity to reassert its leverage. As the IMF's largest funder and most influential member, the U.S. should approach IMF negotiations with realistic expectations of transparency and economic reform in Pakistan to counter Chinese advances there, while signaling, at the same time, a willingness to renew engagement in the Indo-Pacific.
Pakistan's financial crisis is a product of falling exports and rising import costs, which have increased the deficit and depleted foreign reserves. Largely to blame is the $62 billion China Pakistan Economic Corridor (CPEC), a major element of China's Belt and Road Initiative. CPEC includes Chinese investments in Pakistani infrastructure, but its financing has been murky, and China has kept the contract details private (possibly because transparency would reveal the country's unfavorable financial deals with China). Pakistan now has fewer than two months of foreign reserves remaining with large debt payments coming due, forcing it to open negotiations for another bailout.
The IMF negotiations will take place during a low point in U.S.-Pakistan relations: The U.S. administration blames Pakistan for providing safe havens to Afghan terrorists, failing to sanction Islamic militants, facilitating terrorist financing, and dealing in the nuclear trade. In January, the U.S. froze nearly $1 billion of security aid to Pakistan after the President tweeted that Pakistan has "given us nothing but lies & deceit." In March, the United States sanctioned seven Pakistani companies for their nuclear dealings. In June, the U.S. pushed to have Pakistan placed on the Financial Action Task Force's terrorist funding "grey list," and in August, the U.S. suspended a military training program.
Washington, however, should avoid these issues in the IMF negotiations and use these meetings to inaugurate a new way to deal with Pakistan: not as an insubordinate ally, but instead as an important country in a larger struggle with China. Solving the problem of Pakistan's support for terrorist groups, their reluctance to normalize diplomatic and trade relations with India, and their meddling in Afghanistan, requires a drastic change within Pakistan or a broad shift in U.S.-Pakistan relations.
The U.S. should approach the negotiations with narrow and realistic expectations: economic reforms and full disclosure of Pakistan's dealings with China in return for U.S. support for another IMF bailout. The surest way to stimulate Pakistan's long-term growth and break its cycle of crises, loans, and bailouts is to push it toward a sustainable economic path, less dominated by the army and government.
The IMF may have a willing partner in Pakistan's new ruling party. The new finance minister, Asad Umar, a former corporate executive, recently declared the need for privatization of state-owned enterprises, revealing a plan to prepare about 200 companies for possible privatization. He has since proposed tax reforms and spending cuts that would reduce the projected budget deficit by $7 billion. Further reforms along these lines will make Pakistan less dependent on China, while promoting the growth necessary for development and stability.
Revelations about Pakistan's dealings with China would possibly make public the unsustainable and exploitative nature of the Chinese loans, raising doubts about Pakistan's ability to proceed with the projects. This could check growing Chinese influence in Pakistan, although it may be difficult: Pakistan's financial situation may be too embarrassing to disclose, or agreements may have been recorded off-the-books, causing its leaders to be unwilling or even incapable of being forthright in discussing the country's financial relationship with China. In addition, the IMF may ignore American wishes and issue a bailout under easier conditions. Regardless of the outcome, the negotiations are an important opportunity to push the IMF toward transparency requirements for its loans. It would signal to other Belt and Road Initiative countries that the U.S. will not allow the IMF to be a slush fund for paying off irresponsible Chinese debts.
The U.S. has taken a hardline toward a bailout, with Secretary of State Mike Pompeo saying "there's no rationale for IMF tax dollars…bail[ing] out Chinese bondholders or China itself." Though he softened his stance in the following days with the announcement of a "new era of U.S. economic commitment to peace and prosperity in the Indo-Pacific." The tension here is that outright denying a loan to Pakistan will push it further into Chinese arms, or possibly cause an economic collapse. This would cause further deterioration in U.S.-Pakistan relations and have negative repercussions with America's allies and adversaries.
A bailout, contingent on reforms and financial transparency, is the best way to reassert American leverage in Pakistan while demonstrating that the U.S. is serious about offering an alternative to China's predatory economic tactics across the region.
Max Frost is a research assistant in South Asia studies at the American Enterprise Institute.