Russia Launches New Diesel-Electric Attack Submarine
The Russian Navy's second Lada-class diesel electric attack submarine was launched in St. Petersburg on September 20.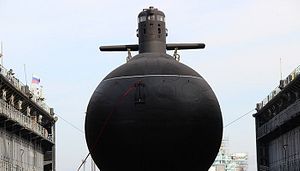 Russia has launched its second Project 677 Lada-class diesel-electric attack submarine, christened Kronstadt, at the St. Petersburg-based Admiralty Shipyards on September 20 thirteen years after the boat was laid down, according to Russian media reports.
"The importance of this event is hard to overestimate," Admiralty Shipyard CEO, Alexander Buzakov, was quoted as saying during the launch ceremony. In his remarks, Buzakow also acknowledged the multi-year delay in launching the new diesel-electric submarine—construction of the boat was suspended in 2011 due to design challenges and only restarted in 2013.
"The submarine began to be built in 2005," he said. "There have been some pauses in construction work and in financing, but the launch day has come at last. The delay in construction work allowed for using the experience gained in building and operating the submarine The St. Petersburg. By all parameters this submarine surpasses its predecessor – Project 636 [improved Kilo-class]. We are certain that the future of non-nuclear submarine force of the Russian Navy should be pinned on project 677. There will be a large series."
The Russian Navy originally intended to field a fleet of six Lada-class attack submarines. However, up until now only one submarine, the St. Petersburg, laid down in 1997, has entered service with the Russian Navy. While funding for one more Lada-class attack, the Velikiye Luki, has been secured, contracts for the fourth and fifth boat of the class are only expected to be signed in 2019. There is reason to believe that construction of the class will cease after the handover of the Velikiye Luki.
Instead, the Russian Navy will add additional Project 636.3 Kilo-class (aka Vashavyanka-class) diesel-electric attack submarines to its underwater force. Project 636.3 Kilo-class boats are an improved variant of the original Project 877 Kilo-class design. The Lada-class is intentionally smaller and cheaper than the Kilo-class and the Kronstadt is expected to replace an aging Kilo-class of the Russian Navy's Baltic Fleet. As I reported last year:
Lada-class subs purportedly have a very low acoustic signature due a special anti-sonar coating called Molniya (Lightning), which led a number of defense analysts calling the  boats the 'Mini-Red October class.'

With a total displacement of 2,700 metric tons (submerged), the sub only needs a crew of 38 to operate.  Lada-subs are equipped with an advanced sonar and the automated combat control system Litiy. The submarine can accommodate six torpedo tubes and purportedly features specialized vertical missile silos for anti-ship and land attack cruise missiles. The Lada-class' primary mission will be coastal defense against enemy submarines and surface vessels, surveillance and reconnaissance as well as intelligence gathering missions.
Notably, the new attack subs will not be fitted with air-independent propulsion systems (AIP) for the foreseeable future as Russia has been struggling with indigenously developing this technology. Lada-class subs are capable of firing both torpedoes and cruise missiles from its six 533-millimeter torpedo tubes including M-54 Kalibr (NATO designation: SS-N-27A "Sizzler") cruise missiles.