Russia to Test T-14 Armata Main Battle Tank in Arctic
The Russian military will test its most advanced main battle tank in adverse climatic conditions.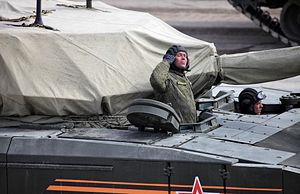 The Russian military will test its new third-generation T-14 Armata main battle tank (MBT) in adverse climatic conditions including the Arctic, Deputy Russian Ground Forces Commander for Armaments Lieutenant General Viktor Lizvinsky told journalists in late August.
"You know, we will test the tank in various climatic conditions, and not just in the Central Russian Upland. We will certainly try out the tank in the North and the Arctic, and we will probably have to deploy it in the mountains and sandy deserts," Lizvinsky said during last month's Army 2018 International Military and Technical Forum, held August 21-26, outside Moscow.
"We know that the United States had some negative experience operating its Abrams M1 tanks during Operation Desert Storm when virtually all their engines malfunctioned. Therefore we need to try out everything, including specific computer parts and the influence of Aurora Polaris on it," Lizvinsky added.
Testing military hardware under adverse climatic conditions prior to induction into service is routine in defense industries and militaries across the globe. The Russian Ground Force are currently operating around 16-20 T-14s prototypes for testing, with final operational evaluation scheduled for 2019.
On August 22, the Russian Ministry of Defense (MoD) signed a contract with Russia's main tank manufacturer Uralvagonzavod (UVZ) for the production of 132 T-14 Armata MBTs. The Russian Ground Forces are expected to receive a total of 100 T-14 MBTs by 2020.
The first T-14 MBTs will reportedly be deployed with the 1st Guards Tank Regiment of 2nd Guards Tamanskaya Motor Rifle Division, garrisoned in Moscow and part of Russia's Western Military District.
Notably, UVZ will not mass produce the T-14. Instead, the Russian defense industry will retrofit and upgrade Soviet-era models, including the T-72 and T-90 MBTs. As I explained previously:
It has been obvious for some time (…) that the Russian Ministry of Defense (MoD) has abandoned plans to mass-produce 2,300 T-14s by 2025, as was originally outlined in the 2018-2027 State Armaments Program. For example, already in October 2017 the MoD announced that it will upgrade T-80 and T-90 series MBTs and revise plans to melt down 10,000 armored vehicles by 2020 and keep 6,000 in reserve.

Also in January 2017, the MoD announced that it will upgrade its T-72 MBT force. "The Russian Ministry of Defense's decision to upgrade older T-72 and T-90 models could be interpreted as a sign that despite earlier announcements, the T-14 will not replace the Soviet-era tanks as the mainstay of Russia's tank force in the near future and that the Russian Ground Forces will continue to operate various MBT variants at least for the next decade," I speculated at the time.
The T-14 is based on the "Armata" universal chassis system, which also serves as a platform for over a dozen different tracked armored vehicles, including a self-propelled artillery howitzer and an armored military engineering vehicle.