Recently, the U.S. government has stepped up its actions to improve U.S.-Taiwan relations. But is this changing how the Taiwanese people view U.S. support?
A few months after Taiwan's President Tsai Ing-wen took office in 2016, she had a direct phone call with President-elect Donald Trump. It marked the first time a U.S. president (albeit one yet to be inaugurated) spoke directly with a president of the Republic of China since the two countries broke off official diplomatic relations in 1979. Moreover, in the call Trump referred to Tsai as "president of Taiwan."
The call was just a precursor. Since the beginning of 2018, Taiwan-U.S relations have shown significant improvement. The U.S. Navy sent destroyers through the Taiwan Strait while the U.S. Department of State requested that U.S. Marines be posted at the American Institute in Taiwan's (AIT) new complex in Taipei's Neihu District, which is in line with the standards of other U.S. embassies. Furthermore, U.S. Congress passed the Taiwan Travel Act, which encourages visits between officials of the United States and Taiwan at all levels, in order to develop a substantive cooperative relationship between the US and Taiwan. More recently, the National Defense Authorization Act (NDAA) suggests that the United States should strengthen Taiwan's military power by promoting U.S.-Taiwan joint military exercises, expanding military exchanges and joint training between the two sides, and sending medical vessels to visit Taiwan as part of the annual "Pacific Partners" mission.
As official exchanges become increasingly stronger, does Taiwanese public sentiment mirror these changes? A survey from the Taiwan Indicator Survey Research company (TISR) on how the Taiwanese public evaluates Taiwan's importance to the U.S. government may help answer this question.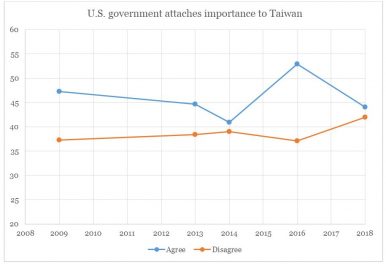 Previous surveys (in 2009, 2013, 2014, and 2016) released by TISR show a significant change in public opinion  between 2016 and 2018. It could be argued that Taiwan's domestic politics played a key role. In the most recent survey, cross-analysis showed 63.7 percent of pan-green supporters – those more closely identifying with Tsai's Democratic Progressive Party (DPP) — believed that the U.S. government attaches importance to Taiwan while 28.5 percent disagreed. On the other hand, 36.0 percent of pan-blue supporters – generally aligned with the opposition Nationalist Party or KMT — agreed, with 56.7 percent disagreeing. Of the remaining respondents, 38.0 percent held favorable views, with 41.7 percent pessimistic about U.S. government interest in Taiwan.
Compare those results to the 2016 survey, when 53.2 percent of pan-blue supporters believed that the U.S. government values Taiwan, with 40.4 percent holding the opposite view. These statistics show that the pan-blue supporters' outlook had changed significantly. Alternatively, pan-green supporters and others have held more stable views.
The significant change in public opinion that occurred between 2016 and 2018 may have been caused by the Trump-Tsai call in late 2016, which gave hope for strengthened Taiwan-U.S. relations. However, with China blocking Taiwan from participating in the World Health Assembly (WHA) and China forcing international airlines to label Taiwan as a territory of China, the U.S. response of criticizing Chinese behavior as "Orwellian nonsense" has done little to relieve Chinese suppression of Taiwan. Most importantly, Taiwan has lost three diplomatic allies in the same year: the Dominican Republic, Burkina Faso, and El Salvador. The U.S. government has condemned China as the one breaking the status quo but followed up the condemnations with little if any action. Pulling U.S. ambassadors from countries that cut ties with Taiwan is not going to undo the damage.
Although U.S. support of Taiwan is more significant than before, the fact remains that Taiwan still faces many obstacles in the international arena. Furthermore, Taiwan-U.S. economic cooperation has not seen any substantial improvement.
Morton Deutsch wrote, "if one expects that something will occur and this event is of motivational relevance, then the concept of trust is often applicable." In other words, trust is relative to expectation, where the gap between reality and hope causes distrust. Since 2016, Taiwanese have had high expectations for a stronger U.S.-Taiwan relationship, which can help keep the peace across the strait. However, the reality is showing a different story, especially when the United States seems not to be taking any actions to stop Beijing from bullying Taiwan. This has resulted in Taiwanese changing their attitudes. Despite the effectiveness of the "stick and carrot" approach, so far Washington is seemingly only focused on strengthening relations with Taiwan and not acting to stop China from taking assertive actions to undermine Taiwan's international space. As Taiwan keeps losing diplomatic allies, people tend to be more pessimistic and feel insecure about the future, and this is the reason why pan-blue supporters' attitude shifted significantly.
Economic analysis tells us that when the public is pessimistic or feels insecure about the future, it often leads to overreaction, resulting in an unstable market. This same logic can be used to explain political behavior: when voters feel insecure about the future, their perspectives change most dramatically. Thus, even though the U.S. government has done more than before to secure U.S.-Taiwan bilateral relations, based on the fact that China is still bullying Taiwan, Taiwanese people's insecurity inevitably grows.
So, now the key is how to overcome this insecurity issue. One way forward could be a free trade agreement (FTA) between the United States and Taiwan. Over the past years, when other countries have been busy signing FTAs, Taiwan has been left out, which resulted in a sense of urgency and insecurity among the Taiwanese public. A signed FTA not only will help to substantially improve U.S.-Taiwan relations, it may also prevent Taiwanese people from overreacting and pushing themselves to support unification due to the anxiety felt for their own future.
Shi-huei Yang (Ph.D., Graduate Institute of National Development, National Taiwan University) is a Visiting Scholar at the Department of Political Science, Columbia University.