Farmers' Anger Descends on Delhi
More than 100,000 farmers from across India gathered in Delhi to demand action toward their plight.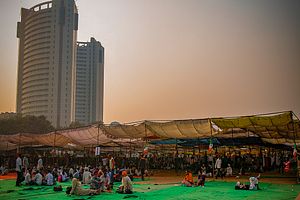 More than 100,000 farmers from across the country took to streets of Delhi on November 30 to express their fury over the government's alleged apathy toward an ongoing agrarian crisis. Marching to the capital's Parliament Street, they demanded debt relief, better remunerative prices for their produce, and a special three-week joint session of Parliament to provide a solution.
Over 200 farm organizations got together to hold the Kisan Mukti March (Farmers' Freedom March) under the banner of the All India Kisan Sangarsh Coordination Committee.
In their scathing attacks on Prime Minister Narendra Modi, the farmers accused his government of being anti-farmer, anti-poor, and pro-rich.
In the run-up to 2014 general elections, Modi promised to implement the Swaminathan Committee Report, which recommended that farmers be given a remuneration that is 50 percent more than the cost of their crop production. The promise remains unfulfilled.
Farmers began arriving in Delhi on November 29, and headed to Ramlila Maidan, a site known for hosting protests in the city. In the evening, they were greeted with a cultural event, which featured theater groups, singers and poets. Some of them traveled more than 1,000 miles for the protest, which was joined in by people from all walks of life, including students.
Leaders from opposition parties also addressed the march.
Although agriculture is the backbone of Indian economy, farmers feel neglected. Since the mid-1990s, cultivation costs have risen many times over but the income of farmers has stagnated, if not declined. According to the National Crime Records Bureau, more than 300,000 farmers took their own lives between 1995 and 2015.