The Significance of the US-Singapore Basing Access Agreement's Renewal
Is Singapore still all-in on the United States as its primary security partner?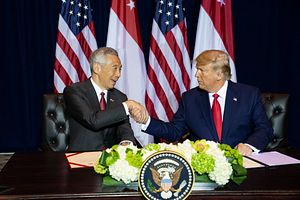 The Diplomat's Ankit Panda (@nktpnd) and Prashanth Parameswaran (@TheAsianist) discuss the renewal of the U.S.-Singapore basing agreement and the possible meeting of the foreign ministers of the 'quad' of the United States, Japan, Australia, and India on the sidelines of the United Nations General Assembly.
Click the play button to the right to listen. If you're an iOS or Mac user, you can also subscribe to The Diplomat's Asia Geopolitics podcast on iTunes here; if you use Windows or Android, you can subscribe on Google Play here, or on Spotify here.
If you like the podcast and have suggestions for content, please leave a review and rating on iTunes and TuneIn. You can contact the host, Ankit Panda, here.