South Korea Set to Receive Additional F-35s in 2020 Amid North Korean Complaints
The fighters, a cornerstone of South Korea's aerial strike capabilities, will elevate tensions with North Korea.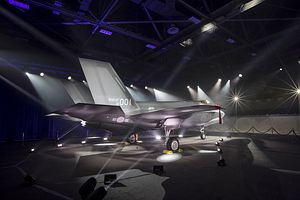 Twenty-six F-35A Panther fifth-generation multi-role stealth fighters will arrive in South Korea for induction into the Republic of Korea Air Force (ROKAF) next year, according to South Korean officials.
In comments last Thursday, a spokesperson for the ROKAF clarified the delivery expectations. As of October 2019, eight F-35As had arrived in South Korea. On October 1, South Korea's Armed Forces Day, President Moon Jae-in reviewed some of the newly purchased fighters. The first F-35As arrived in South Korea in March 2019, as The Diplomat previously reported.
"For its operational deployment, we are now carrying out related processes such as training pilots and maintenance technicians and the construction of facilities and relevant systems," the ROKAF said in a report to South Korea lawmakers quoted by Yonhap news agency.
The F-35A will form the cornerstone of the ROKAF's strike capability in the coming years. North Korea, the South Korean military's primary adversary, has lashed out at the delivery of F-35A fighters to South Korea. Earlier this summer, citing the delivery of two F-35As in July for the ROKAF, North Korea conducted short-range ballistic missile tests of its own.
"There is no room for doubt that the delivery of 'F-35A' … is aimed at securing military supremacy over the neighboring countries in the region and, especially, opening a 'gate' to invading the North," North Korea's Korean Central News Agency said in a July article.
"We, on our part, have no other choice but to develop and test… special armaments to completely destroy the lethal weapons reinforced in South Korea," it added. Shortly after the release of this statement, North Korea resumed its 2019 missile-testing campaign. Most recently, after President Moon's review of F-35As on October 1, North Korea conducted the first underwater test-firing of a new submarine-launched ballistic missile, the Pukguksong-3.
North Korea regards aerial stealth assets like the F-35A and the United States' nuclear-capable B-2 Spirit bomber as highly provocative capabilities given its rudimentary air defense early warning capabilities. Given the U.S.-South Korea alliance's previous focus on rapid decapitation strikes in exercises against North Korea, the leadership in Pyongyang regards these platforms with high suspicions.
The South Korean government formalized a Letter of Offer and Acceptance with the United States committing it to purchase 40 F-35A fighters from the United States back in September 2014. The total acquisition was estimated to cost $7 billion at the time of that agreement. The South Korean F-35As are being assembled and produced at F-35 manufacturer Lockheed Martin's Fort Worth, Texas, facility.