US Approves Sale of Air-to-Air Missiles to South Korea
South Korea has been approved to purchase 120 AIM-120C-7/C-8 missiles.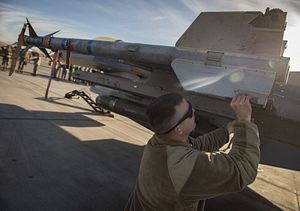 On Thursday, the U.S. Department of State announced that it had approved a possible sale of beyond-visual-range air-to-air missiles to South Korea. 120 AIM-120C-7/C-8 Advanced Medium Range Air-to-Air Missiles (AMRAAM) were approved for a Foreign Military Sale, the Defense Security Cooperation Agency determined. U.S. Congress was notified of the possible sale's approval on Thursday.
The deal would be valued at $253 million and comes following a request from South Korea to purchase the missiles for use on its F-15K, KF-16, and F-35 fighter aircraft.
"This proposed sale will support the foreign policy and national security objectives of the United States by meeting the legitimate security and defense needs of one of the closest allies in the INDOPACOM Theater," DSCA noted in a press release.
"The Republic of Korea is one of the major political and economic powers in East Asia and the Western Pacific and a key partner of the United States in ensuring peace and stability in that region," it added. "It is vital to U.S. national interests to assist the Republic of Korea in developing and maintaining a strong and ready self-defense capability."
The AIM-120C series of missiles feature an improved homing capability and range over the -120B and -120A. According to the DSCA, the sale will "further strengthen the interoperability between the United States and the ROK."
This won't be South Korea's first batch of AIM-120C AMRAAMs. In 2013, the Republic of Korea Air Force was approved to receive 260 AIM-120C-7 missiles in a deal valued at some $450 million. The sale at the time was justified in assisting the development of indigenous South Korean warfighting capabilities that would be a requirement for the transfer of wartime operational control.
The United States and South Korea are treaty allies and jointly train to counter threats primarily from North Korea. Under the Trump administration, pressure on South Korea to purchase additional American arms has grown.
Alliance cost-sharing talks to finalize a new Special Measures Agreement (SMA), which determines the contributions made by each country to the alliance, will begin soon. The United States is expected to request a considerably higher annual contribution from South Korea.
Approximately 28,500 U.S. troops are stationed on South Korean territory.
The AIM-120 series of air-to-air missiles are operated by a range of U.S. allied and partnered militaries across the world and are the most widely used air-to-air missile today. The Republic of Korea Air Force is one of the main foreign operators of these missiles.