New Military Vehicles Put China-Thailand Defense Relations Into Focus
The delivery reinforced the fact that aspects of security ties continue to be advanced by both sides in spite of challenges.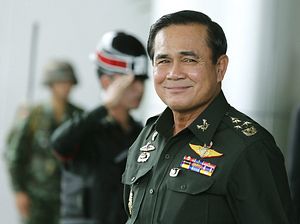 This week, Thailand, a U.S. treaty ally, received more battle tanks and armored personnel carriers from China. While this was part of an existing agreement, it nonetheless put the focus on ongoing efforts by the two countries to advance the defense aspect of their wider bilateral relationship despite the issues they continue to face in doing so.
As I have noted before in these pages, while China-Thailand military cooperation is not new, it noticeably deepened following the coup in Thailand in May 2014, which bought a military junta to power and caused an initial downturn in U.S.-Thai relations that has since improved. While much of the focus has been on individual deals such as Thailand's purchase of Chinese submarines, there have been other developments in defense ties that deserve mention as well that have either taken place or are in the works, be it new joint air force exercises or discussions about a joint military production facility.
That has continued on into 2019 as well. Even as U.S.-Thailand defense relations have been on the uptick and concerns have been raised about engaging with Beijing on the security side in the wider region on some fronts, Thailand has still continued to advance aspects of its defense ties with China as part of their wider comprehensive strategic partnership. Indeed, just last month, when Thai Prime Minister Prayut Chan-o-cha met with Chinese Defense Minister Wei Fenghe in Bangkok, he had expressed hope both sides would strengthen military cooperation in areas such as equipment and technology, exercises, and joint training, particularly with both sides commemorating the 45th anniversary of the establishment of their diplomatic ties next year.
This week, the defense aspect of the Sino-Thailand relationship was in the spotlight again with the delivery of more military equipment per previous agreement reached by the two sides. Thailand's state broadcaster PBS reported that Thailand had taken delivery of a shipment that included 38 VNI 8 X 8 infantry fighting vehicles (IFVs) and 11 VT4 main battle tanks (MBTs).
Media outlet BenarNews added that while there was no confirmation of the arrival of the military acquisitions at the time of reporting, an anonymous Thai high-ranking military officer said on Thursday that the tanks and armored cars had arrived at a port in Chonburi province and then had been brought to the Adisorn Cavalry Center in Saraburi province for inspection.
The arrival of the military equipment itself was expected, given that it represents a delivery on a previous order. Nonetheless, the development reinforced the fact that despite lingering challenges and uncertainties, certain avenues in China-Thailand defense collaboration continue to be advanced. How both sides look to continue to operationalize areas of cooperation they have talked about previously will be an aspect in Sino-Thailand defense relations to watch into next year.