Sukhoi Plans for Su-57 Stealth Fighter Deliveries in 2020
The Russian Aerospace Forces will begin receiving the Su-57 this year, according to Sukhoi Corporation.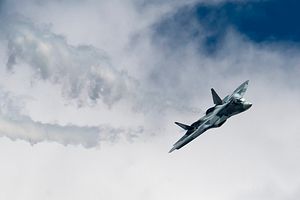 Sukhoi Corporation aims to start deliveries of its Su-57 fighter aircraft, Russia's first purported indigenously designed and built fifth-generation stealth fighter, to the Russian Aerospace Forces in 2020, according to a company representative who spoke to Shephard earlier this month.
Deliveries were initially scheduled to begin in late 2019 with the Aerospace Forces slated to take delivery of two Su-57s in 2019 and two more in 2020. However, a December 2019 crash of a Su-57—thought to be the first serial-produced fighter—during a flight test reportedly delayed the transfer of the first batch of aircraft by several months.
Russian defense officials already in December 2019, however, emphasized that the first Su-57 will be handed over to the Aerospace Forces in 2020.
"Large-scale work awaits us in 2020 to stabilize the aircraft industry," the head of Rostec, Sergei Chemezov, was quoted as saying on December 26 last year by TASS news agency. "The first large-scale deliveries of the fifth-generation Su-57 aircraft will begin."
The Russian Aerospace Forces are currently testing 10 Su-57 prototypes, four of which reportedly have flown combat missions in Syria. The Su-57 conducted air strikes for the first time in the war torn country in early 2018. The Chief of Staff, of the Russian Armed Forces, First Deputy Defense Minister General Valery Gerasimov, revealed in December 2019 that the Su-57 had undergone a "second combat testing" in Syria "during which all tasks planned were successfully performed."
The service is also using three airframes for ground testing. As I explained elsewhere:
All Su-57 prototypes have been fitted with a derivative of the Russian-made Saturn AL-41F1S engine, the AL-41F1, an older aircraft engine also installed on the Sukhoi Su-35S Flanker-E. It is unclear when production will shift to the more advanced Saturn izdeliye 30 engine.
In May 2019, Russian President Vladimir Putin announced that the Aerospace Forces will receive 76 Su-57s by 2028. A contract between the Russian Ministry of Defense (MoD) and United Aircraft Corporation (UAC) was signed in July 2019.
Deputy Defense Minister Alexei Krivoruchko announced in June 2019 that Sukhoi Corporation is ready to mass-produce the Su-57. In July, following the signing of the contract with the MoD, Russian defense industry officials revealed that serial production of the Su-57 has begun without, however, offering any details.
According to Russian media reports, the economic impact of the COVID-19 pandemic could prompt a reduction in the numbers of Su-57s ordered by the Aerospace Forces and a shift to more Su35s and other fourth-generation fighter aircraft types. The Russian MoD has so far not publicly commented on these reports.
The Russian defense industry has been developing a number of new weapons systems for the Su-57 including a new intra-fuselage hypersonic air-to-ground missile. In December 2018, a defense industry source revealed that the Su-57 may also be armed with a hypersonic air-to-surface missile with "characteristics" similar to that of the Kh-47M2 Kinzhal ("Dagger") air-launched ballistic missile (ALBM).