ADB Plans $323 Million in Grants for Tajikistan in 2021-2023
Given the devastation of the pandemic, the bank's increased grants plans for Tajikistan are critical. But will it be enough?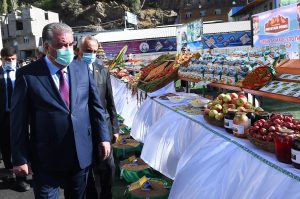 The Asian Development Bank (ADB) announced today that it plans to provide Tajikistan with $323 million in grants over the next three years, from 2021-2023, plus $5.25 million in technical assistance. But as the bank, and other aid agencies, commit money to Tajikistan, the pandemic puts the country's economy at great risk.
According to a press release from the ADB, the "2021–2023 plan includes projects to improve food security and water resource management, and develop urban infrastructure and the energy sector." Projects are also planned to develop the "health sector, improving the financial sector, developing tourism, enhancing disaster resilience, and further improving the road sector."
Each year, the ADB publishes Country Operations Business Plans for member countries that target the next three-year period. The 2020 plan for Tajikistan is not publicly available yet on the ADB's website, but last year's, published in October 2019 and dated for 2020-2022, provides a useful base for comparison. 
Last year's plan, it should be stressed, was published before the coronavirus pandemic. In the 2020-2022 plan, the ADB stated that Tajikistan was eligible for Asian Development Fund (ADF) grants only due to "high risk of debt distress." The plan stated that the grant allocation for commitment for 2020-2022 was "$278.38 million, including $15.00 million from disaster risk reduction (DRR) resources."
The $323 million figure for 2021-2023 marks an increase, though actual figures are subject to a variety of factors.
As stated by the ADB, in 2020 the development bank is expected to provide a total of $320 million in grants to Tajikistan — including a COVID-19 emergency response package now totalling $52.5 million.
As of June, the ADB forecast Tajikistan's GDP to contract by 3.6 percent in 2020, while foreseeing a rebound to a 7 percent growth rate in 2021. Inflation, another key indicator, is at present forecasted to hit 10 percent in 2020 and come down to 8.5 percent in 2021.
Earlier forecasts — made before Tajikistan confirmed the presence of COVID-19 inside the country — were more bullish on 2020 and more dim on 2021.
In my view, the 2021 forecast — 7 percent GDP growth — seems overly optimistic. 
As of August 26, Tajikistan had confirmed 8,413 cases of COVID-19 and 67 deaths. Dushanbe's numbers look artificially small next to those of neighboring states with similar economic conditions and capabilities like Kyrgyzstan, which has recorded 43,358 cases and 1,057 deaths. Importantly, Kyrgyz authorities began including pneumonia cases suspected to be a result of COVID-19 but not confirmed by a test in its COVID-19 numbers in mid-July — a recognition that shortages of supplies, delays in testing, and false negatives should not help paint a rosier picture of the pandemic than the evident reality.
On the economic front, for Tajikistan it's concerning that a recent U.N. report noted that cash transfer companies reported a 36 percent decline in remittances from Russia to Tajikistan in the first quarter of 2020 compared to last year. The companies anticipate a further halving of transfers in the next three to four months. At the same time, the report pointed out, "transfers from Tajikistan to Russia increased by 47 percent, possibly as a result of financial support from families to migrants who are currently in Russia without a job." Tajikistan, one of the world's most remittance-dependent economies, is currently sending more and more cash to Tajiks in Russia.
All this makes the ADB's grants plans for Tajikistan all the more critical. But, as Eurasianet noted last month, the bonanza of aid has come with little to no accountability as to how the injected funds have been spent.