Japan to Relax Re-entry Restrictions on Foreign Residents Starting in September
Expats stranded in limbo overseas have hope on the way with borders poised to reopen to all foreign residents, albeit at a staggered pace.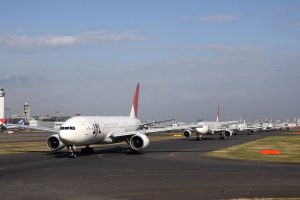 The Japanese government has begun making adjustments to completely lift its re-entry ban in September, allowing foreign residents regardless of visa status to follow the same coronavirus arrival precautions as Japanese nationals after being locked out of Japan for five months.
Since the global spread of coronavirus pandemic, Japan has come under international pressure to remove its strict re-entry bans for foreign residents who left temporarily before the state of emergency on April 2. In Japan there are 2.43 million foreign nationals who hold mid- to long-term residence status. But to curb the spread of new coronavirus infections, Japan banned entry to foreign nationals from 146 countries, making Japan the only G-7 country to discriminate between citizens and residents.
As of mid-August 200,000 foreign residents have left Japan. The 30,000 long term foreign residents who traveled after the re-entry ban – some for urgent family matters or follow up medical treatment — left with clear warnings that re-entry may not be possible. They have since been stranded overseas, waiting anxiously to be let back in.
Officials explained limited PCR testing capacity as the reason for prioritizing Japanese citizens and announced plans to expand airport testing capacity from 2,300 to 10,000 in September. Under the new re-entry policy, foreign residents will need proof of a negative PCR test three days before entering Japan, as well as undertaking a PCR test upon arrival and a 14-day period of self-isolation at home while avoiding public transport. New PCR testing centers will open at Narita, Haneda, and Kansai international airports in preparation for an increase in flights. The government plans to stagger re-entry to approximately 1,500 per day from September. The official start date for the new re-entry policy has yet to be confirmed.
In July, the Japanese government announced the easing of re-entry restrictions on business managers, international university students, and technical intern trainees starting from August, allowing up to 88,000 people to re-enter. Prior to August, re-entry was limited to foreign nationals holding permanent residency, spouses of Japanese nationals, spouses of permanent residents, and those on special permits who left before Japan began adding countries to the entry ban list.
Since April, foreigners who want to leave based on special circumstances such as for a family funeral or for caretaking responsibilities need to request re-entry permission before departure. The case by case nature of the application has seen some foreign residents denied re-entry permission over insufficient humanitarian grounds.
Japan's strict border control has been criticized for treating foreigner residents as second-class citizens and being disruptive to local businesses dependent on foreign workers. In recent years the government has looked overseas to solve its labor crunch and has sought to promote the job market as a competitive and welcoming destination for skilled blue collar workers and specialists through new fast-track visa policies. But for a country desperate to attract the best specialists, entrepreneurs, and investment, Japan's reputation and trust with the international community has taken a hit after the government's handling of foreign re-entry exposed the conditional value placed on foreign workers and students at a time of unprecedented uncertainty.
In the past five months Japan has prioritized fast-tracked applications from business managers with offices set up in the country. Meanwhile, Japan has also agreed to accept business travelers from 16 countries such as Vietnam and Thailand along with continuing with entry visas to new technical trainees from both countries.
But for foreign residents who fall outside these categories and beyond special exemptions, the coronavirus pandemic has been a punch in the gut. Many expat communities have been left helpless and reeling, with painful re-entry rejection stories being shared on social media.
Japan's apparent favoring of foreign business travelers and its preoccupation with presenting Japan as a reliable business location and promising financial hub over actually caring for foreign residents may have missed the mark. It has not only damaged Japan's reputation among foreign residents who have worked hard to build a life and business in Japan, but immigration inconsistencies could make the country less appealing for foreign business.
The international community has also watched as the re-entry lockout has put Japanese government sponsored international  students in a precarious financial position. Many were abruptly stranded in their home countries, jobless and homeless, after making preparations to join the April spring semester just as the entry ban came into effect.