Despite Pandemic and Border Closures, Drug Smugglers Try to Reach Australian Shores
COVID-19 has seen drug prices jump even higher, making Australia a lucrative market if smugglers can reach it.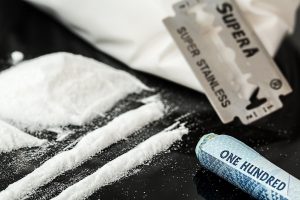 Transnational crime syndicates are still attempting to smuggle large amounts of illicit drugs into Australia despite the country's harsh border lockdown amid the pandemic. 
On August 15, a joint operation by the Australia Federal Police (AFP), the New South Wales Police Force (NSWPF) and the Australian Border Force (ABF) seized 1.8 tonnes of cocaine from a boat off the coast of Newcastle, just north of Sydney. 
The largest seizure of its kind in Australia to date, the cocaine would have had a potential street value of approximately A$850 million (US$618 million). Australian law enforcement was first alerted to the boat's activities by New Zealand intelligence on August 11. According to a statement, the ABF's Maritime Border Command located the suspicious foreign vessel as it entered Australian waters. 
"Maritime Border Control, with the support of law enforcement partners, observed an Australian commercial fishing vessel, the Coralynne, approaching the foreign vessel and making an alleged at-sea transfer of illicit drugs bound for Australia." the statement read.
The AFP released video footage of a police boat ramming the Coralynne and officers jumping on board and making arrests. Three crew members — a Chinese man and two Australian males — were arrested and charged. Australian police and intelligence agencies are now probing whether the trio were working as part of a consortium of organized crime syndicates spanning beyond Australia's borders. 
This isn't a rare incident. Just two weeks earlier, a Cessna light plane, overloaded with half a tonne of cocaine, crashed while attempting to take off from a remote airstrip just outside of Port Moresby, Papua New Guinea. Local police seized the cocaine and later arrested and charged an Australian man who was piloting the flight. The AFP later confirmed they were aware of the pilot's intention to fly the load back to Australia and had a dozen agents on the tarmac at an airport in Queensland, awaiting his arrival.
As news of the crash broke, the AFP, working with Queensland, New South Wales and Victoria Police searched several locations across the three states and arrested five alleged conspirators, who the AFP allege are working for a Melbourne-based criminal syndicate with links to the Calabrian mafia. 
Even before these major busts occurred a senior police source told the Sydney Morning Herald that since the pandemic began, NSW police alone had seized more than 420 kilograms of cocaine, a tonne of ice (crystal meth) and more than one tonne of precursors to ice. "That's the stuff that we've got – think about what's come in that we've missed," he said. 
Regional security analysts and politicians have long insisted that the Australian border force is among the best in the world but despite this, international crime syndicates continue to attempt to smuggle illicit drugs and other substances into the country. This is largely due to the high returns that smugglers can make if successful: It's well known that Australians and New Zealanders are more willing to pay a higher price for their drugs compared to almost any other buyers in the world and COVID-19 has seen drug prices jump even higher as Australians continue to buy despite the current economic uncertainty.
The U.S. Drug Enforcement Administration's Australian attaché, Kevin Merkel, told the Courier-Journal that Australia is the "most sought-after illicit drug market" with a kilo of meth having risen from between A$128,000 – $185,000 pre-pandemic to A$200,000.
On Australian streets, cocaine, previously priced at around A$325 per gram, now sells for up to A$450 while similar trends apply to MDMA and ketamine. The percentage of Australians who use illicit drugs is also increasing. A report by the Australian Institute of Health and Welfare published last month found that illicit drug use in the previous 12 months has increased for cannabis, cocaine, ecstasy, inhalants, hallucinogens and ketamine. Cocaine use particularly has skyrocketed with use in the last 12 months having risen from 1 percent to 4.2 percent from 2001 to 2019.
As supply lines and hard border closures elsewhere in the world affect the ability of smugglers to turn a profit it's possible they will see a visit to Australia as a way to recoup their losses.