India's Recent UN Victories Are Not Necessarily at China's Expense
Beijing's heft at the U.N. is unlikely to help India's ambitious multilateral reforms agenda.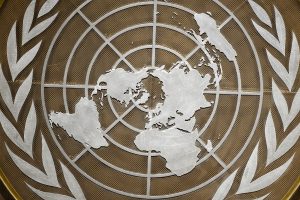 India hasn't had a great year at home due to several reasons, but it definitely has had some success at multilateral fora. New Delhi won a non-permanent seat at the U.N. Security Council (UNSC) earlier this year in June. It also secured a seat at the U.N. Commission on the Status of Women (UNCSW) on September 14. After these victories at the U.N., several news outlets published articles claiming that India "beat" China. The suggestion behind this narrative is that India has the potential to further its interest of building a reformed multilateral system, beginning with a permanent seat at the U.N. highest body, its Security Council, for itself — something China has always blocked. But are these victories for India really enough to challenge China's heft at the international organization?
Many media outlets in 2019 noted China's backing for India's non-permanent UNSC membership, calling it a diplomatic win at the multilateral forum. The missing fact that wasn't emphasized in this story, however, was that India was an uncontested member for the Asia-Pacific seat after Afghanistan had decided to step down from the elections back in 2013. Thus China's support for India was a moot point. Note that after India won the UNSC elections this year, China didn't even congratulate the country by name. Instead, all that Zhao Lijian, a spokesperson for China's foreign ministry, said was that China would look forward to cooperate with all the newly elected members of the Council.
As mentioned above, India's win at the UNCSW was sold by many as beating China, since both were contesting against each other for the same seat. The missing fact in this narrative is that India wasn't the one responsible for Beijing's loss at the Commission elections but rather it was Beijing itself. In the past China was considered vital in promoting gender equality and women's rights, and instrumental in the formulation of the Beijing Declaration and Platform for Action adopted at the Fourth World Conference on Women in 1995. But recent reports on the increasing gender gap vis-á-vis labor participation and wages along with consistent drops in China's ranking in the Global Gender Gap Report led to China not being able to garner even the minimum number of votes at this year's election.
To answer the larger question posed at the start of this article, of whether India's wins at the U.N. necessarily comes at a cost to China, it is vital to revisit China's current and past roles at the international organization. Currently, China heads four out of the 15 U.N. specialized agencies while India heads none. This, along with a permanent seat at the Security Council, clearly showcases Chinese dominance in different branches of the multilateral institution. This dominance is one of the reasons why the International Telecom Union last year rejected concerns about the Chinese telecom giant  Huawei.
While many are celebrating India's new non-permanent membership of the UNSC, with plans of implementing India's New Orientation for a Reformed Multilateral System (NORMS), one must not forget similar aspirations that the Indian delegation had when it was elected as a non-permanent member back in 2011-12. But as Rohan Mukherjee and David Malone have rightly pointed out, India was not able to achieve its multilateral reforms agenda since the UNSC was caught up with major developments in the Middle East and North Africa region. It would not be wrong to assume that even today India might face similar constraints in a Council whose Program of Work is heavily dominated by  Middle East affairs. Given this, there is no guarantee India will be able to push its NORMS.
On the other end, in the recent past China has seen major success within the Council. Since 2000, China, owing to its permanent membership, has been able to block several draft resolutions in the Council — on Syria, Myanmar, Venezuela, and Zimbabwe — that went against its national interests. Simply put, unlike New Delhi Beijing has been able to fulfill its aspirations within the UNSC.
There is no doubt that India has had a great year at the U.N., winning two very crucial seats, whereas China has had a rather disappointing year, losing in three important elections — at the UNCSW, U.N. Statistical Commission, and World Intellectual Property Organization. Despite what has happened this year at the international organization, it is important to realize that Indian victories there are not going to cause a huge dent to China's interests at the United Nations owing to its historical and current dominance over different agencies at the U.N.
In order for India to capitalize on its recent victories, Indian and Chinese interests at the world body have to be seen as two different parallels, which need not be intertwined together. Hence, India needs to focus on other achievable targets — for example, around anti-terrorism and U.N. Peacekeeping  — for its eighth term at the Council instead of being fixated by its multilateral reforms agenda — which is certain to be blocked by China.
Arkoprabho Hazra is a Young India Fellow at Ashoka University who has completed his undergraduate studies in political science. He writes on Indian foreign policy, Rohingya refugee crisis and the Middle East. His writings have been published by South Asia Democratic Forum and South Asia Centre, London School of Economics. He tweets @ArkoprabhoH.