From Trump to Biden: Will Anything Change for Pakistan in Washington?
Brace for more of the same when it comes to Pakistan-US relations under Joe Biden.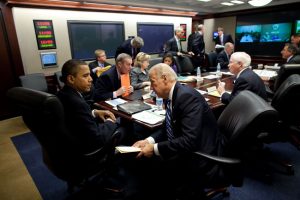 Pakistan's Prime Minister Imran Khan has congratulated U.S. President-elect Joe Biden for winning the November 3 presidential election.
"Congratulations @JoeBiden & @KamalaHarris. Look forward to President-Elect Biden's Global Summit on Democracy & working with him to end illegal tax havens & stealth of the nation's wealth by corrupt leaders [leaders]. We will also continue to work with the US for peace in Afghanistan & the region," Pakistan Prime Minister Imran Khan said in a Twitter message.
While many other Asian leaders simply congratulated Biden, Khan was oddly specific in his message. In a way, his message shows Islamabad's policy concerns that could become a challenge under the Biden presidency.
Khan, in his message, said that he looks forward to working with Biden to end illegal tax heavens. Arguably, the message underscores Pakistan's concerns with the Biden administration's possible view of Islamabad's position at the Financial Action Task Force (FATF). It is important to note here that the Obama administration advocated adding Pakistan to the FATF's grey-list due to the country's weak anti-money laundering structures. Biden served as Obama's vice president through both of his terms in the White House and he understands how and where to push Pakistan to gain concessions. Certainly, under Biden, Pakistan will have to work hard to plug loopholes in its money-laundering laws.
Moreover, Biden's presidency also means that Pakistan may again go back to the Obama era's "Af-Pak" approach when it comes to Washington's dealings with Islamabad. The term "Af-Pak" had been met with a lot of disapproval in Pakistan in the past. Showing resentment toward Obama's policy of hyphenating Pakistan with Afghanistan, former President Asif Ali Zardari said: "Afghanistan and Pakistan are distinctively different countries, and should not be lumped together in the generic label of Af-Pak."
However, the Obama administration termed Pakistan's role as key in stabilizing Afghanistan. It is expected that Biden will continue with the same approach of pushing Pakistan to play a greater role in Afghanistan. As we have seen under the Obama and Trump administrations, Biden's relationship with Pakistan will be driven by Islamabad's assistance to the United States in Afghanistan. Biden may not bring back the Af-Pak hyphenation to describe his Pakistan and Afghanistan policy, but behind closed doors, that is likely what Pakistan is going to get from Biden's White House. Arguably, President Donald Trump has followed the same approach with his regional strategy linking Afghanistan and South Asia.
Under the Trump administration, Pakistan's role in the Afghan peace process has remained critical. In the short run, Pakistan doesn't need to worry much unless the new administration introduces substantial changes to the existing approach of finding a political settlement in Afghanistan in cooperation with the Afghan Taliban.
In his policy statements, Biden has maintained that Washington "needs special ops capacity to coordinate with our allies" and any troops withdrawal from Afghanistan should be done responsibly. This essentially means that Biden may review the U.S.-Taliban deal and may not withdraw troops under the agreed timeline. Further, the Biden administration may bring more focus to conditions like Taliban's severing of ties with Al-Qaida, reduction in violence and more. The peace process may very well be more complicated from here onward as Taliban are not going to make any concessions regardless of who is in power in the U.S.
At this point, Islamabad may not be sure how the Biden administration will view India's role in Afghanistan. Pakistan remains adamant that India cannot have any substantial role in the Afghan peace process. How will Pakistan's approach change if Biden allowed India more role in Afghanistan?
Many in Islamabad are hopeful that under Biden, India will not get a free pass on Kashmir and the reported human rights violations there. In the past, Biden has made plenty of noise about Prime Minister Narendra Modi's Kashmir policy. However, it is unlikely that Biden will push it to a point where it annoys India. It is important to note that for the U.S., China is going to be the key concern in the region, and India's role in this calculus remains vital for Washington. Biden may make all the right noises about human rights violations in Kashmir, but he will not jeopardize the United States' relationship with India.
This again leaves Pakistan in the usual position when it comes to the country's relationship with the U.S.: What is Islamabad's value for Washington if the Afghan peace process concludes successfully? Beyond the security-focused lens, what is it that will keep Washington interested in Islamabad once Afghanistan goes out of the picture? It is possible that under the Biden administration, the India-Pakistan conflict may get greater coverage and increase the possibility of U.S. intervention but that in no way will translate to Islamabad's gain.
Under Biden, not much will change for Pakistan. The usual script of a transactional relationship driven by both states' security needs will determine the contours of Pakistan-U.S. bilateral cooperation.