The US Is Falling Behind China in the Race for Electric Vehicles
Unless things change, and soon, Beijing will corner the market on the materials, components, and vehicles that will power the 21st century economy.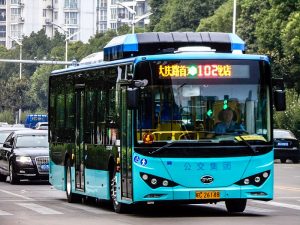 Around the world, ground transportation is shifting from its gasoline and diesel past to a connected, electric future – and, unless things change, that future will rely on a supply chain dominated by China.
China has reached this position not by chance, but by more than a decade of strategic and large-scale spending. While China is spending billions to lengthen its lead as the global electric vehicle (EV) leader, the United States is spending an order of magnitude less. To win this economic war, we must bring more than chump change to the battlefield.
Beijing is using a whole-of-nation approach, leveraging its economies of scale, and promoting its national champion companies like Huawei, BYD, and CATL to gain a competitive advantage and crush U.S. competition.
China's emergence as the United States' largest competitor on the world stage has made this a geopolitical concern. A world-leading U.S. car, truck, and bus industry is therefore a national necessity.
The disparities in scale and spending are astounding. In the past decade, Beijing has poured more than $100 billion into its EV sector and is also looking to lead in the connected, autonomous, and shared vehicles of the future. Beijing plans to spend $120 billion on connected and autonomous vehicles by 2021, and more than $400 billion on 5G technology.
China has also invested heavily upstream, spending billions to take control of cobalt supplies from the Democratic Republic of Congo where it now controls eight of the largest 14 cobalt mines in the country. Similarly, China controls 70 percent of the world's lithium supply.
The results speak for themselves. More than twice as many EVs have been sold in China than the United States. BYD and CATL account for one-third of the global battery market between them.
The U.S. government recently made available $180 million through the Low or No Emissions Grant Program for local authorities to buy electric buses. Nice start, but there's so much more needed when one considers that a mere 1,000 electric buses – out of nearly 1 million nationwide – operate on U.S. roads versus 421,000 electric buses operating already in China.
And the U.S. Postal Service's short-sighted plan to electrify 10 percent of its new fleet misses a major opportunity. A commitment to 100 percent electrification will provide the scale to bring down prices and further incentivize both fleets and consumers to go electric.
Private companies in the United States recognize the competition is fierce and are doing their part. Ford, for example, announced plans to invest $29 billion over the next five years to support EVs and autonomous vehicles (AVs). However, federal government funding in the United States must be increased exponentially to compete with China's leadership, let alone exceed it.
Congress is starting to recognize this as a bipartisan concern, as shown by the passage of the CHIPS for America Act – a $22 billion dollar package that includes $10 billion to incentivize domestic semiconductor manufacturing. But this still requires funding, and much more must be done.
The federal government has an important role in funding basic research and development, especially in battery technology, and in encouraging cutting edge companies that do not have access to traditional capital markets. It also has an irreplaceable role in encouraging the domestic EV market – as a national security imperative.
We must scale up the funds available for the U.S. Department of Energy's Advanced Technology Vehicles Manufacturing programs, which turned Tesla into a global EV technology leader, and expand them to include medium- and heavy-duty EVs, AVs, and component manufacturing. We must also scale up the 30D light-duty EV tax credit, creating equivalents for all vehicle types.
This is not about U.S. prestige. This is about the United States' industrial base and security. The U.S. auto and truck manufacturing sector supports roughly 6 million jobs and accounts for 3.5 percent of GDP. The nation has turned to its advanced manufacturing capacity in times of need – first as the Arsenal of Democracy in World War II, and as the Arsenal of Health today.
Big federal expenditures are not necessary over the long term and can be withdrawn as the transportation sector makes the EV transition. But without dramatic short-term government action, China will be able to lock in its leadership position, consigning the United States to a dangerously dependent position.
The United States has the natural resources, capital markets, the cutting-edge research institutions, and the advanced manufacturing capacity to ensure this transition is Made in America. But we must act now, and at scale, to avoid a future of dependence on Beijing for the materials, components, and vehicles that will power the 21st century economy.