South Korea Talks With China, Japan, and US in Flurry of Diplomacy
South Korea's foreign minister traveled to China while the country's national security chief attended a meeting with his U.S. and Japanese counterparts in Washington.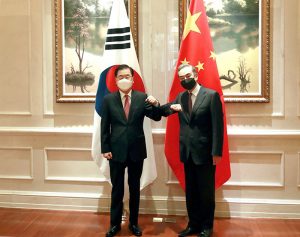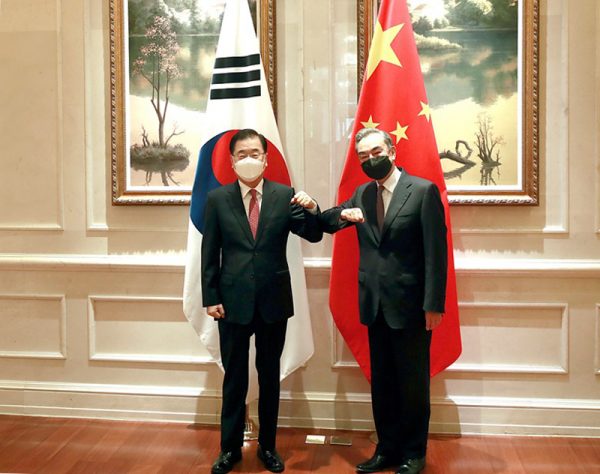 After North Korea launched both ballistic missiles and short-range cruise missiles, South Korea held high-level meetings with officials from China, Japan, and the United States.
Seoul's National Security Chief Suh Hoon was at the U.S. Naval Academy near Washington, D.C. on April 2 to discuss North Korea issues with his Japanese and U.S. counterparts. The meeting was held after North Korea tested missiles in violation of United Nations Security Council resolutions.
In the meeting, the three national security chiefs reaffirmed their commitments to jointly respond to North Korea's nuclear issue and agreed that full implementation of U.N. Security Council resolutions is essential.
Suh said the three officials shared concerns about "North Korea's nuclear and ballistic missile programs" and reaffirmed their commitments to respond and resolve the issue through joint cooperation between the three countries toward the denuclearization of the Korean Peninsula.
The meeting was an exchange of opinions as part of a U.S. policy review on North Korea, which has been underway since the inauguration of President Joe Biden.
With Washington's new policy toward North Korea about to be finalized, some experts in Seoul have warned that South Korean President Moon Jae-in's way of dealing with the North is no longer effective. Since former U.S. President Donald Trump failed to reach an agreement with the North Korean leader Kim Jong Un at the Hanoi Summit in 2019, Moon has made no progress on inter-Korean relations or denuclearization.
Kim Yo Jong, the sister of the North Korean leader, and other senior North Korean officials have made statements to criticize the Moon administration in recent weeks. Experts predict that the Moon administration's efforts to bring the North back to negotiating table will not succeed, as Moon has only about a year left before the end of his term.
"For North Korea, there is nothing to win through negotiation in this situation, so what they can do is … more missile tests," Yang Uk, a professor of the Graduate School of National Defense Strategy at Hannam University in South Korea, told The Diplomat.
"For the United States, there is no point of negotiating with North Korea when both sides have no specific issues to deal with," Yang added.
Meanwhile, Washington and Tokyo confirmed that the Japanese Prime Minister Suga Yoshihide will attend a summit with Biden on April 16 at the White House. Seoul and Washington reconfirmed the need for a face-to-face summit and continue to discuss the timing of such a bilateral meeting. Experts predict that if the leaders of the two countries hold a summit, they will likely have a plan before the G-7 Summit in June. However, with the COVID-19 pandemic still complicating diplomacy, no specific time and date have been set.
While Seoul's national security chief was meeting with his Washington and Tokyo counterparts, South Korean Foreign Minister Chung Eui-yong met his Chinese counterpart Wang Yi in Fujian province on April 3.
The meeting was originally expected to last about an hour but it reportedly took about an hour and 40 minutes as Chung and Wang discussed a broad range of issues.
Chung and Wang discussed the denuclearization of the Korean Peninsula and ways to establish a peace regime at the meeting. Also, they exchanged detailed opinions on ways to boost cultural exchanges, which have shrunk over the past few years, and environmental issues such as cross-border air pollution.
After the meeting, Chung said to reporters that they had shared in-depth opinions on how to advance the peace process on the Korean Peninsula. He also stressed that they both agreed to soon hold 2+2 talks between their foreign and defense ministers.
In the meeting, Wang expressed Beijing's support for Seoul's permanent peace policy and complete denuclearization policy on the Korean Peninsula, according to reports. With that, Chung asked Beijing to play a constructive role in achieving the two main goals based on cooperation and pushed for Chinese leader Xi Jinping's visit to Seoul as soon as the coronavirus situation stabilizes. Xi had been expected to visit South Korea in 2020 before COVID-19 halted nearly all international travel.
As North Korea has continued developing its missile programs and nuclear power, however, South Korean experts have doubts that China will coordinate with Seoul to now end those programs.
Lee Jung-hoon, a professor of international relations at Yonsei University in South Korea, told The Diplomat that there is no reason to believe that China would all of sudden change its stance to clamp down on North Korea.
"China is basically the life-line of North Korea in terms of the latter's need for food, energy, and foreign currency. With all its clout, China, if it wanted to, could force North Korea to give up its nuclear weapons," Lee said.
Lee also added that China will not change its stance now, especially as tensions with the United States are rising both militarily and economically.
Considering the geopolitical and economic interests bound up with China, South Korea has no choice but to cooperate with Beijing. However, experts say that South Korea should be on the same side as the United States as it pushes back against China..
"With the U.S., we have a military alliance that is considered critical to South Korea's national security. It's referred to as a 'blood alliance' for a very good reason. China is not a liberal democracy that shares the same values and ideologies," Lee said.
Chung and Wang also exchanged opinions on the issue of the China-U.S. conflict. A South Korean Foreign Ministry official said to local reporters that China is also an important country as it is the largest trading partner for South Korea, but emphasized that the United States is South Korea's most important ally. This remark was interpreted as confirmation that Seoul will take a neutral stance between the two superpowers, but it will be a challenge for Seoul to stay neutral when Washington asks it to participate in alliance cooperation aimed at containing China, such as being part of the Quad.