The China Plan: Transatlantic Blueprint for Strategic Competition
Insights from Sarah Kirchberger.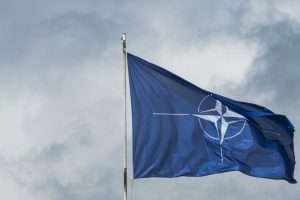 Trans-Pacific View author Mercy Kuo regularly engages subject-matter experts, policy practitioners, and strategic thinkers across the globe for their diverse insights into U.S. Asia policy.  This conversation with Dr. Sarah Kirchberger  – non-resident senior fellow with the Scowcroft Center for Strategy and Security; head of Asia-Pacific Strategy and Security at the Institute for Security Policy at Kiel University (ISPK); and vice president of the German Maritime Institute (DMI) – is the 266th in "The Trans-Pacific View Insight Series."
Explain the impetus behind "The China Plan."
Last year the Atlantic Council tasked Hans Binnendijk and me to work on a transatlantic China report to enhance cooperation among allies to meet the China challenge. We soon identified one key problem: There are perception gaps among allies regarding the nature of the challenge itself. China very skillfully shows different faces to different parts of the world, presenting itself to some as a needed source of investments or an indispensable business partner, and to others, as a nationalist bully or a major security challenge. Combining these partial perceptions of China and bridging the gaps between them is, however, necessary to effectively tackle the challenges. We need a shared situational awareness. Our report identifies two areas where that already exists (human rights and coercive diplomacy); two where it is only partially available (economic and technological risks), and one where it is so far mostly lacking (military threats).
Briefly outline the blueprint for transatlantic cooperation in managing China.
Our major finding and key recommendation is the need for more intense and systematic transatlantic coordination and intelligence sharing. We need to connect the dots concerning China's global activities to correctly interpret the patterns of undesirable behaviors and their implications for our own "core interest" (to use a Chinese term). Another key necessity in our view is that the alliance must clarify its own priorities in the face of a rising China. We think that this should be done in an institutionalized form, for instance by creating a "Transatlantic Coordinating Council on China" as our report's contributing author Franklin D. Kramer has previously recommended. One task would be to clearly define the key priorities that all allies agree upon, and then to design a common approach to achieve them. In areas where there is less agreement, the mechanism could work towards bridging those gaps and managing the differences.
Compare and contrast U.S. and EU China policies and approaches vis-à-vis China's strategic goals and policies.
One key difference between U.S. and EU approaches to China is their asymmetric view of China as a security challenge. The U.S. is a security provider to various states in the Western Pacific and directly or indirectly involved in most of China's territorial disputes, whether it comes to Taiwan, the Senkaku Islands, or the South China Sea. Europeans including NATO have so far been focusing on Russia in the European theater as their main security concern and have been more or less excluding military risk from their China calculus. Europe of course is not a unified actor, and individual countries like France or Britain (even though no longer in the EU) have always had a more global and strategic view than Germany, for example. Lately, the enhanced strategic coordination between China and Russia is forcing Europeans to abandon their old notion that China's military rise is of no concern to them.
Analyze Europe's strategic calculus as U.S.-China competition escalates.
During the first half of the Trump administration, Europeans seemed to be hedging their bets as they found themselves caught between American trade sanctions and less than friendly rhetoric on the one hand and increasing pressure from China on the other. China tried hard to increase and exploit these transatlantic divisions. However, the pandemic, China's coercive diplomacy, and the American turn towards again working in tandem with its allies have all brought about a shift within Europe. While Europeans overall still very much hope to avoid a scenario of either a cold war or worse, a hot war between the U.S. and China that would force them to become involved, the realization is now dawning on many here that Europeans do have an active role to play in shaping the outcome of the current tensions, and that simply sitting on the fence is not going to be helpful.
After reading "The China Plan," what are possible next steps for U.S. and EU policymakers and industry leaders to consider?  
We think that due to the interconnectedness of our outlined problem areas, industry in particular needs to be included in the process of analyzing past mistakes when dealing with China to arrive at a true picture of the existing dependencies and loopholes that need to be addressed, and to understand our own levers of influence. Transnational and trans-sectoral learning processes should be initiated that could for instance conduct post-mortems of egregious cases of harmful technology transfers as a basis for more effective countermeasures. Individual businesses need not only clear regulations to follow, but also reliable intelligence and better guidance in how to conduct their operations in the face of multiple challenges from China. Meanwhile European governments, the EU, and NATO should urgently undertake contingency planning for the risk of a military escalation in the Western Pacific to avoid finding themselves wrong-footed and to jointly work towards avoiding such an outcome.