Russian Foreign Minister Finally Responds to Kazakh Sovereignty Worries
Five months after controversial comments regarding Kazakh territory, Lavrov dismisses them as coming from deputies "chasing after sensations."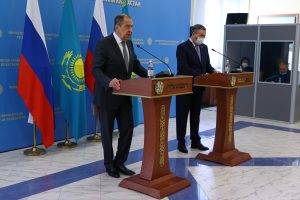 On May 6, in a special interview with a major Kazakh TV channel, Russian Foreign Minister Sergey Lavrov for the first time commented on controversial statements made by Russian deputies in late 2020. The statements pertained to questions of Kazakhstan's territorial integrity and were perceived as threatening it and demanding north Kazakhstan to "be returned back" to Russia. 
In late 2020, Vyacheslav Nikonov, chairman of the Committee on Education and Science of the Russian State Duma and a member of Russia's major party "United Russia," spoke on the topic of the legal and historical ownership of the lands of modern northern Kazakhstan. His bold and direct claims sparked a wave of support and approval from other Russian politicians, who took the statements further and demanded Kazakhstan return land to Russia. In Kazakhstan, these claims were taken seriously and triggered outrage and panic. Many were offended and asked Russia not to make "irresponsible claims" and "not forget and look down on a few of Russia's remaining friends." Representatives of Kazakhstan's political parties, civil society, and the general public wanted Russia to issue an official apology. At the time, Russia did not apologize. 
Considering Nikonov's government position and proximity to Russia's top leadership, it is hard to disregard his claims as unimportant and irrelevant. Furthermore, the context matters, especially if we take into consideration two significant factors. The first factor is Kazakhstan's complex ethnic composition. Nowadays, the country's titular ethnicity constitutes 68.5 percent of the population, Russians are the second biggest ethnic group, comprising 18.9 percent. In the early years of Kazakhstan's independence, however, the numbers were quite different, with ethnic Kazakhs constituting only 39.6 percent and ethnic Russians 37.4 per cent. Although the number of Kazakhs grew, leveling disputes on the ground of ethnic composition, it is important to note that ethnic Russian communities today are mostly concentrated in the border regions close to Russia. Moreover, most of the border cities in the north of the country were established by the Russian Empire and were given Russian names. This allows Russian nationalist to bring historical debates to the table, raising questions about the legality of Kazakhstan's ownership of those cities. 
The second factor is Russia's foreign policy toward its post-Soviet neighbors and previous claims of similar content. In 2014, not long after the Crimean annexation, Russian President Vladimir Putin claimed that Kazakhs had never had statehood before. The comment inspired some ethnic Russians in Kazakhstan to agitate for separatism, or otherwise question Kazakhstan's sovereignty over border regions. Putin's small remark caused Kazakhstan months of worry, triggering expensive nation-building programs and legislative changes regarding separatism and inter-ethnic conflicts.
Another questionable claim was made in June 2020, in a highly scripted film called "Russia. Kremlin. Putin," in which Putin said that some territories of currently independent post-Soviet republics were "gifts of the Russian people." He suggested that many republics had been granted historically Russian territories while in the Soviet Union, and raised the question of why they "[took] these territories with them when they left." In light of Russia's previous military adventures in Georgia and Ukraine, such comments naturally generate concern, as they typify the underlying logic for Russian interventions. Ethnic Russian communities in bordering regions have served as leverage for Moscow to manipulate and intimidate its neighbors. When such external manipulation no longer works, Russia – in the cases of Abkhazia in Georgia and Luhansk and Donbas in Ukraine – has chosen to engage more actively, intervening in unstable and sometimes disputed territories.
Nonetheless, it is surprising to see such bold statements directed toward Kazakhstan, which is considered one of Russia's closest and most important allies. Moscow ought to have foreseen that such comments, even if not intended to be the groundwork for a future intervention, would still generate problems, including intensifying existing separatist sentiments and inflaming nationalistic attitudes.
Russia's clarification came five months late. On May 6, Khabar, a major Kazakh TV channel, released a short clip from a sit-down interview with Lavrov. The interview was conducted within the framework of the foreign minister's working visit to Kazakhstan, where he met with President Kassym-Jomart Tokayev. From reporting of the meeting between the two, it seems that the main topics of discussions were collaborative efforts against the COVID-19 pandemic, supply of the Sputnik-V vaccine, and joint peaceful space exploration from the Baikonur Cosmodrome.
Nonetheless, Khabar released a 2-minute portion of its interview in which Lavrov commented on the controversial claims made in December. Answering the interviewer's question of why such provocative statements were made, Lavrov softly framed the deputies who made them as those who "build their careers" by "chasing after sensations." He stressed that claims of this nature "never were and never will come" from those "who determine the policy of the Russian Federation towards Kazakhstan." This comment was deemed to be so important that the official YouTube channel of the Russia's Foreign Ministry published it on its page. 
Russia's response to the Kazakh outcry following the comments made last December was long delayed, raising the question as to why, now, it seemed so important to highlight and address. Russia may have been feeling out what the response among the ethnic Russian community in Kazakhstan was, observing if it would rise to the bait. Or, in light of recent conflicts with the United States, Ukraine, and Turkey, perhaps Moscow deemed a retreat now necessary. Whatever the motivation, it is clear that Russia's policy regarding Kazakhstan and its ethnic Russian community is not straightforward and coherent. It is hard to say of what to expect next.