Upgrading South Korean THAAD
At some point in the near future it will no longer be possible for South Korean policy to remain ambiguous.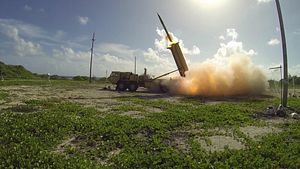 The deployment of the Terminal High Altitude Area Defense (THAAD) system on the Korean Peninsula is a contentious issue between China and South Korea, with China concerned that THAAD is aimed at its ICBM installations. South Korea and the United States argue that THAAD is purely defensive, aimed against the threat of North Korean missiles. Since it is in terminal mode, with a range of 1,000km, the THAAD radar, known as AN/TPY-2 is unable to detect Chinese ICBMs. A Pentagon report has revealed, however, that rapid conversion to forward-based mode is possible, within eight hours, extending the range to 3,000km with a 120-degree field of view.
The South Korean THAAD system was established at Lotte Skyhill Seongju Country Club, to protect military bases at Pyeongtaek, Busan, Ulsan and Pohang. The battery in Seongju has six launchers, each equipped with a radar system, with eight interceptor missiles per launcher. It now seems that this installation is being upgraded, however, with South Korean media reporting on the testimony of Robert Abrams, commander of U.S. Forces Korea (USFK), at a House Armed Services Committee hearing. He said that the U.S. Missile Defense Agency was building building "three specific" anti-missile capabilities, one of which was already deployed in South Korea. Though he did not specify THAAD, it appears the most likely reference. 
This first phase seems to be about extending the range and/or distancing the launchers from the radar, which would be a novel use of the THAAD system not previously implemented for any of the U.S. military's six other THAAD systems around the world. The second and third phases will involve integrating Patriot missiles with the THAAD radar and launchers, and providing the commander of USFK with the capability to use the right missile for the right threat at the right time against North Korean submarine-launched ballistic missiles (SLBMs).

In response to these revelations, there were protests by South Koreans skeptical about the purpose of THAAD upgrades and suspicious of additional missile deployments. The protestors attempted to prevent logistic supplies entering the THAAD base. The South Korean government denied knowledge of a China-targeting THAAD upgrade, insisting that poor facilities at the base required some additional supplies and work. The government also stated that the efforts had been "fully explained to China." President Moon Jae-in's policy of strategic ambiguity means that there will probably be no further comments on this issue.
Since 2020, and as part of a larger policy, the U.S. military seems intent upon enhancing the effectiveness of its THAAD batteries, including the one in South Korea. This is likely to generate another round of controversy in South Korea, especially because information about the U.S. defense budget for fiscal year 2021 implies that Washington may try to expand the THAAD system at Seongju. Also, at a 2020 briefing at the Pentagon, Vice Admiral Hill, head of the U.S. Missile Defense Agency, explained that changes could be in store for THAAD as USFK completes its Joint Emergent Operational Need (JEON). This refers to command priorities that could impact a pending contingency operation: JEON will couple THAAD and the U.S. military's Patriot missiles together into a single defense system, streamlining and integrating their capabilities.

What JEON suggests is that the United States is seeking to enable remote launches of THAAD interceptors from locations distant from where the launchers are placed by networking communication, thus allowing the batteries to remain in Seongju while the launchers may be sent to other locations, such as the demilitarized zone or USFK's headquarters at Camp Humphreys in Pyeongtaek, Gyeonggi Province.
A former commander of USFK, General Vincent Brooks, proposed several years ago that JEON would mean upgrading THAAD to properly deter against North Korean missile threats. The South Korean government, however, continues to deny this at present, speaking only of "improving" and "enhancing" THAAD procedures. There may be a change of stance soon, though, despite the South Korean Ministry of National Defense saying before the recent 2+2 talks that no discussions have taken place with the United States about the use of THAAD outside of Seongju or about the upgrading of THAAD. In fact Washington is known to have briefed Seoul on plans to upgrade the THAAD system, and the U.S. Army's proposed budget for the 2021 fiscal year showed $49 million to be used for construction on the THAAD site in Seongju, described as "Korea funded construction." 
The problem confronting USFK is that North Korea continues to expand its own military capacity, including their KN-23 SLBMs and their 600mm caliber super-large long-range artillery. Since the KN-23 appears to operate below the effective altitude of THAAD, the best countermeasure is to integrate THAAD with other weapons systems, especially PAC-3 and perhaps the Aegis system of the Batch 2 KDX-3-class destroyers scheduled to be completed by 2028. Also, if the THAAD systems in Japan and Guam are upgraded in the same way as anticipated for the South Korean THAAD, then they could all be linked automatically via the Alaska central command center known as regional missile defense. 
During the 2+2 talks it was reported that U.S. Secretary of Defense General Lloyd Austin expressed his view that the present poor facilities at the Seongju base are unacceptable. But the Moon administration is in a tricky position, since any changes to the existing status of THAAD risks upsetting its relationship with China, and any repetition of the Chinese economic retaliation which Korea endured in 2016 when THAAD was first deployed would be politically very damaging for Moon. In practice, however, Moon retains some freedom of action over THAAD, since if China were to lean too heavily on South Korea this might force a closer involvement with the U.S. strategy to contain China — the Indo-Pacific Strategy initiated by former President Donald Trump.
All in all, the THAAD situation is finely balanced, just as is the wider foreign policy of Moon's government. Defense against North Korean threats would surely be enhanced by dual-mode operation of the Seongju THAAD, and Moon would like to be able to agree to U.S. plans for a THAAD upgrade to demonstrate that he is steadfast in upholding the U.S.-South Korea alliance. This is important for South Korean politics, since Moon's party has lost ground over unrelated domestic issues in the past year, and there is a presidential election due in May 2022. Moon is also hoping to sell his Korean Peninsula Peace Program to U.S. President Joe Biden, however, and for this purpose it would be sensible if the Seongju THAAD continues to operate just in terminal mode. But Biden's recent speech to the U.S. Congress, marking his first 100 days in office, offered little prospect of a sunnier U.S. policy toward North Korea. While Moon's government continues to dodge the question about upgrading the Seongju THAAD, China will likely maintain its current silence on the issue, but at some point in the near future it will no longer be possible for South Korean policy to remain ambiguous.