A Missing Link in the Quad: India's Support for Taiwan
While most like-minded countries have voiced their support for Taiwan, India has steered clear of issuing any statement.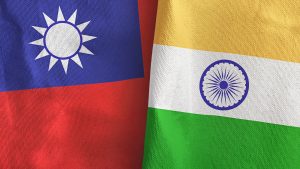 In a move to help Taiwan expedite its vaccine campaign, the United States has donated 2.5 million doses. Several developments including the visit of three U.S. senators – Tammy Duckworth, Dan Sullivan and Christopher Coons – to Taiwan in May 2021 signaled continuity in the United States' Taiwan policy. In fact, Washington is pursuing a more action-oriented policy, one that is not aimed at China but instead looks to assist Taiwan in achieving its foreign policy goals.
Apart from the United States, Japan has also come forward to help Taiwan in its fight against the pandemic. Tokyo donated 1.24 million doses in early June and an additional batch of 1.13 million doses this month. Seemingly, the United States, Japan, and even Australia are aligned on Taiwan. In May 2020, the representative offices (de-facto embassies) of the United States, Japan, and Australia in Taiwan issued a joint statement supporting Taiwan's induction to the World Health Assembly (WHA) as an observer.
Interestingly, China's coercion toward Taiwan is increasingly perceived as a destabilizing move for the region. Last week, Aso Taro, deputy prime minister of Japan, hinted that China's possible invasion of Taiwan may be perceived as a threat to Japan's survival, leading Japan to deploy its Self-Defense Forces.
While most like-minded countries have voiced their support for Taiwan and are assessing the implications of China's rising aggression, India has steered clear of issuing any statement on Taiwan. For the first time, on March 12, the Quad leaders met in a virtual setting and also, the four countries used the term "Quad" to refer to the arrangement for the first time. This was indicative of greater alignment among the Quad countries. However, a statement of support for Taiwan was missing. It was a notable omission, as Taiwan has figured in recent joint statements after the Japan-U.S. bilateral summit in May as well as the G-7 meeting in June.
Given the Quad is one of the important mechanisms under the Indo-Pacific framework, India's reluctance to voice support for Taiwan has the potential to harm the prospects of a stronger Quad.
Understandably, the disputed border and the need to manage ties with China have acted as deterrents for India. However, given China continues to remain visibly reluctant to resolve these long-standing issues and is only upping the ante, this should no longer be a factor in shaping India's Taiwan policy. To put this into perspective, India's cautious approach toward Taiwan is only leaving its Indo-Pacific policy incomplete, but, to some extent, poses challenges to the long-term credibility of the Quad as well. Aligning India's Taiwan policy with that of other Quad countries should not be seen as a move to counter China. It should rather be seen as a move aiding India in further strengthening its Act East Policy and the Indo-Pacific vision. This will accrue benefits for India's regional aspirations and will make the Quad robust.
It is time India take cues from other like-minded countries and joins the bandwagon. Japan is proactively pushing for Taiwan's meaningful participation on several international platforms, which has helped in shaping other like-minded Asian countries' perception about Taiwan. India shares common values with Japan, and the partnership is only getting deeper. Japan's support to Taiwan might also influence and motivate countries such as India to engage with Taiwan more.
The onus also lies on Taiwan to engage more with other countries in order to maximize their support. President Tsai Ing-wen's government has taken several steps to further strengthen ties. For instance, one of the foreign policy priorities for Taiwan under the Democratic Progressive Party (DPP) has been to reach out to the like-minded countries in the Indo-Pacific, and a policy framework was also introduced to carry out this objective. For the first time, Taiwan introduced a policy to engage with six South Asian countries along with the ASEAN member states, Australia and New Zealand.
The New Southbound Policy has since celebrated its five-year anniversary. While the policy has potential and yielded results for Taiwan in the past, it is important for Taiwan to further boost the policy by laying out its own Indo-Pacific vision and placing the New Southbound Policy within the broader context of the Indo-Pacific. This will improve Taiwan's regional as well as international standing. Such a move may very well serve as an answer to China's attempts to shrink Taiwan's International space. Additionally, this might motivate India, whose Indo-Pacific policy is inclusive and closely linked to its Act East Policy, to look for ways to incorporate Taiwan.
The discussion on expanding the Quad seems a little premature at the moment, but the four countries could begin by aligning their views on Taiwan. India should realize that greater convergence on issues of mutual interest is of the utmost importance when there seems to be no other way for addressing the China challenge.