Malaysia to Phase Out China's Sinovac Vaccine
Will mounting evidence about the limited efficacy of Chinese-made vaccines spell the end for Beijing's vaccine diplomacy?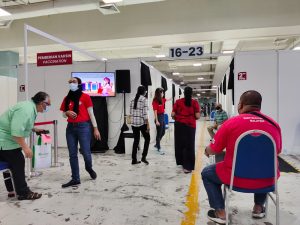 Malaysia's Ministry of Health said yesterday that the country will stop administering the COVID-19 vaccine produced by China's Sinovac Biotech once its current supplies run out, amid mounting evidence that the vaccines have limited efficacy against the Delta variant that is currently ravaging Southeast Asia.
Health Minister Adham Baba told a press conference that the Malaysian government has secured about 45 million doses of the Pfizer-BioNTech vaccine, enough to cover 70 percent of its population, compared to 16 million doses of Sinovac's shot.
"About half of the 16 million have already been distributed, so the rest will be used to cover second doses," Adham said, according to Reuters. "For those who have yet to be vaccinated, they will receive the Pfizer vaccine."
The announcement came as Malaysia marked its third straight day of record COVID-19 infections, as it battles a spiraling outbreak of the virus. This brought Malaysia's total number of infections to 880,782, the worst in Southeast Asia in per capita terms, and its death toll to 6,613.
The Malaysian decision reflects increasing concerns about the efficacy of Chinese-made vaccines against the more transmissible Delta variant of COVID-19, first identified in India.
Last week, health authorities in Indonesia announced that they are considering offering a booster shot to medical workers immunized with Sinovac's vaccine, following in the footsteps of nations like Turkey and the United Arab Emirates. Indonesia has vaccinated hundreds of thousands of healthcare workers with the Sinovac shot and thousands of them are now testing positive for COVID-19; some have even died.
Yesterday, Thailand, battling its own devastating wave of Delta cases, became the first nation to offer a booster shot of AstraZeneca vaccine to people who have already been given the Sinovac shot, after seeing a similar spike in infections among health workers who had received the vaccine.
The moves follow the mounting evidence about the relatively low efficacy of the Chinese-made vaccines. A study published last week by researchers at the University of Hong Kong found that people inoculated with the Pfizer-BioNTech vaccine had antibody levels 10 times higher than those who opted for Sinovac.
At the same time, the lead author of the study told the South China Morning Post that a degree of protection was better than none at all, and suggested that governments pursue "alternative strategies," including booster shots, to strengthen the immunity of Sinovac recipients.
This suggests that for all its problems, the portable and relatively cost-effective Sinovac vaccine could still play an important role in helping developing countries achieve widespread vaccine distribution. In the Indonesian case, for instance, it is unclear how many health workers who received Sinovac shots would have become sick or died if they were totally unvaccinated.
However, the potentially weak efficacy of Sinovac poses a challenge for Southeast Asian nations, which are struggling to secure ample supplies of the more effective mRNA vaccines. It could also take the shine off China's attempts to leverage its vaccine outreach for strategic gain, eroding the already low levels of public trust in the Chinese jabs.
Southeast Asia is a key target for Chinese vaccine diplomacy, accounting for 29 percent of China's total vaccine donations and 25.6 percent of its vaccine sales worldwide. Yet as Khairulanwar Zaini of Singapore's ISEAS-Yusof Ishak Institute argued recently, China's vaccine diplomacy "has yet to generate strategic trust in Southeast Asia, mainly due to Beijing's assertion of hard power in other domains, especially in the South China Sea."
This suggests that while the low efficacy of Chinese-made vaccines is likely to dent Chinese prestige, it could have a limited effect in altering perceptions of China. If Beijing's vaccine diplomacy was doing little to improve Southeast Asian perceptions of Chinese power, the same will probably be true of the limited efficacy of its vaccines.
Ultimately, the Southeast Asian response to China will remain heavily informed by the simple fact of proximity to China. This alone ensures a degree of concern and consternation about growing Chinese power, especially in the maritime domain, but also ensures that the region has a strong interest in maintaining mutually beneficial economic relations. Once Southeast Asia finally emerges from its current COVID-19 maelstrom, the same mix of benefits and fears is likely to pertain.