The Road Ahead for Taiwan-US Relations
Increased U.S. support has raised hopes in Taiwan – and some of those expectations may be difficult for Washington to meet.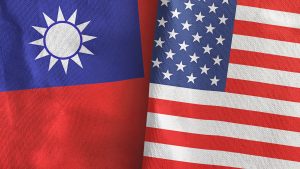 One of President Joe Biden's achievements in restoring U.S. leadership in Asia has been in Taiwan, which was staunchly pro-Trump. But while Biden has executed a great turnaround in winning over the Taiwanese, that doesn't mean that it's an easy road ahead.
There are both bilateral and wider issues that mean that Taiwan-U.S. relations will remain challenging for the the next three and half years.
Bilaterally, there are issues around trade and industry policy. Taiwan would like to develop formal economic ties – which might open the door for other countries to follow. While the Biden administration has responded to Taiwan's requests to restart economic dialogue under the Trade and Investment Framework Agreement (TIFA), a trade agreement will be harder for a Democratic administration that has to focus on the U.S. economy first. The results of Taiwan's referendum on U.S. pork imports may be a factor as well.
Industry policy around semiconductors will also be an area of tension. With the United States focusing on securing supply chains and reshoring jobs, there will be pressure on Taiwanese companies to relocate more factories. Taiwan may placate the U.S. by moving some, but it will not want to give away areas like research and development. Taiwan sees its global importance in semiconductors as a bargaining chip in its favour. But with China-U.S. tech competition, there is the danger that Taiwan will be caught in the crossfire.
More broadly, there is a danger that increases in U.S. support – such as in arms sales, diplomatic contact, or vaccines – will lead to heightened expectations from Taiwan. According to one Taiwanese policymaker, "If you give more hope there will be more disappointment in the future." This is rooted in Taiwanese fear and anxiety: "When the U.S. is willing to offer more support, we fear the support to be temporary and conditional, and seek more and stronger U.S. commitments."
Some of the raised expectations may be difficult for the United States to meet.
On the security side, there are demands to help Taiwan build a next generation military, including consistent arms sales (of the right type and at a cost that Taiwan can afford), covert or overt military exchanges, and even joint military exercises. And among some there is an expectation that the United States will help Taiwan improve its defense effectiveness, even push for reform in Taiwan's military.
On the diplomatic side, there will continue to be a desire for high-level contact to normalize the relationship and support for Taiwan's international participation, such as in the World Health Assembly. One specific test will be Biden's Summit for Democracy, a campaign promise, which looks like it may be held in 2022. Finding a way to include Taiwan – one of only seven societies in Asia rated as free by Freedom House – is crucial. This means that it cannot just be a summit of states.
The wider issue is how the United States will respond to Chinese pushback whenever and however it occurs. China has continued to ramp up pressure on Taiwan with incremental increases, such as a record incursion of Chinese planes into Taiwan's air defense zone following the G-7 Summit. The question is whether there will be a change in the type of pressure, rather than in intensity. If China does change tactics, how will the United States respond?
There has been sufficient discussion around whether the U.S. will end its position of strategic ambiguity that it has raised expectations. Asia policy czar Kurt Campbell's recent comment that the United States does not support Taiwanese independence – a statement of the official U.S. position – was greeted with some unhappiness among the Taiwanese public. The leadership of the governing Democratic Progressive Party knows that the United States will not support de jure independence; its political challenge is managing supporters' expectations given the reality that the best on offer is U.S. friendship and partnership.
One of the Biden administration's achievements is that it has internationalized Taiwan's security by building support among U.S. partners and allies. Peace and security in the Taiwan Strait have been mentioned — for the first time — at the G-7, Japan-U.S., South Korea-U.S. and Australia-Japan summits. In Taiwan, there is support for what's seen as a grand strategy of maneuvering a power network to constrain China. But the downside of getting more countries involved means the need to spend more time to build consensus. Some wonder if the United States has time to build such coalitions given China's rapid rise, particularly as internationalization is likely to increase the chance of Chinese pushback.
The final test for the Biden administration will be Taiwan's presidential election in January 2024, ahead of the U.S. presidential election in November. A term-limited Tsai will not be able to run again. If the DPP is returned to power, this may be the trigger for a cross-strait crisis. If the opposition Kuomintang is elected, the United States will have to decide how to interpret this. From the KMT side, an important part of the relationship is that the U.S. understands that any thaw in cross-strait relations need not be seen as a betrayal of U.S. interests.
Whoever is in the Presidential Office and the White House, there remain fundamental challenges in Taiwan-U.S. relations. Because increased support will heighten expectations, any honeymoon will always be short. Maintaining the positive views he has built up in Taiwan will be a continuing challenge for Biden.