US High-Level Diplomat Visits Japan, South Korea, Mongolia
Deputy Secretary of State Wendy Sherman is making the rounds in East Asia, with one notable omission from her itinerary.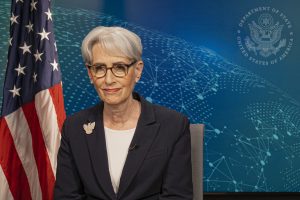 U.S. Deputy Secretary of State Wendy Sherman is making a tour of East Asia this week. She is currently in Japan, where she will take part in bilateral meetings as well as a trilateral discussion involving the vice foreign ministers of Japan and South Korea. From Tokyo, Sherman will travel to South Korea and then on to Mongolia.
"Throughout the trip, the Deputy Secretary will reaffirm the U.S. commitment to working with allies and partners to promote peace, security, and prosperity in the Indo-Pacific and to upholding the international rules-based order," the State Department said in its travel announcement. Predictably, COVID-19 and climate change will also feature high on the agenda during all three stops.
Sherman has already met with her Japanese counterpart, Vice Foreign Minister Mori Takeo. According to the State Department read-out, the two discussed a wide range of issues, from the Japan-U.S. alliance to North Korea, Myanmar, climate change, COVID-19, and securing supply chains.
Next up is a trilateral meeting involving Sherman, Mori, and South Korea's Vice Foreign Minister Choi Jong-kun. North Korea will be a major focus of that meeting, but "climate change and global health" will be on the agenda as well, representing the Biden administration's bid to elevate trilateral cooperation beyond the narrow field of security. The talks, however, will have to overcome severe strains in Japan-South Korea relations, as evidenced by Korean President Moon Jae-in's decision not to visit Tokyo for the Opening Ceremony of the Olympic Games later this week.
Mongolia, another East Asian democracy, will be Sherman's next stop. Despite keen interest in Ulaanbaatar to expand cooperation with the United States, particularly trade, Washington has not devoted as much attention to the relationship. A planned stop-over by former Secretary of State Mike Pompeo in October 2020 was cancelled after then-President Donald Trump tested positive for COVID-19. As deputy secretary of state, Sherman's visit won't have quite the same heft, but it is still the most senior visit from a U.S. State Department official since 2016.
However, Sherman will have to tread carefully in Ulaanbaatar. Mongolia is not keen to be drawn into the China-U.S. competition and will be ultra-sensitive to any suggestion that Washington is seeking to make Mongolia take sides. Sherman's stated goals "to promote peace, security, and prosperity in the Indo-Pacific and [uphold] the international rules-based order" may sound benign, but that language has taken on the baggage of containing implied digs at China.
China's Xi Jinping called Mongolia's new President Khurelsukh Ukhnaa on July 16 to reinforce that "China and Mongolia are friendly neighbors" and should work together "to strengthen coordination and cooperation, uphold true multilateralism, and build a new type of international relations featuring mutual respect, fairness and justice, and win-win cooperation."
Despite previous reporting that Sherman would also be making a stop-over in China – perhaps even to discuss a potential summit between Presidents Joe Biden and Xi Jinping – that does not appear to have materialized. When U.S. State Department spokesperson Ned Price was asked on July 19 whether Sherman was going to visit China, he pointed reporters to the previous trip announcement, which did not include China on the itinerary.
Price continued:
We make announcements [on travel] only once and if we determine that a visit has the potential to be just that, to be substantive, to be constructive for our purposes and for our interests. We have been clear that we will engage the PRC [People's Republic of China] when it is – when it is in our interests, and when – and will do so in a practical, substantive, and direct manner, and that remains the case.
Price refused – despite substantial pressure from the reporter – to definitively rule out a China trip, however, which might suggest that talks are still underway. China would be the last stop for Sherman on this trip, so there is still room in her schedule if a breakthrough is made. She is currently scheduled to depart Ulaanbaatar for Washington, D.C. on July 25.
It seems unlikely that Beijing is keen to welcome a U.S. diplomat at the moment. Last week, the U.S. rolled out new sanctions on Chinese officials over Hong Kong, and just on Monday Washington spearheaded joint statements with its allies denouncing China's "irresponsible, disruptive, and destabilizing behavior in cyberspace."
The Financial Times reported that Sherman declined to visit China after Beijing refused her request to meet with Le Yucheng, the second-ranking figure in China's Ministry of Foreign Affairs and thus her most direct counterpart. Instead, "China offered a meeting with Xie Feng, the number five foreign ministry official who is responsible for US affairs," FT reported.