Could Evergrande's Contagion Wreck Cambodia's Property Sector?
Over the past decade, the country's property market has become heavily reliant on inward flows of Chinese investment.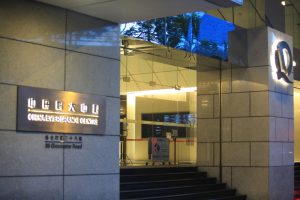 In what some pundits are calling China's "Lehman moment," one of the country's largest property developers is on the brink of defaulting on more than $300 billion worth of debt. China Evergrande Group received a slight reprieve last week when it was able to make a bond repayment to local investors, but its market value has crashed by around 80 percent over the past year and the chances of the company's collapse haven't been written off, possibly bringing down parts of China's property and financial sector with it.
Picking apart Evergrande's potential collapse has occupied the minds of economists for the past few weeks, with some describing it as an event waiting to happen. "The problem with Evergrande is that it is not an anecdote, but a symptom of a model based on leveraged growth and seeking to inflate GDP at any cost with ghost cities, unused infrastructure, and wild construction," one commentator argued.
Ditto for Cambodia, which since the early 2010s has seen its own property market boom, thanks in large part to considerable investment from China and at-any-costs development built on the back of soaring debt. For years, analysts have warned about the risks of Cambodia's "property bubble" imploding. Even before the COVID-19 pandemic began, a stroll around Phnom Penh or the coastal city of Sihanoukville, the hub of Chinese investment, would reveal entire condominiums without a single lit apartment.
Spiraling prices meant most new-builds were way too costly for ordinary Cambodians, while the Phnom Penh grapevine buzzed with rumors that much of the property boom was funded by money laundering and corruption, with overseas investors pouring their money into a country that also uses the US dollar. (Cambodia was ranked as the 16th worst country in the world for money laundering in the 2019 Basel Anti-Money Laundering Index.) Since 2018, the government and skeptics in the industry have called on developers to focus on affordable homes, catered to local buyers, not overseas investors. Little progress was made, chiefly because of the sums developers could draw from mostly-Chinese investors, with the proceeds funneled back into new developments, a scheme that depended on a constant flow of inward investment.
"I'm not sure there'll be contagion [from Evergrande in Cambodia] but the business model of putting up low quality condos that no one is ever likely to live in needs to stop," said Stephen Higgins, managing partner at Mekong Strategic Partners, an advisory firm. "Other than a few high quality projects, I wouldn't go near a condo investment in Phnom Penh," he added.
Bradley J. Murg, distinguished senior research fellow at the Cambodian Institute for Cooperation and Peace, noted that nearly everything about the Evergrande situation remains uncertain. But the biggest question, he said, "remains whether this is the moment that finally bursts China's property bubble, despite the People's Bank of China's fresh assurances to consumers and its best efforts at avoiding a hard landing for the sector."
"At the same time, there is the question of contagion to other economies in the region," Murg added. "For Cambodia, long-reliant on Chinese investment in its real estate development sector, that dependence certainly creates a distinct vulnerability to negative spillover effects impacting the Kingdom's economy in the near term."
James Hodge, managing director of CBRE Cambodia, a real estate service provider, told me that he doesn't think Evergrande's predicament will have any "direct impact" on Cambodia. The company itself hasn't invested in Cambodia, after all. However, Hodge said, there will be some fallout because of a changing approach to real estate investment among the expatriate Chinese population, as well as pressures on Chinese developers, which is already being felt in the Cambodian market.
Chinese real-estate developers began to change their activity in Cambodia because of the COVID-19 pandemic, with many backing away from the market. According to the World Bank's latest economic update, approved FDI project value for Cambodia's construction and property sector has plummeted, from $1.79 billion in 2019 to just $140 million in 2020. And because of a lack of foreign investors, a good number of Chinese-owned developments in Cambodia have now applied significant discounts, often up to 30 percent off the sales prices, whilst simultaneously increasing agents' commissions to as much as 15 percent, Hodge told The Diplomat. "These actions were instigated in part to reposition their project towards local buyers, for whom keen pricing is a key factor in a purchase decision," he said.
Evergrande's possible collapse, and the wider implications of this on Chinese markets, will likely continue this trend. Because Cambodia is not seen as a "core market" for Chinese developers, they could be tempted to exit the country to focus on their core business, which remains in China, said Hodge. At the same time, the same sentiment will likely mean Chinese investors also pull out of the Cambodian property market, meaning fewer buyers. For both, the likely reduction of credit in China for speculative real estate developments will compound the problems.
What impact that has on Cambodia's wider economy remains to be seen. Less Chinese investment in the property market is certain to weaken Cambodia's construction sector, a key part of the country's economy.
Another concern is the effect on Cambodia's banking sector, especially if the Chinese pullout sends property values further downwards. According to central bank data, some 13.2 percent of credit issued by deposit-taking banks is tied up in mortgages and owner-occupied housing as of May 2021, compared with 10.6 percent in May 2019. A further 8.4 percent is in other non-specific real estate activity and 9.6 percent in construction, roughly the same as in 2019. However, much of the debt in Cambodia's property sector is hard to account for, derived from unofficial lending, from household savings and from the risky practice in which developers take considerably large deposits from investors before even starting a project. "It is imperative to continue to closely monitor vulnerabilities arising from a prolonged property boom and the increase of credit provided to the construction sector during the pre-pandemic period," the World Bank warned in June.
All that said, it is by no means clear that this is unwelcome news for Cambodia in the long-run. Hodge says that Evergrande's problems could cause short-term problems in Cambodia, but he reckons the outcome could create a healthier, more diversified real-estate market in Cambodia, which would be "a positive thing for the country in the medium term."
Chinese investors who stay in Cambodia will likely put their money into other, safer sectors of the economy. A fire sale by them could further force down property prices in Cambodia, making them more accessible for locals. This could spark renewed attention on affordable housing. In addition to the effects of the pandemic, it could finally end over-speculation in the sector. So, too, could the psychological spillover of Evergrande's potential collapse. The "build, build, build" ethos that created Evergrande's problems also inspired other countries, not least Cambodia, to think that they could replicate China's property boom and trust the good times to go on and on.