Malaysian FM Calls for 'Soul-Searching' Over ASEAN Non-Interference
Saifuddin Abdullah says the Southeast Asian bloc has to fundamentally rethink its approach to the crisis in Myanmar.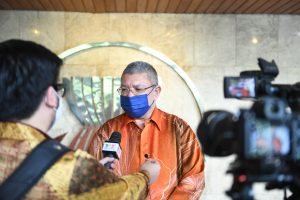 Since taking up his portfolio in August, Malaysia's Foreign Minister Saifuddin Abdullah has emerged as an unlikely driving force within the Association of Southeast Asian Nations (ASEAN). Appointed in the political upheaval that followed the August resignation of Prime Minister Muhyiddin Yassin, in whose cabinet he served as minister of communications, Saifuddin has lost no time in taking ASEAN to task for its limp response to the coup and ensuing crisis in Myanmar.
Earlier this month, Saifuddin, who was first elected to parliament in the general election of 2008, was the first ASEAN official to suggest publicly that junta leader Min Aung Hlaing could be excluded from the bloc's upcoming summit, a move that ASEAN's foreign ministers made last week. He also suggested that if the junta continued to stonewall the Southeast Asian bloc in its attempt to implement the Five-Point Consensus agreed in April, his government could officially open talks with the opposition National Unity Government (NUG), which is competing with the junta for international recognition.
Speaking at a virtual dialogue on human rights in Myanmar yesterday, Saifuddin went a step further, suggesting that ASEAN should also rethink its decades-long policy of non-interference in the affairs of member states, which, together with the principle of consensus-based decision making, forms the core of the "ASEAN way."
Saifuddin said he understood the policy was "almost sacrosanct" to the bloc and its member states, and had been "useful and practical" in the past. "But when we are faced with situations like the one that is currently occurring in Myanmar, then perhaps ASEAN should actually do some soul-searching," he told the dialogue.
Saifuddin later added on Twitter that all of the bloc's stakeholders – politicians, academia, activists, and officials – should ponder whether ASEAN could evolve "from the principle of non-interference towards (innovated) 'constructive engagement' or 'non-indifference.'"
Saifuddin's call for "non-indifference" may seem innocuous, but it cuts to the heart of ASEAN's very identity and purpose. The principle of non-interference has deep roots in the anti-colonial origins of the region's modern nation-states; it was important in overcoming the intra-regional tensions that plagued their early history, and, aside from a minor series of skirmishes between Thailand and Cambodia over a clifftop temple in the early 2010s, has successfully prevented the outbreak of inter-state conflict between ASEAN member states for more than 50 years.
But the situation in Myanmar has highlighted the inadequacy of the principle and the severe limits it places on ASEAN's ability to deal with serious internal crises in one of its member states. The February coup was not the first military takeover in the bloc's history – far from it – but it has given way to a deadly impasse between the junta and its manifold opponents which threatens to combust into nationwide civil war. Along with the severe economic downturn that has resulted, that looks likely to generate humanitarian emergencies in the months and years to come.
As many have noted, these could well spill out over the region as a whole, much as the Rohingya refugee crisis has already done, making it in ASEAN's interest to play a more constructive role in tackling it. Saifuddin recognized as much in his comments yesterday: "As much as the issue in Myanmar is local and national… it has impact on the region and we should also recognize the concerns of the other nine member states," he said.
Moreover, Myanmar's junta has used the non-interference principle to demand that ASEAN stay out of its affairs: it claimed that Min Aung Hlaing's exclusion from the upcoming summit was "was against the objectives of the ASEAN, the ASEAN Charter, and its principles."
More than anything else, the interventions of Malaysia's top diplomat also point to the reputational toll that Myanmar's crisis is taking on ASEAN and its credibility, at a time of increasing superpower competition that has placed the bloc, and its claims to "centrality" in Asian diplomacy, under increased international scrutiny.
In March, Singaporean Foreign Minister Vivian Balakrishnan said that failing to take meaningful action in the case of Myanmar "would starkly underscore our lack of unity, and undermine our credibility and relevance as an organization." Last week, when ASEAN chair Brunei announced Min Aung Hlaing's exclusion from this month's summit, it specifically cited the corrosive impact the situation in Myanmar was having on regional security, "as well as the unity, credibility, and centrality of ASEAN."
It is clear now that the bloc's chosen path on Myanmar has failed. Naively assuming the good faith of the junta, its Five-Point Consensus process has ended – as did similar initiatives toward the old military junta – in grinding negotiations over access rather than substantive political dialogue. In this context, Saifuddin has shown a rare degree of leadership in pushing for changes to a regional organization that is known for its sunny complacency and incrementalism.
ASEAN is very far from obtaining the consensus necessary to do away with the non-interference principle and fundamentally rethink the bloc's mission and purpose. For one thing, many Southeast Asian governments continue to wield the principle as a shield against regional scrutiny of their repressive internal policies, and to reinforce national sovereignty against democratizing pressures from the West.
But the principle of non-interference has historically been interpreted flexibly by ASEAN, and there is no reason in theory why the bloc couldn't establish an ad hoc exception that takes into account the unique circumstances that are leading incrementally to the breakdown of one of its member states, as well as its own international reputation. In practice, of course, it is another matter entirely, and such an achievement would require reserves of leadership and diplomatic creativity that it is unclear the bloc possesses.
Ultimately, any criticism of ASEAN's handling of the Myanmar crisis has to proceed alongside a recognition of the fact that the deadly stalemate between the junta and the various resistance forces, neither of which have shown any interest in compromise (understandably, in the case of the latter), is currently resistant to any straightforward solution. If ASEAN lacks ideas for resolving it, so do many of its critics. It is for this reason that Western governments have been so eager to defer to ASEAN's sluggish processes. But whether or not there is an obvious pathway out of the Tatmadaw's tangle, ASEAN has every reason to take a stronger and more principled stand, if only for the sake of its own international credibility.