What Do People in Taiwan Think About Their Military?
As the perceived threat from China rises, people in Taiwan are reevaluating long-held negative views of their military.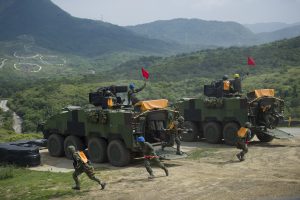 In recent decades, Taiwan's people have seen their military in a negative light due to perceptions that mandatory military service is a "waste of time" and that Taiwan's chances of prevailing in a war against China are meager as the gap in military capabilities continues to widen across the Taiwan Strait. The death of college student Hung Chung-chiu during military training in 2013 revealed deep issues in the country's military training system, such as its opaque process for dealing with complaints from comrades from all ranks. These issues contributed to the Ma Ying-jeou administration's decision to shorten the duration of mandatory service to initiate a transition to an all-voluntary force.
However, as China continues to threaten Taiwan's safety, such as by constantly sending warplanes near Taiwan, there are signs that citizens in Taiwan have also started to change their perceptions toward their military. In September, the Ministry of Defense in Taiwan announced that citizens serving the reduced four-month mandatory training would be dispatched to serve in military units or even stationed on Taiwan's offshore islands. The Tsai Ing-wen administration has also been gauging the possibility of reverting to the previous conscription system in which all citizens serve at least one year, and in some cases two years, in the military.
The public seems willing to lend support to such a policy change. The well-known Taiwan National Security Survey, undertaken by Duke University and National Chengchi University, in late 2020 asked 1,000 citizens in Taiwan whether they believed the four-month mandatory training was the appropriate length. Seventy-five percent of respondents saw it as too short; another 16 percent thought it was "just right" and just 2 percent said it was too long.
In addition, from 2015 to 2017 the Sociology Institute at Academia Sinica (Taiwan's national academy) surveyed 1,300 citizens about their opinions on whether the country should move back to the conscription system. Respondents were asked if Taiwan should reinstitute conscription "to strengthen its military power," and there was a 21 point increase in support from 2015 to 2016 (60 percent to 81 percent). A similar version of the question was asked in 2017, and the support went to a record 86 percent.
Clearly, the enthusiasm for moving back to conscription was high. But do citizens become less supportive of the military when budgetary concerns are brought up? Another question by the same Academia Sinica survey tapped into the question. When asked in 2015 if "you are willing to increase your tax to strengthen Taiwan's military power," 66 percent of respondents were opposed; only 32 percent were supportive. Combining with the previously mentioned survey results leads us to speculate that around 30 percent of citizens in Taiwan are supportive of conscription but unwilling to pay for it.
The gap between willingness to pay for military training and interest in reinstituting conscription could be as simple as a desire to pass the tax burden to others. Citizens often want to enjoy the benefit of public goods, such as national defense or environment protection, but do not want to bear the associated costs themselves.
However, there could be other reasons for the discrepancy, related to the images that the public possess about the military. One of our working papers indicates that willingness to engage in a hypothetical conflict against China is dependent on one's perception of the usefulness of mandatory military training. In other words, a Taiwanese citizen will be more willing to defend Taiwan on the battlefield if they believe the training received is beneficial for that purpose, and vice versa. Consequently, the fact that a significant portion of the public is not ready to foot the bill for an increase in military spending probably may stem from their perceptions of the military training and its utility in providing for the defense of Taiwan.
Getting all or most of the citizens in Taiwan energized and supportive of conscription would have other benefits. Work by Jason Lyall suggests that the demographic composition of a country's military can influence the likelihood of success in a military confrontation. He finds that if the military is composed of disproportionately minority groups who are disadvantaged in general society, a country is more likely to lose in combat or face military coups. Extrapolating his findings to the content of Taiwan suggests that a universal conscription that mandates all citizens to join the military could boost the morale of the military by diversifying its composition of personnel.
The first step to achieving this goal is reforming the existing image of the military images, and it seems like the current administration is heading in this direction. President Tsai Ing-wen is attentive to military affairs, as she, on average, maintains at least one post per week on this topic on her Facebook page. Tsai is also promoting other military reforms, such as the production of domestically made submarines and the mobilization system of the military reserves. More recently, military experts have also rated the Han Kuang Exercise to be more extensive and arduous compared to previous years. All these efforts will help shape a new image for the military, which will encourage citizens to lend their support for future reforms.