Moving Toward Sustainable Australia-Taiwan Ties
Australia is now moving away from the narrative that inching closer to Taiwan will anger China.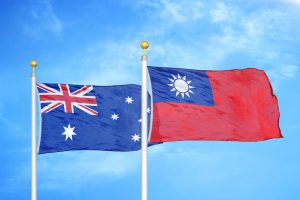 The recently concluded Yushan Forum, known for its role as the flagship conference to propagate Taiwan's President Tsai Ing-wen's New Southbound Policy, generated much anxiety and furor in Chinese policy circles. A major attraction of the event was the presence of former Australian Prime Minister Tony Abbott, who made an unambiguous statement about the dangers posed by China's aggressive postures and the role Taiwan and Australia could play in dealing with it. Interestingly, Abbott Taiwan's visit came at a time when China's Air Defense Identification Zone (ADIZ) incursions were at a peak, with international support pouring in for Taiwan.
Abbott's trip to Taiwan became a topic of discussion in Taiwanese, Chinese, and Australian media alike. The main objective of his visit was to attend the Yushan Forum, where he delivered a keynote address along with Taiwan's President Tsai Ing-wen. Abbott mentioned that two years back, he had declined an invitation to attend the forum due to a likelihood of provoking China but readily accepted the invitation to attend in 2021. Even though he visited in his personal capacity, his decision this year echoed changing Australian perceptions about Taiwan, China, and the cross-strait dynamics.
In the recent past, Australia has shown a firm approach in dealing with China's coercion and aggression. The scrapping of Victoria's Belt and Road Initiative deal based on Australia's Foreign Relations Act is a case in point. This change in Australian perception is not only at the policy elites' level; even common peoples' perception of Australia is changing. According to poll data, only 23 percent of Australians now trust China as a responsible power, a share that is reducing rapidly.
Last year, when China imposed 200 percent import tariffs on Australian wine, Taiwan came forward to express solidarity and even started a "Freedom Wine" campaign to urge Taiwanese to purchase Australian wine. Reciprocating Taiwan's gesture, Australia also expressed support for Taiwan on a similar issue concerning a Chinese ban on Taiwanese pineapples. The two countries signed the Taiwan-Australia Agricultural Cooperation Implementation clause to export 6,000 kilograms of Taiwanese pineapples to Australia.
The growing Australia-Taiwan bonhomie does not exclusively hinge on China; there is interest in the partnership on its own merits. The latest example in that regard is the celebration of the 40th anniversary of Australia's office in Taiwan, and an announcement launching the "Australia-Taiwan Friendship Year – Arts Exchange Partnership."
While earlier Australia's interests mainly lay in preserving peace and stability in the region, it has now begun to call Taiwan an important partner in the Indo-Pacific. After a long time, Taiwan is being seen for what it is: a thriving liberal democracy in a region where they are in short supply. There is a visible shift in how Taiwan is perceived vis-à-vis China. Recent developments have also led to a realization that engaging Taiwan is beneficial, and relations with Taiwan should not be be held hostage to China. Australia is realizing the futility of keeping ties with Taiwan at a bare minimum when China shows no interest in mending ties with the leadership.
This aspect has been clearly noticed in Prime Minister Scott Morrison's policy toward China and Taiwan. Several statements by Australia have mentioned Taiwan and the importance of maintaining peace and stability in the Taiwan Strait. For its part, Taiwan has also expressed positive views toward AUKUS and the Quad, where Australia is a key member.
For a long time, Australia's stance on regional security underlined its self-defined role of a deputy sheriff to the United States in the region. Now, the China challenge is too big for Australia to just rely on the United States. Canberra is taking a more active role in preserving regional security, and that extends to its relationship with Taiwan.
During his Taiwan visit, Abbott said, "Nothing is more pressing right now, than solidarity with Taiwan." This is not only manifested in Australia's approach toward Taiwan now, but also conveys a message to the international community that it is no longer viable to ignore Taiwan, which is a vibrant democracy, has robust civil society, and has contributed to global development. Paying attention to Taiwan and standing up with Taiwan will constructively contribute to the peace, stability, and prosperity of the Indo-Pacific.
While a major policy change may not be in the cards, Australia is now moving away from the narrative that inching closer to Taiwan will anger China. Canberra is getting closer to building a more sustainable policy framework to advance ties with Taiwan.