Imran Khan Fights For His Survival
Could the Pakistani prime minister appoint a new army chief to turn the political tide in his favor?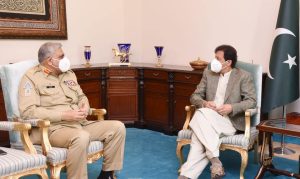 Prime Minister Imran Khan claimed on Sunday that a foreign conspiracy was afoot to remove his government and destabilize the country's economy over his refusal to allow Pakistan's foreign policy to be influenced from abroad.
He claimed to have a letter in his possession to prove that such a campaign was underway. He even alleged that the no-trust motion against him was part of the same plot and that the Pakistani people were being used to make the campaign successful.
"Attempts are being made through foreign money to change the government in Pakistan. We know from what places attempts are being [made] to pressure us. We have been threatened in writing but we will not compromise on national interest," Khan said while speaking at his party's historic gathering at Parade Ground in Islamabad.
Khan's revelations are startling and highlight what is actually happening in Pakistan's politics and what to expect in the coming days and weeks.
People close to Khan claim that the authenticity of the letter cannot be questioned and that it has been shared with the country's armed forces. However, the big question is, if the letter has been shared with the country's military then why has nothing been done at the state level to protect Pakistan's interests, including the current government?
It is important to note here that Khan has met Army Chief Gen. Qamar Javed Bajwa several times over the course of the last few weeks. What happened at those meetings has not been revealed.
Traditionally, the military is known to direct Pakistan's foreign policy and Khan, like many of his predecessors, has allowed this. Months ago, Khan reportedly refused to offer military bases to the United States to carry out counterterrorism operations in Afghanistan.
Contrary to how it was portrayed, this position was very much led by the military. There are many reasons for Islamabad's reluctance to offer military bases to Washington this time around, including China's snub and the Afghan Taliban's opposition to the proposal.
Moreover, Khan's recent remarks against the European Union regarding the Ukraine-Russia conflict have triggered controversy in Pakistan. The military leadership may not like Khan's frenzied statements against the West, but it cannot be denied that the current government has mostly followed foreign policy directions laid out by the security establishment. These statements only show the desperation of a leader who has fallen out of favor with the powers that have helped him rule.
If there was any conspiracy to oust Khan over the issue of foreign policy, the military would have known, meaning the ongoing political drama involving the case of a no-confidence motion in parliament, and rallies may not have begun at all. If efforts to oust Khan were part of an international conspiracy but the military stood with him, no one would have heard about it.
If this has not happened, then the problem is somewhere else. It is highly likely that the country's security elite is part of the efforts, which Khan termed a conspiracy, to oust him. If Khan is talking about threats to his governments from abroad then it means he has failed to patch-up things with the military leadership directly. Khan's differences with Bajwa over the appointment of the director-general Inter-Services Intelligence (DG-ISI) are well documented. As things stand, the security establishment's plans to remove Khan are being implemented in the old fashioned way of involving willing and opportunist opposition leaders and lawmakers in the strategy.
It is important to note that Khan's statements have become louder and more public as his relationship with the military has faltered. This essentially means that in the coming days, Khan could make more moves to undermine the no-confidence vote against him and to expose those that are planning the move.
Opposition parties have gained a clear majority in the parliament, and the parliament's decision on the no-confidence motion is expected in the coming days. Khan doesn't want to come out of it as a loser.
Essentially, Khan's remarks about a conspiracy are meant to delegitimize the entire process that is taking place in the parliament, courts, rallies, and elsewhere. It is very possible that he may reject parliament's decision by invoking the same reasoning in the coming days. It is further possible that things could turn violent as the government is making all-out efforts stop the formal constitutional process from taking its course.
If anything, Khan's remarks indicate that he may even go as far as revealing state secrets if pushed out of power. And before he is pushed out, Khan is likely to make a last ditch effort to involve his remaining sympathizers in the military to save himself.
Can he go as far as appointing a new army chief to turn the tide in his favor? Many in Islamabad are dreading that this option is also on the table as Khan will not go down easily.