The Problem With Indonesia's Plan to Attract 'Digital Nomads'
Will tourism actually benefit the country over the long-run, or is it simply turning parts of the Indonesian economy into a neocolonial service economy?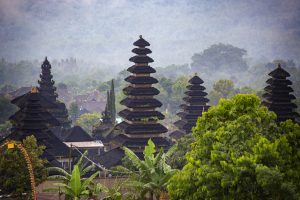 Late last year, the Indonesian government announced that a Second Home Visa – adapted from the country's existing retirement visa – would be available from December 24 for foreigners looking to work remotely from one of the country's 18,000-odd islands for up to 10 years.
Anticipation for the move had been building since June 2021, when Tourism Minister Sandiago Uno announced the government's intention to create a "digital nomad" visa, specifically citing the government's intention to make the island of Bali a "workcation" destination. Sandiago further suggested that remote workers would be able to make Indonesia their home for up to five years, tax-free.
The December announcement, however, left many "Bali-philes" disappointed. The newly launched visa requires proof of funds up to $14,000, and requires prospective nomads either to buy a local property valued at $128,361 or to deposit a similar amount into an Indonesian bank, which cannot be touched throughout their five or ten-year stay. In compensation, special incentives, such as investment, tourism, real estate, and corporate permits, have been announced to attract wealthy foreigners looking to relocate.
The government hopes that by encouraging and promoting long-term stays by foreigners, it can generate foreign direct investment and inject more cash into the Indonesian economy.
Currently, the tourism economy accounts for 60 percent of Bali's GDP, compared to only around 5 percent nationally, while 20 percent of Bali's population is employed in the tourism industry. The Indonesian state and its citizens enjoy certain financial gains from the country's robust tourism sector. It is therefore unsurprising that in a bid to fulfill its goal of increasing Indonesia's GDP by 47.45 percent between 2022 and 2027, President Joko Widodo's administration is encouraging tourism, especially longer-term stays.
However, is tourism actually benefiting Indonesia in the long run, or is it turning the Indonesian economy into a neocolonial service economy, in which a low-paid local workforce serves wealthy foreigners?
Studies in the Caribbean have suggested that tourists looking for an island paradise inadvertently recreate a colonial relationship of servitude, in which much of the local workforce is relegated to low-income and seasonal work in the tourism and service sectors, while external corporations reap the majority of the profits. Similar comments have been made about commercialized volunteer tourism in Peru. Indonesia itself was the subject of a similar study published in 2015, which concluded that tourism in Central Java has led to the appropriation of public spaces and the commodification of religious sites and practices.
And so, the question arises: Does "workcation" culture further recreate this neocolonial relationship of servitude?
To answer this question, one must first understand the notion of the "digital nomad." The pull of travel, excitement, and experiencing new cultures motivates many remote workers to pack up their lives to "work from home" in new, exotic locations. A more obvious reason also exists, which reveals stark similarities to ancestral settler colonialists: the desire to pursue a long-term vacation lifestyle.
Until the advent of internet-enabled remote work, this was impossible for all but the superrich. However, remote work has allowed middle-class individuals earning currencies with higher buying power in wealthy countries to relocate to less developed countries, where they can enjoy a lower cost of living. This essentially allows "digital nomads" to enjoy the salaries offered in wealthy nations, along with the costs associated with living in the developing world. In so doing, a new class has emerged in many LDCs: middle-class workers living in absolute luxury essentially by virtue of their passports.
The trends that result from this are much like any situation when a wealthy class begins to move into an area previously dominated by lower-income households. To start with, rent has been seen to increase in locales with high "digital nomad" populations – particularly in Mexico City, Lisbon and Bali – ultimately displacing the local population who can no longer afford to live in the city they once called home. Local businesses have also been observed to change, altering the culture and aesthetics of entire cities. Entrepreneurs race to tap into the new, lucrative market that "digital nomads" represent, opening up restaurants, shops, and office spaces all geared towards the needs of this new demographic. More than that, wealthy foreigners leveraging favorable exchange rates inevitably increase the demand for finite resources in the cities they live in, leading to competition with locals. In short: gentrification.
Bali has already felt the effects of this gentrification. In the Canggu region of the island, rice fields are actively being replaced by bars, hotels, and nightclubs that aim to tap into the foreign market. Locals are also increasingly competing with foreigners for access to services, with tens of thousands of local Balinese living in poverty. There has even been an increase in crimes committed against foreigners as tensions rise.
While these effects of "workcation" culture are all cause for concern, the emergence of a new wealthy class in these poorer cities also points to a darker trend: namely, the exploitation of the North-South divide – created by colonialism and the creation of extraction economies – to leverage upward social mobility. This behavior, therefore, mimics the patterns of abuse created and enforced by past colonialists, suggesting that "digital nomads" are – perhaps inadvertently – participating in a system of neocolonialism.
It may be too early to truly predict the full impact of "workcation" culture, but the faster that governments such as Indonesia react and implement regulations to prevent the negative impacts of large-scale "digital nomadism," the better. Creative solutions to balance the harnessing of long-term foreign tourist incomes with the protection of local cities from exploitation and gentrification are needed to mitigate against the recapitulation of neocolonial patterns of development.