Indonesian Parliament Vows to Resolve Contentious Election Ruling
Earlier this month, a district court ordered election authorities to suspend their preparation for next year's polls.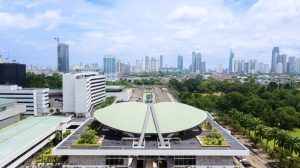 Indonesia's parliament has vowed that there will be no power vacuum following next year's election, despite a controversial lower court ruling that ordered a delay to election preparations until 2025.
Earlier this month, the Central Jakarta district court ruled that the General Elections Commission (Komisi Pemilihan Umum, or KPU) must cease all ongoing processes for two years, four months, and seven days. The decision came in response to a lawsuit filed by the newly formed Just Prosperous People's Party, after its application to contest elections was rejected last year.
If enforced, the ruling would push back the elections, currently scheduled for February 14, 2024, to the following year.
According to a report by Reuters, Lodewijk F. Paulus, the deputy house speaker, yesterday told parliament that the body "will give extra attention to the resolution of these legal issues, so that there will not be a vacuum of executive or legislative powers."
According to the constitution, Paulus said, elections must be held every five years. He did not say exactly what steps parliament would or could take to overturn the decision, but the lower court ruling has been roundly criticized by senior Indonesian officials, up to and including President Joko Widodo and his Indonesian Democratic Party of Struggle (PDIP). The KPU has since appealed the ruling and promised to continue preparing for the logistically complex elections – Indonesia is the third-most populous democracy in the world, after India and the United States, and includes hundreds of outlying islands – and the Judicial Commission has said it would summon the district court judges to explain the ruling.
Meanwhile, Indonesian legal experts claim that the district court does not have the authority to rule on questions of national elections. The near-universal opposition to the ruling, its likely unconstitutionality, and the disruptive implications were it enforced suggest that it is merely a matter of time before a higher court overturns the ruling, and election preparations can proceed as scheduled.
But as I noted last week, the issue has stirred back to life debates over a possible extension of Jokowi's tenure beyond the next election. This flared briefly last year, when a number of senior government officials voiced their support for lengthening the popular Indonesian leader's term in office, either by delaying next year's election or amending the constitution to allow him to run for a third term.
The PDIP has come out against this idea, and Jokowi has previously disavowed any intention of staying on as president. While there is also only a slim possibility that some figures might use the district court ruling as a means of achieving an extension via the legal backdoor, the talk of a possible third Jokowi term will not be definitively put to bed until the Central Jakarta district court's ruling is struck down by a higher court.