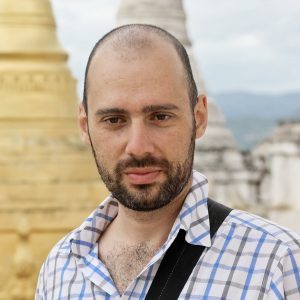 Sebastian Strangio
Sebastian Strangio is Southeast Asia editor at The Diplomat. 
In 2008, he began his career as a reporter at The Phnom Penh Post in Cambodia, and has since traveled and reported extensively across the 10 nations of ASEAN. Sebastian's writing has appeared in leading publications including Foreign Affairs, the Los Angeles Review of Books, and The New York Times, The Diplomat, and Nikkei Asian Review, among many others. He is the author of "Hun Sen's Cambodia" (Yale, 2014), a path-breaking examination of Cambodia since the fall of the Khmer Rouge, and "In the Dragon's Shadow: Southeast Asia in the Chinese Century" (Yale, 2020). 
Alongside his journalistic work, Sebastian has also consulted for a wide variety of economic risk firms and non-government organizations, and is quoted frequently in the international media on political developments in Southeast Asia. Sebastian holds a B.A. and Master's degree in international politics from The University of Melbourne. He currently lives in Adelaide.
You can get in touch with Sebastian via Twitter, Facebook, or email.
Posts by Sebastian Strangio