The Borrowed Kazan is a unique art project that took place in Kyrgyzstan late last year for which members of the innovative art collective Artpologist travelled to the Central Asian country and attempted to engage with local residents in the town of Osh 'through the medium of food,' for close to a month. They opened a street café as an art installation in the middle of a large local marketplace and interacted with locals 'from all walks of life' through serving food and engaging in conversation.
I recently spoke to Daniel Gallegos, one of the main artists, to hear a little more about the fascinating project, and was surprised by the topics that arose, such as the impact of American burgers and a totally random Tokyo encounter, but was saddened to hear how the political situation there has affected Daniel and his friends.
How did you come up with the idea for The Borrowed Kazan?
Enjoying this article? Click here to subscribe for full access. Just $5 a month.
The idea for the project was born out of the relationship with my friend and colleague Jerome Waag (one of the main collaborators of the project). Mr. Waag is a chef at the Chez Panisse Restaurant in Berkeley, California, which is one of the pioneers of the 'local food' movement focused in the United States. Mr. Waag had started an art project called Open Restaurant that explores the intersections of food, art and the everyday life.
We decided to combine Mr. Waag's background with my experience of collaborative art projects in Central Asia and to try out an art project that involves performance art and food in a place where art has a different history. We called the project 'The Borrowed Kazan' to reflect our intentions to combine local techniques with our knowledge.
How did you then decide on the location?
The location was determined in the process of our collaboration with the CEC ArtsLink, an organization that has been organizing artist exchanges between the United States and the former Soviet Union republics for over 40 years. One of their programmes, the Global ArtsLab, was to invite American artists for a month-long residency to four cities in Kyrgyzstan and Tajikistan. Part of their selection process involved bringing the arts organization leaders from Central Asia to the US so that they could meet various artists.
The representative from Osh, Kyrgyzstan, Tamara Kadyrbaeva, saw our proposal and thought that it would suit the urban context of her hometown very well. Osh has been known for its bazaar, so a food-related art project seemed particularly fitting. That's how we ended up in Osh.
What ended up being the food that had the most impact?
We intended for our food to combine some elements of the local cuisine with Mediterranean food. For instance, we made Laughman noodles (hand pulled noodles that look like ramen noodles, though they're not exactly the same as what you'd get in Japan or America) with Bolognese sauce.
Ironically, everybody around us kept on asking to make hamburgers. Because they heard we were Americans, they really wanted to try American food they'd heard about the most. So, on our last day we did serve hamburgers. The hamburger patties were made from local ground beef. We asked the neighbouring baker to make specially sized buns. Mr. Waag made home-made ketchup and coleslaw. The hamburgers were sold out before we could even catch our breath. The baker's family alone ordered 15! Yet, we kept on reminding them that this isn't at all like what you'd get in a fast food restaurant but what you'd get at a barbeque in a home in America.
Was it successful and did you accomplish all of your initial goals?
I believe that the project was very successful, and we did accomplish all of our three goals. In retrospect, I see that setting up and running this cafe for three weeks in a place where we knew barely anything about is already an accomplishment in itself. We were successful because of the help of many Osh residents who became our friends in the process. One of the biggest challenges was to set aside some time to get to talk to people who came to eat at our cafe. We managed as best as we could and collected quite a few interesting stories. Here's one of them:
One day a man travelling through the bazaar came in and stopped and had our food. He was quite tired and dirty looking. He looked like he had travelled from afar. After he had finished his meal I asked him where he was from and he said Tokyo! That nearly floored me! He paid his bill and said thank you and left into the crowded bazaar.
Sadly, the setting for your project was destroyed by the uprising in April in the country. Were any of the people you know directly affected?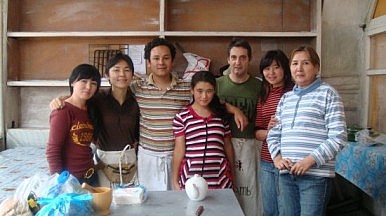 Since the rioting and the violence in Kyrgyzstan we haven't heard from many of our friends and collaborators for this project. We're afraid they may have been victims of the violence or may have been displaced. We may never know what happened to some of them. As for the bazaar, some say that it won't be opened until August. But Central Asians persist and they are strong and resilient, so I'm sure they'll work hard to recover from this tragedy.
Daniel Gallegos is part of the art/sociology collective, Artpologist. There is more about The Borrowed Kazan, and other projects at their website: artpologist.com.