Harsh Realities in Wake of Typhoon Haiyan
Anger mounts as Manila's struggles to cope with last week's tragedy exposes some endemic issues.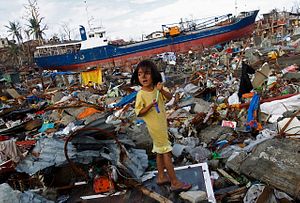 The aftermath of super typhoon Haiyan, one of the strongest and most devastating cyclones in recorded history, has left the Philippines in a state of deep paralysis as it confronts a national calamity. Powerful winds reaching gusts of 300kph caused 16-foot waves to sweep through southern Philippine provinces on November 8, wiping out towns and leaving survivors in despair amidst flattened buildings, felled trees and corpses strewn along roadsides.
The official toll is now 3,976 dead, although that number is expected to rise. Approximately 2 million people are in need of food and have been displaced. Total damages from the disaster are estimated at more than $200 million.
Situated in a region prone to severe winds, floods and storm surges, the Philippines is no stranger to typhoons. But the overwhelming scale of destruction left behind by Haiyan has forced the nation to confront some hard truths about its shaky political and socioeconomic infrastructure.
It's been a little over a week since the typhoon made landfall, and the international community has flooded the Philippines with millions of dollars in relief goods, humanitarian aid and logistical services. There's some aid in Tacloban – one of the worst-hit cities and the primary focus of relief efforts – but it is a race against the clock to reach many outlying towns and smaller municipalities that have been equally devastated and are in urgent need of aid. Thousands of survivors in remote parts of Samar, Leyte and nearby provinces wait desperately for food, water and medicines, as well as body bags to collect the decomposing dead.
Manila's overall response to the disaster has been alarmingly slow and ill-coordinated. Of course, physical barriers are everywhere. Damaged roads made inaccessible by debris hamper relief efforts and isolated towns with no water, electricity or means of communication are left to fend for themselves. Consequently, relief is not reaching those in need fast enough, and so for the survivors the task of finding food and shelter remains a constant struggle. Unverified reports of looting, murder and rape have also emerged from some parts of Tacloban as residents attempt to flee the city.
While a stunned Philippine government struggles to come to terms with the magnitude of destruction and chaos, patience is wearing thin as many begin to question its performance in addressing the needs of its people during this time of crisis. International media scrutiny has been ratcheted up after CNN remarked on the government's slow, disorganized and inefficient relief efforts, perceived shortcomings which the Philippine government has not fully denied.
Disillusioned Filipino netizens flock to Facebook, Twitter and social news network Rappler with furious commentaries every hour, while others try to counter with reminders that the Aquino government is doing all it can given the magnitude of widespread destruction.
Yet the government's delayed and ill-coordinated response before and after the typhoon is a symptom of a more hazardous illness, one decades in the making. The typhoon arrived just as the entire country was embroiled in one of its most shocking political scandals to date: the alleged misuse of public funds by prominent members of Congress amounting to $586 million over the past six years. These pork barrel funds were meant for local development projects such as the construction of roads, health centers, and other public works in underdeveloped areas. But the lack of proper auditing controls and regulations has cost the country billions of pesos lost in "ghost projects": non-existent NGOs and sham public programs allowing politicians to pocket public monies under the guise of doing good.
Even before the typhoon hit, one look at poverty-stricken regions in the Philippines such as Tacloban only seems to underscore the contention that just a fraction of the public money has been used to help those who need it most. The Philippines has the lowest percentage of paved roads in Southeast Asia, and only a few airstrips big enough to receive wide carrier planes for fuel and food, a problem that has come back to haunt the country as relief efforts face obstacle after obstacle. One wonders to what extent the tragedy could have been mitigated if only local economies had access to the funds earmarked for them.
The Philippines has had torrential storms in its past, from catastrophic floods triggered by typhoon Ondoy in 2009 to disasters dating back more than a hundred years, with reports of a massive hurricane in Leyte that left more than 6,000 people dead and 5,000 missing in 1898. Every year local media broadcast news of small towns and villages wiped out by floods or strong winds, but the attention has not been as urgent or important as the devastation caused by Haiyan.
No single administration can be blamed for the failures wrought by a crisis of such proportions. But political corruption spanning decades has led to misplaced priorities which have compromised the possibility of a stronger socioeconomic structure today. Look no further than former Philippine President Gloria Macapagal-Arroyo, who was arrested in 2011 on criminal charges of electoral fraud. In 2012, she was accused of misusing $8.8 million in state lottery funds during her term in office from 2001-2010.
Tax evasion in the private sector has also left the public coffers more depleted than they should be. In March this year President Aquino expressed shock at the "incredibly low" to zero taxes being paid by certain members of the Chinese-Filipino business community, a demographic comprising many of the richest people in the Philippines, including business magnates Henry Sy and Lucio Tan, whose combined net worth totals $19.5 billion. Of 207 firms registered with the Federation of Filipino Chinese Chambers of Commerce & Industry, Inc. (FFCCCI) only 16 were found to have paid taxes. FFCCCI President Francis Chua has noted "corruption on a regular basis" in dealing with government functions such as the tax bureau and customs department, compounding problems in the public sector.
In a country where there is a lack of transparency and political corruption is rife, where the wealth of its 50 richest families account for one-fourth of GDP, typhoon Haiyan's fury may prove to be a much-needed wake-up call – a stark and urgent reminder of the need for change both broad and deep. The Philippines can no longer turn a blind eye to the mounting socioeconomic and political obstacles blocking President Aquino's "Daang Matuwid" (The Straight Path) program. A bitter pill to swallow perhaps, but a necessary one if the country is to cure itself of its endemic corruption.
Tanya Ileto Diaz is a journalist in the Philippines.