Nepal: Elections Defy Skeptics, Poll-Opposing Forces
Nepal's Constituent Assembly elections achieved a modicum of success. Can stability and a constitution follow?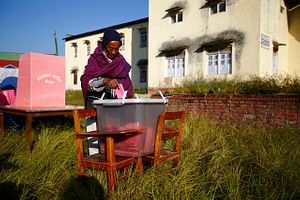 Developments in Nepal's second post-war attempt at institutionalizing democracy are moving rapidly.
Despite the predictable skepticism of doomsayers, on November 19 some 12.21 million voters, of 102 caste and ethnic groups, speaking 92 languages, across 240 constituencies elected a Constituent Assembly (CA) tasked to draft a constitution within a year of its tenure.
Though the last CA's attempt to do so was a spectacular failure – and elections were by no means without defect this time around – the perceived legitimacy of Tuesday's ballot will define Nepal's political trajectory and its prospects of constitutional rule.
Initial reports from observers have been upbeat. Speaking to The Diplomat, Secretary General of the National Election Observation Committee Gopal Siwakoti claimed that "in spite of an unpredictable pre-election context, lingering doubts, and numerous technical shortcomings, Nepal's CA elections will provide legitimate expression to the popular will."
Whilst formal statements are yet to be made by the European Union Election Observation Mission, the Carter Center, and Asia Network for Free Elections, it is expected that similar sentiments will be expressed in the coming days.
Though the High Level Political Committee failed to convince Mohan Baidya's breakaway CPN-M and its coalition of 33 poll-opposing parties to participate, commentators have been quick to downplay the relevance of those abstaining, citing mass defections in the run up to elections as proof of the CPN-M's increasing isolation.
According to Siwakoti, "A great deal of effort was given to ensuring their participation. The CA was enlarged to 601 seats whilst the 60-40 ratio for proportional and first past the post representation was instituted. We respect the democratic right of parties to boycott the polls though do not condone acts of violence. We do not see their absence as affecting the legitimacy of the vote."
Since the announcement of CA elections in May, analysts have been circumspect. A product of Khil Raj Regmi's technocratic Chief Justice-led government (which itself fragmented pro-democracy forces through the merging of executive and judicial powers), the relative success of the November 19 elections is – even if ungratifying in the long-term – a logistical coup.
Were they delayed even by weeks, Nepal's constitutional limbo would likely have been extended until April 2014 due to the inaccessibility of remote mountain districts from December through March. August's Tribhuvan International Airport runway farce – in which election-related materials were grounded in Delhi due to the ailing condition of the country's only international runway – was almost definitive.
Last-minute delivery of voter ID cards created difficulties too, with registered voters using citizenship certificates and other official documents in establishing their identity. Though reports of incomplete voter rolls and incorrect voter ID cards have been made, it is unclear how pervasive this was.
The conviction of Chief Election Commissioner Neel Kantha Uprety that "the CA polls must be held on the slated date of November 19" makes clear the urgency with which elections were carried out. That they were a procedural success is indeed remarkable.
Still, issues unhappily familiar to Nepali politics provide a note of caution. Disruptions led by CPN-M from November 11 – though ultimately unsuccessful – contributed to perceptions of instability and voter intimidation. The November 16 torching of a commuter bus in Kathmandu resulted in the driver's death and severe injury to eight passengers whilst the ongoing transport strike affected the travel plans of those required to vote in outlying constituencies.
Likewise, the willingness of campaigners to violate EC directives did little to reinforce a rule of law already tenuous. According to a November 13 report by the Informal Sector Service Centre (INSEC), 521 incidents of poll code violations occurred from October 18. Whilst 136 of these infractions were committed by the poll-opposing CPN-M, all political forces – including high ranking officials – have been implicated.
Despite initial EC reports of an unprecedented voter turnout of over 70 percent, questions over the expanse of the democratic franchise hold some legitimacy.
Of approximately 16 million residents of voting age, a turnout of 12.21 million was achieved, with estimates of 30 percent of registered voters failing to cast their ballot. Another 3.5 million – over 20 percent of the voting age population – were excluded altogether. Approximately 2.9 million migrant workers were unable to cast a vote.
In addressing these concerns, Siwakoti states "Certainly there is some cause for reservation. Difficulties with voter lists are lamentable, and every attempt in the future will be needed to facilitate the participation of migrant workers. Instances of violence were however, dramatically reduced from those occurring in 2008. The popular consensus in favor of elections was clear."
As much as is made of the technical success of the elections, it is unclear how Nepal will be represented by the new CA.
Although it is difficult to speak of a victor at this stage, initial counts look handsome for the Nepali Congress. Leading 46 constituencies in first-past-the-post counts, the NC is trailed by the CPN-UML who lead 43 constituencies, as the UCPN-M – decisive in the 2008 elections – founders, leading just 13.
The November 21 announcement by the UCPN-M that poll counts would be boycotted could prove disastrous to the nation's stability.
The loss by senior party leaders of key seats has the potential to rattle a process long reliant on the extra-parliamentary dealings of senior leaders. NC leaders Sushil Koirala and Ram Chandra Poudel, UCPN-M leaders Pushpa Kamal Dahal and Dr. Baburram Bhattarai, as well as CPN-UML leader Jhalnath Khanal are all contesting marginal seats.
Issues of deeper concern have, however, been noted.
Bhakta Bishwakarma, National Chairperson of Nepal National Dalit Welfare Organisation told The Diplomat "Compared to 2008, we can assume that fewer representatives will be in the CA from Dalits and other minorities."
Dalit nominations for first past the post seats has been between zero and four percent for major parties. Women meanwhile, comprised just 10 percent of the total registered candidates.
Bishwakarma further stated "The mindset of political leaders is still traditional, still dominating and still Brahminic. They don't believe Dalits can contest and be elected via the first-past-the-post system, which is wrong. Last time seven Dalit candidates were elected this way."
Despite concerns related to the inclusiveness of the newly elected CA, its success or failure hinges on its ability to draft a constitution.
Though the first CA settled on a range of issues, it was unable to forge consensus on the anatomy of a federal state. Recent campaigns across the political spectrum focused on development issues, mirroring the electoral decline of identity-based parties in Tuesday's vote, and making it unclear whether ethnic federalism – once the primary barrier to writing a constitution – will prove as decisive this time around.
Prof. Kapil Shrestha, a political scientist at Tribhuvan University, explained to The Diplomat, "The politics of identity and ethnicity are no longer as powerful as they once were. All parties, even the Maoists, are no longer interested in raking up this issue. Voters are more preoccupied with socio-economic issues and having a progressive looking democratic constitution."
On the structure of governance, divisions remain. Though the CPN-UML favors a directly elected prime minister overseen by a ceremonial president nominated by Parliament, the NC envisages a more robust Parliament responsible for electing a Prime Minister. The UCPN-M prefers a directly elected president with executive powers.
Though these positions appear difficult to reconcile, political analyst and executive chairman of Nepal Center for Contemporary Studies Lokraj Baral is more optimistic. Speaking recently, Baral claimed that "the parties are flexible on this issue" and that though "contentious issues remain…the parties will be able to settle them."
Ironically, consensus on transitional justice – specifically, the use of amnesty – has been obtained with little difficulty. The forwarding of the Commission on Investigation of Disappeared Persons, Truth and Reconciliation Ordinance to the President in March makes clear the pro-amnesty intent of political leaders, many of whom would be implicated in a future truth and reconciliation mechanism.
Assuming the constitution drafting process moves forward and political stability takes hold, it is unclear how civil society demands for a robust transitional justice mechanism will be dealt with by political leaders.
Shrestha told The Diplomat, "They won't be able to completely ignore transitional justice but they will try their best to circumvent and divert it. Civil society will continue to raise the issue though it is doubtful to what extent it will be able to sustain itself in days to come, and how forceful and effective their advocacy and demands for transitional justice will be."
Nonetheless, as Tuesday's ballot illustrates, political engagement is increasing as much out of frustration as a genuine desire to establish the stability required to pursue development and human rights agenda's.
Though the constitution drafting process is sure to be turbulent, opportunities exist for leaders to make good on the public's mandate. Whether developments concerning the UCPN-M boycott prove definitive remains to be seen.
Michael Vurens van Es is a Kathmandu-based journalist.