US Bombers Challenge China's Air Defense Identification Zone
Defying orders from Beijing, a pair of B-52 bombers flew over the Senkaku Islands without informing China on Monday.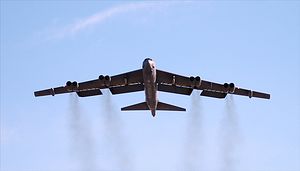 U.S. bombers challenged China's recently established Air Defense Identification Zone (ADIZ) in the East China Sea, according to the Wall Street Journal.
In a report citing U.S. defense officials, the WSJ said that American B-52 bombers flew over the disputed Senkaku/Diaoyu Islands on Monday without informing Beijing ahead of time. The report said that the bombers took off from Anderson Air Force Base in Guam and entered into China's new ADIZ around 7 PM local time on Monday. They were not armed or accompanied by any escort planes.
America maintained that the B-52s flight was part of a long-planned exercise called Coral Lightning.
Still, the flight represented a clear challenge to China, which announced it was establishing an East China Sea Air Defense Identification Zone (ADIZ) on Saturday morning. It later said that Chinese planes had begun patrolling the area.
As expected, the move to establish an ADIZ drew sharp rebukes from both Japan and the United States, with Defense Secretary Chuck Hagel saying that the United States views "this development as a destabilizing attempt to alter the status quo in the region." Hagel added that "This unilateral action increases the risk of misunderstanding and miscalculations."
In the official Pentagon press release, Hagel went on to say that "This announcement by the People's Republic of China will not in any way change how the United States conducts military operations in the region." Japan also said that it would not comply with the rules that Beijing announced it would be enforcing in the airspace covered by the ADIZ, which includes the Senkaku/Diaoyu Islands and overlaps with Japan's own ADIZ. Tokyo also scrambled fighter jets in response to China's patrols over the airspace.
China quickly responded to both Japan and the Pentagon's comments. Toward the latter, Beijing called on the Pentagon to uphold Washington's promise that it would not take sides on sovereignty disputes, and asked it to "stop making irresponsible comments."
There has been some dispute among defense experts about whether China has the capability to actually enforce its conditions. Defense News quoted an unnamed U.S. defense industry source located in Asia as saying, "Let China run itself crazy trying to enforce this. I just can't see how China will sustain the enforcement. Too much traffic goes through there. If no country recognizes it, [and] don't respond to China's IFF [identification friend or foe] interrogation or VID [visual identification], then this new ADIZ is meaningless."
Notably, China's announcement also won it the ire of South Korea, one of the few states in the region that Beijing had thus far avoided offending over sovereignty issues in the past few years. According to the Wall Street Journal, China's new ADIZ overlaps with about 3,000 square kilometers of South Korea's own ADIZ. It also encloses Ieodo (Suyan) Rock that South Korea administers but China also claims. Seoul and Beijing will discuss the issue an already scheduled vice defense ministerial-level strategic dialogue in the South Korean capital this week.