Air-Sea Battle to Cost $524.5 Billion Through 2023
A new report finds the U.S. Navy and Air Force will spend more on ASB than the nuclear triad over the next decade.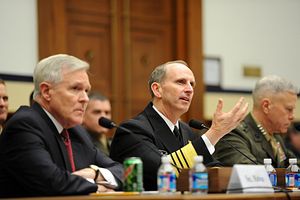 The U.S. military is increasing its spending on capabilities to implement an Air-Sea Battle (ASB) concept to overcome adversaries' anti-access area denial (A2/AD) strategies, according to a new industry report.
The report by G-2 Solutions, a market intelligence firm, analyzes the "Fiscal Year 2014 Navy and Air Force procurement and RDT&E budgets through the Air-Sea Battle (ASB) lens."  From these, G-2 Solutions deemed a total of 191 programs and program elements to be included in the report, based on the "increased importance their capabilities will bring to an aggregate Air-Sea Battle capability."
In total, the U.S. military will spend $31 billion more in FY 2014 versus FY 2012 on ASB enabling capabilities. Altogether, G-2 Solutions predicts that the U.S. Air Force (USAF) and U.S. Navy (USN) will spend $524.5 billion on ASB capabilities through 2023.
The report—which is entitled, "Air-Sea Battle FY2014: Concepts, Key Programs and Forecast (AB098)"– breaks down the program into five different domains: Aircraft, Munitions, Space, Naval and Communications, Collection and Electronic Warfare. Of these, the report states that aircraft will be far and away the most expensive. In fact, through 2018 it will comprise 53 percent of all ASB spending. The next largest ASB expense will be the naval domain, which will make up just 22 percent of all spending through 2018.
The F-35 Joint Strike Fighter program will be the single most expensive ASB program. According to the report, the U.S. military intends to spend $73.7 billion in funding for the F-35 program through 2018.
Not all the capabilities included in the report are solely designed for an ASB mission, of course. At the same time, the estimate likely underestimates the costs by only including Air Force and Navy budgets, when the U.S. Army is also trying to get heavily involved in ASB. Moreover, program costs almost always increase over time.
Even if accurate, the cost estimate is enormous. To put it in context, the U.S. military will be modernizing its nuclear triad over the next decade and beyond. According to a budget estimate published by the Congressional Budget Office last week, this modernization of the U.S. nuclear triad will cost American taxpayers $355 billion over the next decade. This number, despite being nearly $200 billion less than ASB spending, still nonetheless represented a 72 percent increase from initial expectations.
ASB spending is particularly jarring given that the U.S. defense community is divided on whether ASB represents the best approach for overcoming A2/AD threats, particularly those emanating from China. Many defense analysts believe that using a battle plan based on ASB would carry too much risk of escalation against a nuclear-armed adversary like China.