China's Arunachal Pradesh Fixation
China's expanded claims and a likely change of government in India could raise tensions in a strategic region.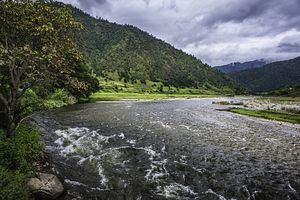 China has been stepping up claims to territories abutting its borders, land, sea and now air. One of the more recent additions to its interests is Arunachal Pradesh, a northeast Indian state that China recognizes as "South Tibet." Indian President Pranab Mukherjee's visit to the state in late November and his speech calling the area an "integral and important part of India" have generated an angry response from Beijing. This came barely one month after an agreement to resolve border disputes peacefully was signed by Indian Prime Minister Manmohan Singh and Chinese Premier Li Keqiang. Beijing's increasing assertiveness and growing territorial claims raise important questions about China's intentions and strategic direction.
China has a long-standing border dispute with India in the eastern sector of the Himalayas along India's north-east and China's south-western boundaries. The impenetrability of these terrains along with undefined, ambiguous borders has resulted in overlapping claims of ownership from the two Asian giants. The 1962 Sino-Indian war was the first salvo in what has become a troubled history. Since then, relations between India and China have tended to concentrate on maintaining the status-quo on the borders, leaving the onus for resolving these disputes on future generations. However, with China's growing assertiveness in territorial disputes in recent years, the border has once again become a battleground for the testing of wills and resilience.
China's claims initially extended only to Tawang, a part of Arunachal Pradesh, where the sixth Dalai Lama was said to have been born. Since the 2000s, however, China has been claiming Arunachal Pradesh in its entirety, a surprising claim given that independent India has been exercising sovereignty over it since 1955 (it became a union territory in 1972 and a state in 1987). It is worth noting that China's stance is directly motivated by its desire to put a lid on Tibetan nationalism (which it believes is fueled by support from India). Arunachal Pradesh is also strategically located at the confluence of the international borders of the PRC, Myanmar and Bhutan, giving it strategic importance. This extension of territorial claims and increasing aggression indicate a concerted strategy of widening the PRC's ambit of influence and control, consistent with its stance on the East and South China Sea disputes. Beijing's border disputes with India thus represent a wider strategic shift in its thinking, far removed from Deng Xiaoping's "keep your head down" policy, through which it seeks to revive its ancient glory as the Middle Kingdom.
The latest military standoff between China and India ensued in April this year when Chinese troops stationed themselves in India-controlled Daulat Old Begdi, more as a means to test the battle-readiness and response of the Indian establishment than as a serious onslaught. The issuance of stapled visas of athletes from Arunachal Pradesh in October was yet another provocation that spurred the Indian government to retaliate by not signing a scheduled memorandum of understanding to simplify visa procedures during Singh's Beijing visit that week. Meanwhile, the Congress-led UPA government in New Delhi is facing severe criticism from the nationalist BJP over India's meek response to Chinese provocations. With national elections around the corner and a strong likelihood of a more assertive BJP-led government at the center, provocations from China may begin to elicit more active responses from India in the future.
Aakriti Bachhawat is a Research Intern at the Australian Institute of International Affairs.