The U.S. Humanitarian Presence in Southeast Asia
U.S. humanitarian and disaster response capabilities are unmatched. It should work to keep them that way.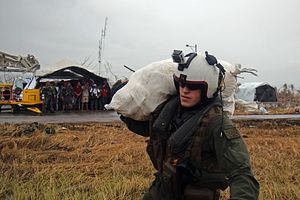 U.S. Secretary of State John Kerry recently visited Tacloban in the Philippines to witness the recovery efforts following Typhoon Haiyan, which killed more than 6,000 people and flattened an incomprehensibly large swath of land. With Operation Damayan, the U.S. military has once again demonstrated its unparalleled ability to conduct humanitarian assistance and disaster relief (HA/DR) missions, and its performance contrasted sharply with China's failure to respond effectively to the devastation.
Without viewing their responses simply as an HA/DR competition between the two countries, relief efforts have a very real and consequential effect beyond the importance of saving lives, and the U.S. cannot take for granted that it will maintain its current edge – and its accompanying influence – indefinitely.
To increase its response time, effectiveness and influence, the United States should work with the Philippines to forward-deploy a hospital ship to the region to augment other U.S. rebalancing initiatives. Such a deployment would naturally complement efforts to establish a rotational troop presence and enhance maritime domain awareness and intelligence, surveillance, and reconnaissance capabilities.
China undoubtedly fumbled its relief effort in the Philippines. By initially pledging a miniscule $100,000 in aid – raising its contribution only after being publicly lambasted – Beijing demonstrated that its ongoing maritime disputes with Manila trumped its renewed effort to improve relations with its neighbors. This did not go unnoticed in the Philippines or in the region.
Though the People's Liberation Army Navy (PLAN) sent its Peace Ark hospital ship on a two-week deployment to the Philippines, it was too little, too late. And while Kerry joined Japanese Defense Minister Itsunori Onodera and Australian Foreign Minister Julie Bishop as cabinet officials to recently visit the devastated areas, the highest-ranking Chinese official to visit the Philippines was Rear Admiral Shen Hao, the deputy chief of staff of the PLAN's East China Sea Fleet and commander for its humanitarian relief mission. Together, these efforts represent a continuation of China's ham-fisted outreach to its neighbors in Southeast Asia.
But Beijing will learn from its mistakes. Aside from building and deploying a hospital ship modeled after those in the U.S. fleet, China has been constructing amphibious assault ships well-suited to conducting humanitarian operations. The U.S. should not only anticipate that the PLAN will build more hospital ships, aircraft carriers and amphibious assault ships – all of which they could deploy to disasters in the future – but also that it will drastically improve its ability to effectively deploy those ships.
And though China's relations with its neighbors, especially the Philippines, have been clumsily handled, the U.S. government must plan for China to be a more capable and active player in the region in the future. China still carries substantial economic leverage as it is the largest trading partner of many countries in the Asia-Pacific. Despite substantial outreach by the United States as part of its rebalancing, China's massive regional trade will go a long way in helping it regain its influence after some notable foreign policy blunders. 
As Beijing becomes more adept in its regional diplomacy, how will the United States maintain – and increase – its influence going forward? A critical component will be greater presence, including non-uniformed personnel to augment the U.S. military rebalancing.
Though the San Diego-stationed USNS Mercy was activated for a potential operation to the Philippines, it never deployed, in part because other U.S. naval forces were present in the region and there seemed to be sufficient field hospitals to treat the injured. However, it would have taken Mercy two weeks to reach the Philippines and there was no way for the U.S. Pacific Fleet Commander to know whether its unique medical capabilities would have been required. The U.S. response was commendable, but in the future we are unlikely to know ahead of time what capabilities a disaster will require and may not be so lucky. While the Mercy has, over its lifetime, deployed to Asia for months at a time, including Operation Unified Assistance following the 2004 Boxing Day Tsunami, it is not always in the region when disaster strikes.
The United States can reinforce its rebalancing and increase its influence in the Asia-Pacific by bolstering assets in the region that might be useful for HA/DR missions. This can be done in part by forward-deploying a hospital ship in the region. U.S. Representative Colleen Hanabusa (D-HI) has asked the Navy to study the option of basing the Mercy in Pearl Harbor, Hawaii and others such as U.S. Navy Captain Henry Hendrix have argued for docking a hospital ship in the Philippines with a caretaker crew along with other assets that would facilitate HA/DR missions.
Both of these options would increase U.S. operational capability as well as the ability to project influence. However, a hospital ship would likely still take a full week to deploy from Hawaii to many areas within Asia and by forward-deploying a caretaker crew (and flying in a medical crew when needed) underutilizes the ship's capabilities, including its value as a consistent demonstration of American soft power in the region.
At the very least, the U.S. Navy should look at forward-deploying the Mercy in Southeast Asia during the typhoon season. This would allow the ship to be on station during the time of greatest risk, and when not responding to crises, it should continue to operate as it has in previous deployments, supporting theater security cooperation in ways beyond military-to-military support during crises. This would further allow it to build on the Medical Civil Action Program (MedCAP) missions and expand the public-private partnerships and collaboration with non-governmental organizations that have saved lives and garnered support for U.S. presence and leadership in the region.
Given the rekindling of the security relations between the United States and the Philippines, forward-deploying a hospital ship could provide an opportunity to both demonstrate U.S. commitment to its ally and to the region. Apart from the obvious life-saving capabilities, themselves likely to be needed more often given the increase in severity and frequency of extreme weather events due to global climate change, such a deployment would help boost U.S. influence in several ways.
First, it would allow the United States to enhance the non-military aspect of the rebalancing and further bolster its regular presence in Southeast Asia without some of the drawbacks of permanently-based military personnel that have bedeviled bilateral relations in the past. Enduring U.S. military presence is a necessary, but not sufficient, component to American re-emphasis on the Asia-Pacific. Assuring allies and partners that the United States will not allow others to engage in coercion and unilateral changes to the status quo is greatly important, but so are other aspects of U.S. power.
Second, it would allow the U.S. Navy to reduce the opportunity costs of deploying other surface ships. Although in the event of another major disaster in the Asia-Pacific region, the U.S. would likely still deploy a combination of aircraft carriers, amphibious ships and other assets, a hospital ship could potentially free up a portion of those ships for other critical partner capacity-building, deterrence and missile defense missions.
Third, a forward-deployed hospital ship would be more available to contribute to multilateral and bilateral exercises throughout Asia, further bolstering both American leadership and regional stability. Allies and partners in Southeast Asia frequently reference their need to find a balance between China and the United States in Asia. Having a hospital ship present for even more military exercises will increase the benefit to all involved.
There are certainly costs to forward-deploying a hospital ship to Asia – especially at a time when new costs are unwelcome in within a Pentagon looking to operate with fewer resources. Personnel costs would rise from having a fully staffed ship on deployment for most of the year and the Navy's maintenance budget would be further stretched, but the costs would be outweighed by the benefits. The ship could receive maintenance and repairs in facilities within the Asia-Pacific, such as Cam Ranh Bay, Vietnam, which bolsters important and burgeoning relationships and is already used by other Military Sealift Command ships.
If deploying a hospital ship proves unsustainable, the U.S. Navy should investigate such options as bolstering medical and HA/DR components to mobile landing platforms (MLPs) and other Afloat Forward Staging Bases (AFSBs) to be forward-deployed to Southeast Asia, along with increased pre-positioning of supplies throughout the region to achieve its goals.
Saving lives in a disaster-prone region is important, but assurance, influence and regional stability are on the line as well. The United States and China are cooperating with one another on HA/DR missions, with the U.S. recently hosting Chinese troops in Hawaii, and those exercises should continue as boosting military-military cooperation and competing for influence are not mutually exclusive. Improved capabilities enable a more effective response to disasters and reassure countries that the U.S. and China are not destined for conflict. However, leadership and perception will continue to matter and in an increasingly important region like the Asia-Pacific, the U.S. will need to maintain momentum behind the rebalancing.
Two of Kerry's goals for his trip to the Philippines were to enhance people-to-people relations and to "discuss how the United States can continue to contribute to the relief and reconstruction work." The United States can make great strides toward achieving those aims by continually improving its capabilities in the region for HA/DR missions.
Zachary M. Hosford is the Bacevich Fellow in the Asia-Pacific Security Program at the Center for a New American Security. He can be reached at [email protected].