AAP: Activism Becomes Authority in Delhi
The AAP's electoral success is an inspiration for activists everywhere. Now it has to govern.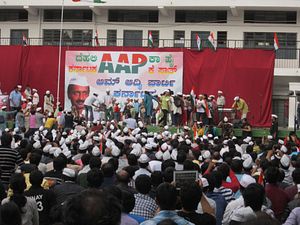 On December 28, 2013, Arvind Kejriwal, the leader of the Aam Aadmi Party (the AAP or Common Man's Party), was sworn in as the Chief Minister of Delhi, the capital of India. Formed merely a year prior to the legislative assembly election of 2013, the AAP secured 28 out of 70 seats, with an election manifesto targeting corruption and bad governance. The infant party was able to form state government with the support of the Congress Party, founded in 1885, ending 15 years of the latter's rule in the capital. This event has epochal significance in Indian politics, demanding a rethink by both experts on the Indian electoral system and theorists of social activism. It is also a case study offering fresh insights into the dynamics of Indian politics.
First, the anti-corruption movement, launched by social activist Anna Hazare, has not only been transformed into a political party under the leadership of Arvind Kejriwal, a bureaucrat-turned activist, but has managed to take power via democratic means to run the state government machinery. It is a rare case of the integration of activism into the mainstream of political authority, driven by a goal of having that authority deliver sound governance. This should be enlightening for those self-proclaimed activists whose tryst with activism is a social repute-portfolio enhancing exercise that is consummated largely by addressing groups of people, shouting anti-establishment slogans, creating fan pages on Facebook, posting prosaic commentaries, and making the news. It should also be an eye-opener for those who are cynical of the political mettle of activism making inroads into the institutional structures of society.
Second, the distinctiveness of the AAP lies in its peaceful ascension, in contrast to violent, anti-establishment movements or protests elsewhere in the world. Though it is not guaranteed that any future movement or campaign in the country will enjoy success on the same scale, what is noticeable is the capacity or eagerness of Indian democracy to catapult activism to legitimate authority. Further, AAP's roadmap to political power could well be useful for future leaders, even if it cannot be followed exactly, should they find their patience with sporadic, lackluster campaigns for governance worn out. The AAP's triumph also underscores the fact that the intent to bring about political change must be matched by leadership acumen and strategic thinking (which is not necessarily scheming), able to conceive the right move at the right time. In fact, there is no dearth of followers: the procession will grow if emphatic leadership is provided.
Third, the Delhi election outcome has challenged the stereotypical (although largely correct) image of Indian elections as colored by caste-based politics. As Kejriwal noted: "This time people of Delhi have shown that elections can be fought and won by honesty." Although such electoral behavior may not necessarily hold true in other states, especially in rural areas where primordial loyalties are usually a decisive factor, the Kejriwal teamwork holds out the promise of setting a new trend if the disgruntled public, especially the youth, seek change or an overhaul of a corrupt system through sustained conviction, and peaceful, democratic means.
However, one cannot overlook the obstacles that lurk ahead for an AAP-led government.
First, the AAP is relying on an outside party, which poses a challenge should it want to take actions that might be unpalatable or inimical to the interests of the supporting party, although the Congress Party has got an opportunity to appease the aggrieved citizenry by joining hands with a popular new party. Second, the team of "politically novice" ministers without prior experience will need to prove their competence, especially given the heavy attention being focused on them by the media and others. Also, irrespective of their apparent unswerving conviction, ministers will face a constant acid test not to be swayed by the perks and privileges of public offices or to be distracted from their cherished and publicized mission of cleansing the polity, as symbolized by the broom – their party symbol.
It is worth mentioning, however, that this government has made an impressive beginning. The ministers have swung into action, attending to their portfolios. Among the rapid-fire measures taken and announced by Kejriwal: a complaint hotline to catch bribe-taking officers red-handed; issuing a decree to prohibit the use of red beacons on vehicles of government officials and ministers to eliminate the "VIP culture" that is against the concept of equality; announcing (as promised during the campaign) the supply of around 700 liters of free water to every metered household in Delhi; and reducing electricity by 50 percent to benefit approximately 2.8 million households.
Last but not least, rival forces in the form of opposition parties, corrupt officialdom, and status quoists will attempt to destabilize or upend the new government to advance their own narrow interests. Ultimately, however, it will be a test of the conviction, competence, team spirit and strategic soundness of the new government, especially its star Arvind Kejriwal, to ensure that the AAP remains dedicated to Aam Aadmi.
Romi Jain is Vice President of the Indian Journal of Asian Affairs, a bi-annual, peer-reviewed journal.