Fast Food Outlets Cash in On "Bangkok Shutdown"
Also: Indonesia explains mineral export ban, push for increased animal protection in Singapore.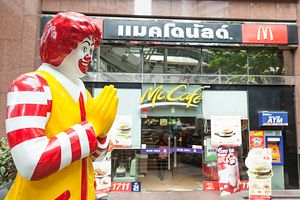 Some Wednesday ASEAN links:
Hungry protesters are giving a major sales boost to fast food restaurants and street vendors in Thailand's capital, despite an attempted "shutdown" of public infrastructure.
Throngs of protesters – donning flags, whistles and handwritten signs – filed into the popular MBK Center shopping mall, located in close proximity to major protest sites.
"We expected sales at quick-service restaurant chains and food restaurants in our MBK shopping center to double from the normal situation," Sakchai Kengkijkosol, a managing director at MBK Center, told The Bangkok Post, adding that there were nearly 90,000 visitors on Monday.
Popular fast food chains like McDonalds, KFC and Starbucks reported weekday sales on par with Saturdays and holidays. The MBK Center food court extended its peak service hours from 1:00 pm until 3:00 pm.
Street vendors were also cashing in on the protests, with many moving their carts to the edge of street rallies. One coffee seller, operating on Phahon Yothin Road, said that he had earned more than double his usual income.
Over in Indonesia, public officials have clarified the country's mineral export ban – a confusing measure considering the government put it into effect without providing written guidelines.
Finance Minister Chatib Basri said that mining companies will be able to pay a 20 percent tax to be able to export copper, iron ore, manganese, lead, zinc and ilmenite if shipments meet strict purity levels.
However, Energy Minister Jero Wacik said that mineral ore exports would be "off limits" unless foreign firms move the refinement process to Indonesia.
"Few of Indonesia's miners process their minerals domestically," wrote The Wall Street Journal. "That has long been a source of concern within the government as it tries to ensure the nation captures a greater share of the value from its resources."
As Indonesia seeks to protect its mineral resources, Singapore's Law and Foreign Affairs minister is asking for his own government to increase protection for animals.
K Shanmugam is calling for a review of current animal welfare laws, suggesting "heavier penalties and more education." At present, animal abusers in Singapore face a fine of approximately $8,000 and up to a year in prison.
Shanmugam told Channel NewsAsia that reports of animal cruelty have increased by more than 65 percent since 2007. He has proposed increasing fines to $40,000 and upping jail sentences to three years.