Striking a Balance in Cambodia
International brands can no longer ignore human rights abuses in their supply chains.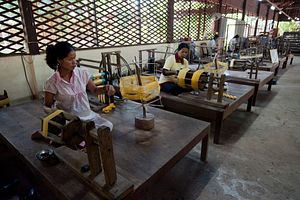 Last week saw five workers shot dead, at least thirty injured and twenty three arrested in a crackdown during a nationwide strike by garment workers, calling for an increase of the minimum wage in Cambodia from $100 to $160 per month. The deadly clashes took place near the Canadia Industrial Park in Phnom Penh, home to factories producing clothing for brands such as adidas, Puma and H&M.
It is these companies, among many others, that are feeding Cambodia's apparel boom. However, the dividends from the 5 billion industry, exporting garments to the U.S. and the EU, have not exactly trickled down to the workers, who took to the streets in protest.
According to rights group Clean Clothes Campaign, the current minimum wage does not allow the workers, who are mainly female, to meet their most basic needs and cope with escalating living costs. In fact, Asia Floor Wage Alliance estimates the living wage for Cambodia to be $283 per month.
Amidst the protests and ensuing violence, many worry that the Southeast Asian country is on its way to losing its supply-chain appeal and scaring  big business away, leaving workers jobless and resulting in a further suppression of labor rights.
Will Buyers Pull Out?
The chairman of the Garment Manufacturers Association in Cambodia (GMAC), Sou Ieng, estimates the strike has cost GMAC members some $200 million in lost sales, and has led to significant property damage.
He asserts that the events of recent days could cost the country's garment industry much more, as one thing high street brands don't like is "risky business." Ieng worries that the retailers will stop sourcing from Cambodia because of the threat of future strikes.
"The buyers still have not confirmed their orders for this year, starting from April. They are delaying because they want to make sure there will be no strikes. Some buyers have even suggested to reduce the price, saying that Cambodia became more risky than Bangladesh or Vietnam," he said.
At Thun of the Coalition of Cambodian Apparel Workers Democratic Union (C.CAWDU) disagrees. He is adamant that if the brands decide to pull out, it will be to save their reputation.
"The companies decide to source from Cambodia because it is a safe environment for investment – we signed all the major labor rights treaties and work with the ILO. But when the police open fire on protesters that changes and customers in the West don't want to buy t-shirts with workers' blood on it," he said.
The reaction of businesses to last year's Rana Plaza factory collapse tragedy in Bangladesh, which claimed the lives of 1,100 workers, demonstrates that damage to the brand name is a risk increasingly featuring on the corporate radar. How this balancing act is executed varies from company to company. For instance, Disney pulled out from Bangladesh, while Primark offered long-term compensation to the victims. Disney's decision was widely criticized by labor rights experts.
As pointed out by Helena Wright, research fellow at London's Imperial College, companies leaving troublesome countries end up punishing workers twice, first with a lack of monitoring and standards and then by taking away jobs.
A Weak Brand Response
Big business has been relatively quick to address public concerns over the shootings. A leading buyer in Cambodia's garment industry, H&M confirmed to The Diplomat it will not be pulling out of the troubled country.
"H&M remains committed to Cambodia as one of our key sourcing countries…We will continue to encourage all relevant parties to renew negotiations and to come to a mutually-agreeable solution to this conflict," H&M's press officer Elin Hallerby wrote in an e-mail.
On Tuesday, H&M, Gap, Inditex, Puma, adidas, Columbia Sportswear and Levis Strauss sent a letter to the unions, GMAC and to prime minister Hun Sen, stating that they "oppose all forms of violence." The companies called for a halt to the violence and for the commencement of negotiations with all parties.
"The only way to resolve this dispute is to cease all forms of violence and for stakeholders to enter into good-faith negotiations, allowing workers to safely return to work without fear of repercussions as soon as possible," the letter read.
But labor rights advocates see the retailers' response as weak. "There are many more companies buying clothes from Cambodia, where are their names? " asked David Welsh, Cambodia program director for labor rights group, Solidarity Centre.
Welsh said the letter failed to refer to labor rights and to the intimidation of workers and union leaders as well as to the 23 labor rights activists detained after the crackdown.
His comments reflect the increasingly accepted view that in today's globalized world, it is no longer possible for corporations to earn millions off workers toiling in a factory on the other side of the globe without facing up to the human rights abuses in their supply chain.
And while each stakeholder has a part to play in this equation, according to Welsh, workers' rights will only be realized if all brands buying from Cambodia make a commitment to staying in the country and to paying more in order to increase the minimum wage.
So far only H&M has committed to doing both.
Marta Kasztelan is a freelance journalist and blogger based in Phnom Penh.