Taiwan Unveils 'Wan Chien' Air-To-Ground Cruise Missile
Taiwan's new air-to-ground cruise missile could play a major role in any military confrontation with China.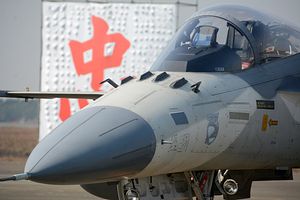 The Taiwanese Air Force on January 16 unveiled a new air-to-ground cruise missile that could play a major role in any military confrontation with China.
Known as the Wan Chien, or "Ten Thousands Swords," the cruise missile was developed by the military-run Chung Shan Institute of Science and Technology (CSIST). Although serial production is not expected to begin until 2015, the missile is believed to have entered service on Aerospace Industrial Development Corp's (AIDC) F-CK-1 Indigenous Defense Fighter (IDF) following a mid-life upgrade program.
Thursday's ceremony, held at Tainan Air Force Base in Southern Taiwan, marked the completion of the Hsiang-Chan Project — a mid-life upgrade for the 71 IDFs in the 443rd Tactical Fighter Wing, based in Tainan. Another 56 IDFs, part of the 427th Tactical Fighter Wing in Taichung, are also expected to undergo upgrades starting this year, a project that is scheduled for completion in 2017. By then, all 127 IDFs will be Wan Chien-capable.
Initiated in 2006, the Hsiang-Chan Project IDFs underwent modernization in three principal areas, namely the aviation operating system, which now runs on a 32-bit platform, up from 16; in-air electronic equipment; and radar systems. A new tri-color multi-function heads-up display will enhance ease of navigation, while a software update for its radar system, developed by Han Shiang Corp, enables the tracking of multiple targets simultaneously and provides countermeasures against electronic jamming.
The upgraded IDFs can now carry four air-to-air missiles, against two initially, and are now armed with the Tien Chien II "Sky Sword." Efforts are ongoing to also equip the aircraft with Tien Chien IIA anti-radiation missile.
Although improvements were also made to the aircraft's avionics, the initial twin Honeywell F125-70 afterburning turbofan engines remain unchanged.
Perhaps the most significant aspect of the upgrade is its focus on enhancing the IDF's ability to attack ground targets with the Wan Chien, a Joint Standoff Weapon (JSOW) whose capabilities have been likened to Raytheon Corp's AGM-154 JSOW and the Storm Shadow, jointly produced by France and the U.K. The missile's range of approximately 200 km means that it can be launched outside the envelope of existing air-defense systems deployed along the southeastern coast of China (longer-range systems like the S-400, which the People's Liberation Army hopes to acquire from Russia, would likely be limited to major urban centers and critical military infrastructure), using a GPS-inertial navigation system to home in on its target.
Although the Taiwanese military has shied away from designating it as such, the Wan Chien is predominantly a delivery device for cluster bombs, with Chinese airstrips as the primary target, although other sites, such as radar installations and missile bases, are likely candidates.
The Wan Chien joins a number of weapons acquired or produced by Taiwan in recent years that are considered offensive in nature, such as CSIST's Hsiung Feng IIE (HF-2E) land-attack cruise missile (LACM), which has entered serial production, and the submarine-launched Harpoon UGM-84L cruise missiles the Taiwanese Navy received in late 2013 (the "L" designates the capability to attack littoral targets, including port infrastructure, power grids, and military staging grounds). Despite relative improvements in relations between Taipei and Beijing since the election of Taiwanese President Ma Ying-jeou in 2008, the Taiwanese military has persevered in its efforts to procure or develop the means to attack targets in China (the ground-launched HF-2E has an estimated range of 650 km).
Also noteworthy is the fact that the United States, the island's principal ally and source of defense technology, seems to have toned down its opposition to Taiwan putting its hands on offensive technology (though we could argue that even offensive articles remain defensive in nature, as Taiwan will not initiate hostilities). The U.S.'s attitude perhaps comes from the realization that détente notwithstanding, China has continued to bolster the military capabilities it would need to threaten the island with use of force.