Taiwanese Intelligence Accused of Meddling in Hong Kong
Beijing accused Taiwan of seeking to create "chaos" in the territory to discredit the one country, two systems formula.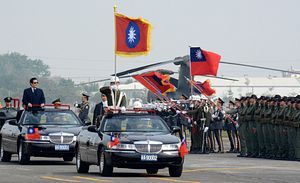 It's probably too soon to ask, as Bloomberg did in an article on Jan. 6, whether China is in fact "losing" Hong Kong, where discontent with the way things have gone since Retrocession in 1997 seems to have reached new heights. Without a doubt, the former British colony is turning into a major headache for the Chinese leadership. What's worse, Beijing now accuses Taiwan of seeking to create "chaos" in the territory to discredit the "one country, two systems" formula under which Hong Kong operates, and which China would like to replicate for a future "reunification" of Taiwan.
Chief among Beijing's worries is the Occupy Central movement, a pro-democracy organization that, among other goals, seeks universal suffrage and the curtailment of Beijing's veto in the selection of candidates for leadership elections in the Special Administrative Region (SAR). Using civil disobedience and other tactics, the group has become an irritant for Beijing and its supporters in Hong Kong, who warn of possible "chaos" resulting from the campaign.
While the Chinese Communist Party (CCP) and its allies in the SAR have sought to discredit the three principal leaders of Occupy Central and called them potential "enemies of the state," party-affiliated media have also alleged possible involvement by Taiwan. This was first mentioned in a Global Times editorial in October 2013, in which the newspaper warned that "the opposition in Hong Kong is introducing Taiwan separatists for extreme political actions."
According to the Global Times, Chu Yiu-ming, one of the organizers of Occupy Central, traveled to Taiwan on Oct. 19 and held meetings with pro-independence activists there, including Shih Ming-teh, a former chairman of the Democratic Progressive Party (DPP) who participated in the democratization movement in Taiwan during the 1970 and 1980s. Chu, the paper said, discussed possible support by Taiwanese groups for Occupy Central and Hong Kong's democratization.
There was nothing unusual in the tone of the Global Times editorial. The CCP mouthpiece is expected to regurgitate the party's hatred for "splittist" DPP forces on the island, even if the article greatly overestimated the ability of Shih, now a marginal presence in Taiwanese politics, to influence events across the Taiwan Strait. The editorial was received with amusement in Taiwan; after all, even if Shih and a handful of other pro-independence activists did become involved in Occupy Central, the impact on the final outcome would be marginal at best, and Taiwan's "role" in the matter would easily be overlooked. (A number of activists made a plea for democracy in Hong Kong during the New Year's flag-raising ceremony on Jan. 1. Among them were individuals who were alleged to have come from Taiwan.)
But things began sounding far more serious on Jan. 6, 2014, when the Ta Kung Pao, a left-wing CCP mouthpiece based in Hong Kong, ran a long article detailing the alleged deep involvement of Taiwanese military intelligence in the Occupy Central movement. This was no longer an issue of likeminded democrats discussing cross-strait cooperation, but the backing and financing of the movement by Taiwan's Military Intelligence Bureau (MIB). In other words, the Taiwanese government was alleged to be trying to cause chaos in the SAR in a bid to turn international opinion against "one country, two systems." What was even more shocking about the revelation — if it is indeed true — was that the MIB's activities in Hong Kong were occurring under a government in Taipei that since 2008 has sought to improve relations with China (nineteen cross-strait agreements have been signed since, with more to come) and been careful not to irritate Beijing.
Citing unnamed sources in the MIB, the article states that Taiwan reduced its operations in the SAR during the mid-1990s under president Lee Teng-hui, but resumed operations there during Chen Shui-bian's DPP administration from 2000 through 2008, with efforts spiking around 2004 with "substantial investments." According to the same source, Section 4 of the MIB resumed its activities last year, using "black gold" tactics to penetrate various sectors of the SAR economy and recruit individuals for Occupy Central.
Amid efforts by President Ma Ying-jeou's Kuomintang (KMT) administration to improve ties with Beijing, various news reports have emerged since 2008 claiming that the MIB and Taiwan's civilian spy agency, the National Security Bureau (NSB), had scaled down their espionage operations in China. There were doubtless advantages in signaling a willingness to reduce spying operations while diplomats engaged in various talks to reduce longstanding hostilities, though as any good negotiator will tell you, intelligence is a necessary component in any successful negotiation. Furthermore, a series of arrests by Chinese intelligence of Taiwanese spies operating in China also forced Taipei to wind down its collection efforts in China while it assessed the damage to its spy network.
But gathering intelligence for the sake of improving one's position during negotiations and actively promoting a social movement in an unstable part of China are two very different things. If true, the latter activities would raise serious questions about Taipei's intentions vis-à-vis China while discrediting claims that the Ma administration intends to sell Taiwan down the river.
Several possibilities present themselves, though none at this point can confirm whether the claims made by Ta Kung Pao are valid (and for obvious reasons Taiwan's Ministry of National Defense will not comment on the matter). One is that the MIB is acting without the full knowledge of the civilian authorities in Taipei, in which case the funding necessary to sustain such operations would have to come from nongovernmental sources. Another, perhaps more likely scenario, is that Taipei, having concluded that unification is inevitable (and perhaps even desirable, depending on who you ask), is trying to improve its negotiating position by discrediting the formula that Beijing has offered for "peaceful reunification," and thereby forcing China to make a more generous offer — i.e., a system that more closely reflects the political and social system that prevails in Taiwan.
Of course, all of this could simply be the product of CCP paranoia about external meddling in China's internal affairs, which in the past year had mostly centered on the U.S. and the U.K. But whatever the truth is, the allegations are a startling reminder that Hong Kong remains a fertile ground — probably the most suitable ground in all of China — for Taiwan to fight China asymmetrically by waging political warfare.