Violence Against Women in Afghanistan Peaked in 2013
Despite a 2009 law, violence against women is on the rise in Afghanistan, hitting record levels in 2013.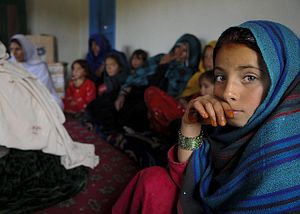 Violence against women in Afghanistan reached record levels in 2013, according to the Independent Human Rights Commission of Afghanistan (AIHRC). Figures released last month show that the six-month period between March and September 2013 witnessed a 25 percent increase in recorded attacks. As Sima Samar, the chair of AIHRC, told Reuters, attacks were more frequent and more brutal, with incidents including "the cutting of [women's] noses, lips and ears," and "public rape."
The struggle to secure women's rights in Afghanistan has been an embattled one. After years of faltering campaigns, the landmark Elimination of Violence against Women Act (EVAW) was passed in 2009 by presidential decree. The unprecedented law criminalises 22 offences, from forced prostitution to denying women their inheritance (Article 5), prescribes punishments for offenders (Articles 17 – 42) and outlines a number of state responsibilities (Articles 8 – 16). Most significantly, Article 6 enshrines seven victims' rights, including the right of prosecution, legal representation and compensation.
The 2009 act marked a major turning point in the legal status of Afghan women. Before the EVAW was passed, cases of violence against women were governed by Afghanistan's penal code, in force since 1976, which contains no reference to violence within the family or underage marriage. Even these scant legal protections were illusory during Taliban rule, when women were denied free movement and access to education and when women were even stoned to death. Since then, Afghanistan has signed numerous international rights treaties and as a signatory is obliged under international law to respond to reports of attacks on women. And yet, according to UN statistics, out of 650 reported cases between October 2012 and September 2013, the law was applied in a mere 109. On average, over the past three years, the EVAW act has only been applied to between 15 and 17 percent of reported cases.
The failure to enforce the law is a chief concern among activists. Speaking to Al Jazeera, Latifa Sultani, an AIHRC spokesperson, recounted a case in which a man evaded justice despite being accused of using an axe to dismember his wife. With perpetrators at large, many victims do not speak out for fear of reprisals, leaving countless women to suffer in silence. Heather Barr of Human Rights Watch accuses the Afghan government of failing women, attributing low rates of law enforcement to a lack of political will.
In a 2012 report entitled "Still a Long Way to Go," the UN made 71 recommendations for strengthening protections for Afghan women. In a subsequent report released last month, the UN found that only four of these proposals had been implemented. The United Nations Assistance Mission in Afghanistan notes that a major challenge is the lack of resources and technical and political support for police, prosecutors, and the courts. At the same time, women's rights activists face trenchant conservative opposition. As Torunn Wimpelmann, a researcher at the Chr. Michelsen Institute explains, campaigners face a strategic dilemma: "Do they seize opportunities that have materialized through Western leverage and funds to put in place legal frameworks and infrastructure, or do they engage in long term negotiations with national groups, sacrificing both urgency and feminist ideals in the process?"
The increase in recorded attacks is in part the product of a welcome trend: the more women learn about their rights, the more they come forward to report attacks. But many are pessimistic about how long these small gains will last. As the war in Afghanistan enters its thirteenth year, the concern is that hard-won rights for women will unravel after the departure of international soldiers and aid workers.
Securing women's rights had become one of the prime justifications for intervention. Activists fear that the prospect of withdrawal has fuelled an attitude of impunity, contributing to the intensification of attacks against women. As Sima Samar explains, "There were people trying to protect women. And that is not [the case] anymore." The exodus of international troops has coincided with the resurgence of the Taliban in some areas, returning the fates of an increasing number of women to the hands of tribal elders. Wazhma Abdulrahimzay, from the human-rights network Open Society, warns that the large-scale departure of troops will set back progress across a range of issues.
According to UN Women Chief Phumzile Mlambo-Ngcuka violence against women in Afghanistan is "pandemic," with 87.2 percent of women experiencing some form of physical, psychological, sexual, economic or social violence. 2014 is a year of flux for Afghanistan. With a looming general election, crumbing economy and concerns over security, activists fear a worsening of the already hostile environment for women in Afghanistan.