India's Modi Affair
After a difficult year, some investors are excited at the prospect of a pro-business leader.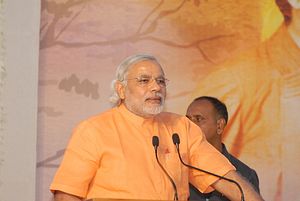 India had a year to forget in 2013, with growth sinking to a decade-low and warnings that its credit rating could be cut to "junk" status. But with national elections only months away, investor sentiment is reportedly improving on the prospects of a new pro-business leader, Narendra Modi.
In what has been described as the "Modi effect," the growing possibility that the Modi-led opposition Bharatiya Janata Party could secure the biggest electoral mandate in the poll due by May has investors excited.
"There is definitely a big pickup in interest in recent months," the senior partner of a law firm involved with foreign investment told India's Economic Times.
"On a scale of one to 10, it is 3.5 to four now from zero a few months ago," he added.
According to the newspaper, foreign investors pumped $20 billion into India last year and have not pulled out despite recent market turbulence, with sectors attracting interest including consumer goods, information technology, pharmaceuticals and textiles.
"Efforts by the government and the Reserve Bank of India (RBI) to stabilize the economy have also restored the confidence and credibility of policymakers. Politics has not derailed fiscal consolidation, the current account deficit has been reined in and RBI governor Raghuram Rajan has sent a strong signal on inflation control," the daily said.
Recent opinion polls indicate that Modi's party will win 188 seats in the 545-member lower house, while the ruling Congress Party of Prime Minister Manmohan Singh could get its worst tally on record of just 91 compared to its current 210.
As well as a subpar growth rate of just 4.5 percent in 2013, the embattled government faces a struggle against Asia's fastest rate of inflation. The RBI has raised rates three times since September in an attempt to curb price rises, with the latest consumer price index increasing by 8.8 percent from a year earlier. The RBI expects inflation to stay in a range of 7.5 and 8.5 percent in the year ahead.
The government predicts the economy will improve slightly this year to post a 4.9 percent expansion, well below the 9 percent annual growth rates achieved just a few years ago, although the economy may have bottomed out.
Doom Subsides
In a January 29 research report, ANZ upgraded its forecast to 5 percent growth in gross domestic product (GDP) for fiscal 2015 compared to its previous 4 percent prediction "made during the depths of India's 2013 despairs."
"The feeling of doom domestically, at its peak in August last year with the currency in free-fall, has subsided…the current account deficit has improved and the correction in vegetable prices is likely to reduce the need for further aggressive RBI action. Finally, the manufacturing PMI has turned up with global lead indicators and a few large infrastructure projects are making progress," the report noted.
However, the ANZ economists downplayed the "Modi effect," warning that "GDP growth is likely to sputter further in coming quarters before it improves…Uncertainty with regards to the upcoming elections in May is one of the reasons why we do not expect the pace of growth to move above 5 percent till the second half of FY2014/15.
"While we're less pessimistic about FY2014/15 growth than earlier, we aren't building in any notable boost for FY2014/15 GDP growth from the 'Modi-effect' that some investors are talking about."
The economists said industrial production and the services sector would start picking up in the second half of fiscal 2015, although this year's growth would remain "below trend".
However, even if Modi came to power post the May poll, ANZ said there was a downside risk of a hung parliament, while any reforms announced by the new government would not improve business activity until 2015. The economists also warned of a lack of finance to boost infrastructure investment, while high inflation would not allow the RBI to cut rates by a large magnitude.
Youth Rebellion
Despite the mixed forecasts, a survey conducted for The Economist has found that "young Indians are fed up and desperate for change."
With about 120 million Indians shortly set to lose their "ballot-box virginity," the newspaper found that the nation's youth were disenchanted with hereditary politics, with 83 percent wanting a change of government.
Nevertheless, the report noted that "for all those who think the future belongs to emerging economies and that India's rise is pre-ordained, 57 percent of young Indians say they would emigrate to America if given the chance."
Modi's main task ahead of the election may be to reduce expectations, should his party not wish to disappoint the nation's youth along with investors.