India's Shrinking Liberal Space
Penguin India's decision to ban a book demonstrates the growing influence of illiberal elements in Indian society.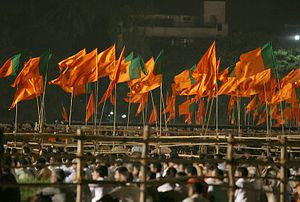 Senior Indian journalist Hartosh Singh Bal was unceremoniously thrown out of Open Magazine few months ago. His crime was that he wrote pieces critical of Narendra Modi, the prime ministerial candidate of right-wing opposition Bharatiya Janata Party (BJP). Within a couple of months, the editor of the magazine had to defend Bal.
Over the past week, social media is abuzz with the news that popular TV journalists like Rajdeep Sardesai, Sagarika Ghose, and Nikhil Wagle have been censored by the corporate owner of their television networks to go soft on the often-controversial Modi, who is widely believed to be the poster boy of the big corporations for 2014 general elections. If one goes by popular opinions within Delhi's media circles, Siddharth Varadarajan was sacked from the post of editor of the left-wing newspaper The Hindu due to his inadequate attention to Modi.
Additionally, Penguin's decision to withdraw American scholar Wendy Doniger's book, The Hindus: An Alternative History from India has to be seen in the light of growing clout of the Hindu right-wing in different walks of life. According to news reports, the well-known publisher came to an out-of-court settlement with a Hindu right-wing organization called Shiksha Bachao Andolan or Save Education Movement run by Dina Nath Batra. The Guardian writes that Batra is "head of the Vidya Bharati Akhil Bharatiya Shiksha Sansthan, the educational arm of the Rashtriya Swayamsevak Sangh (Association of National Volunteers), the brains of the Hindu right."
The story goes that the right-wing organization filed a civil case against the publisher in 2010 for circulating a book that is insulting to Hindu religious sentiment.
The decision by Penguin to abstain from a legal battle outraged liberal Indians, many of whom feel that the publisher should not have succumbed to the pressure tactics of the Hindu right.
In a statement, Doniger, who teaches at the University of Chicago, said: "I was, of course, angry and disappointed to see this happen, and I am deeply troubled by what it foretells for free speech in India in the present, and steadily worsening, political climate." She blames the Indian law, not the publisher, for the withdrawal of the book: "the true villain of this piece—the Indian law that makes it a criminal rather than civil offense to publish a book that offends any Hindu, a law that jeopardizes the physical safety of any publisher, no matter how ludicrous the accusation brought against a book."
Popular Indian writer and activist Arundhati Roy questions the real reason for this capitulation by Penguin. In an open letter she asks Penguin, "Had you stood your ground, you would have had the weight of enlightened public opinion behind you, and the support of most—if not all—of your writers. You must tell us what happened. What was it that terrified you? You owe us, your writers, an explanation at the very least. The elections are still a few months away. The fascists are, thus far, only campaigning. Yes, it's looking bad, but they are not in power. Not yet. And you've already succumbed? What are we to make of this? Must we now write only pro-Hindutva books?"
The Times of India, in an editorial titled, "Withdrawal of Doniger's book highlights sway of Taliban like forces in India," writes that such incidents display "a Victorian hangover with a Taliban temperament. Persistent attacks like these, and supineness of authorities, raise the question whether democracy — and India's future as a nation-state — can survive without freedom of expression. Hindutva is perhaps the only force in the world driven by Pakistan envy today. If we go down the path of hurt sentiments and incentivizing professional offense takers, we will soon have no defense left against the radicalism tearing Pakistan apart."
Similar concerns were expressed by The Hindu which opines that the episode is "a comment on the illiberalism incrementally taking India in its sweep. To an extent this was unavoidable because the churn in Indian politics was inevitably leading to a heightened awareness about community identities and group rights."
This is not the first time that Hindu rightists have brutalized the liberal worldview in India. In 2004, James Laine's book on Shivaji, a Hindu warrior, was forced to be taken off shelves after protests from local right-wing forces in Maharashtra. Famous painter M. F. Hussain was forced to go into exile and terminate his Indian citizenship by radical Hindu groups for painting nude pictures of Hindu gods and goddesses. Rohinton Mistry's book, Such a Long Journey, was withdrawn from a Bombay University syllabus under severe political pressure from the same set of people because the novel has paints an unflattering image of the Shiv Sena, a right-wing political party.
Contextualizing the controversy surrounding Doniger's celebrated book on Hinduism, Vijay Prasad, in an opinion piece in The Guardian, writes that "alongside the court cases of people such as Batra has been a chilling breeze through the media as owners have begun to cull editors who have been critical of Modi, notably Open Magazine's Hartosh Singh Bal and television journalists Rajdeep Sardesai and Sagarika Ghosh. It is in this context that Penguin decided to withdraw and pulp Doniger's book. That Penguin did not fight the case says a great deal about the limitations of corporate commitment to freedom of speech."
India is looking for a change in its upcoming elections. If the political transition unleashes radical right-wing forces and leads to a continued erosion of India's already limited liberal space then it will not serve the long term interests of the nation and its democracy.